| | |
| --- | --- |
| | If your Tigo Management Unit (MMU) needs to be replaced, you should have received a Cloud Connect(CC) or Cloud Connect Advanced (CCA) as a replacement. |
Identify your Tigo Data Logger
There are three data loggers available from Tigo:
Cloud Connect Advanced (CCA)

Cloud Connect (CC)

Management Unit (MMU)

Legacy Product
This article explains how to replace a legacy MMU with a CC or CCA.  The MMU enclosure can be re-used with your new data logger, whether it is a CC or CCA.
First, go into the TigoSMART app on your mobile device or the Tigo Installation Wizard (Admin -> Site Details -> Edit Configuration -> Equipment) and change the device to your new CC or CCA.  If you are using the TigoSMART 3.x app, you can scan the bar code on the CC/CCA with your camera equipped mobile device.
Second, shut down your system and remove all power.  Remove the two screws on the bottom of the MMU, shown with arrows below: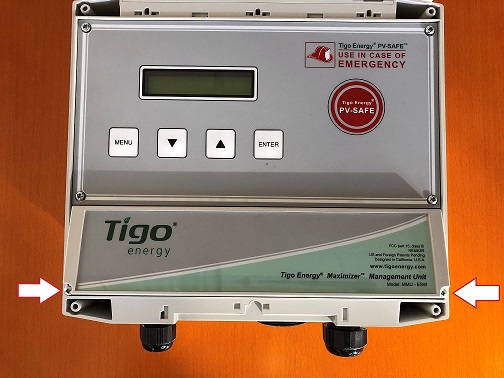 Next, open the cover by lifting at the bottom: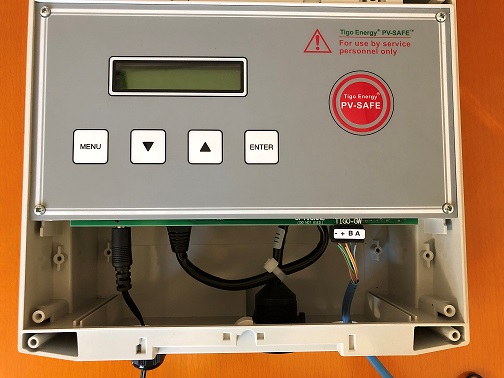 Disconnect all cables to the MMU:
Power cable (left)
Ethernet cable (middle, from bottom of unit)
Gateway cable (right)

Note the +/-/A/B connections and wire colors so these can be preserved.  That way you won't have to touch the wiring at the Gateway end, which can be difficult to access.
The terminal block can be removed, gently pull it from the board.  This makes it easier to loosen the terminal screws.
If you want to re-use the MMU enclosure:
Remove the MMU electronics assembly with the four screws.
Install a 7-1/2" Din rail.
Cut the cable tie from the ethernet cable.
Attach the CC or CCA to the Din rail.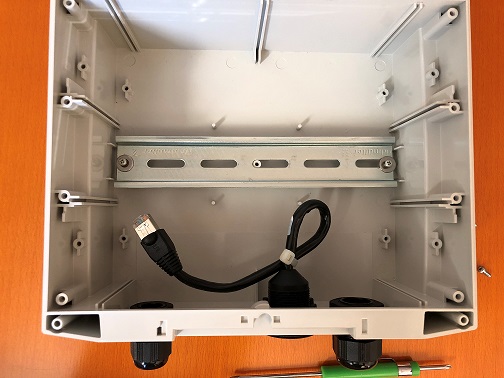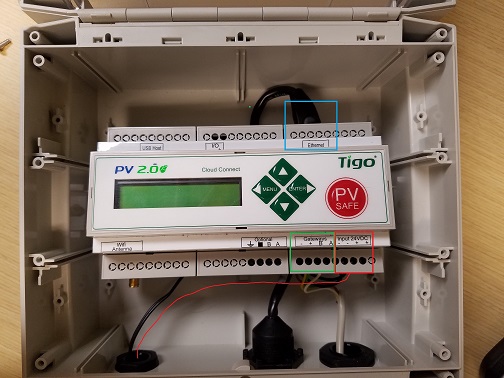 Now re-connect all of the cables.  Reconnect the Gateway (green square), Power (Orange square) and Ethernet (blue square).
The power supplies are compatible across all three Tigo data loggers.  However, to use the MMU power supply with the CC or CCA, you will need to cut the power cable and separate the positive and negative leads.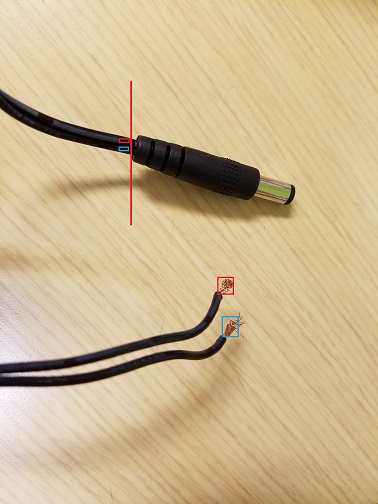 If you're using a CCA, attach it to the Din rail and re-attach the cables to it in the same way as the CC.
Otherwise, if you do not have the MMU enclosure or you don't want to use it, use the enclosure provided with the Tigo Outdoor Communications Kit or a third party enclosure.
Once all the connections are in place, power everything back up.   After internet connectivity is restored, wait 10 minutes for the system to synchronize.  Then go back into the TigoSMART app or Installation Wizard and re-run Discovery.