This article covers potential internet connection issues, you may experience with the Tigo Cloud Connect (CC).
The Tigo CCA (cloud connect advanced) is the third generation of data logger, and can be connected to the internet via wired (Ethernet) or WiFi connection.

If the CCA is connected via wired (Ethernet) network, please confirm that the ethernet cable is plugged into a viable network source and then refer to the Connect CCA via Ethernet (cable)
section (below). If you require additional assistance with general router and network information, see our Network 101 Article
If the CCA is connected via wireless (WiFi) network, you will want to check to make sure that all of the wireless network relays and contact points are functioning.



Check Router Signal and Network Extension Devices
Make sure that your router has not become unconnected with the internet, by testing the signal with another computer or WiFi connectable device. If you are connected, then the Router (and/or any associated network extension devices) may become sluggish, and not recognize IP Addresses. A Restart/Power-Cycle of all of the devices in your network will insure a quality connection.
These devices can also become unpaired with the network, after a power-outage. Please check to see that any WiFi extenders or mesh-points are still paired with their original router.
Then, follow these directions to connect the App to the CCA and guide it to change the network settings:

1. Connect Tigo EI App to CCA
The Cloud Connect Advanced (CCA) is an intelligent Data Logger that requires an App, to interface with the device. The first step is to Download/Install the Tigo Energy Intelligence (EI) AP (from Apple AppStore or Google Play Store), and Sign in with your Tigo Login credentials.

Then, restart the CCA (power-cycle) before you attempt to connect the phone or tablet (device) to the CCA. This is necessary, because the CCA ceases to broadcast it's wireless connection point after 2 hours of use. Restarting the CCA will re-initiate it's 2 hour broadcast signal.

Then, select which method you would like to use, to connect to the CCA. To do this, you must first activate your chosen method (Bluetooth or WiFi), within your device's settings (iOS-Control Center or Android-Connections), and proceed with these steps to connect your device to the CCA:
Press Configure Communication on the My System page
Select the chosen method (Bluetooth or WiFi) at top of screen
Enable Local Permissions (if you see the warning)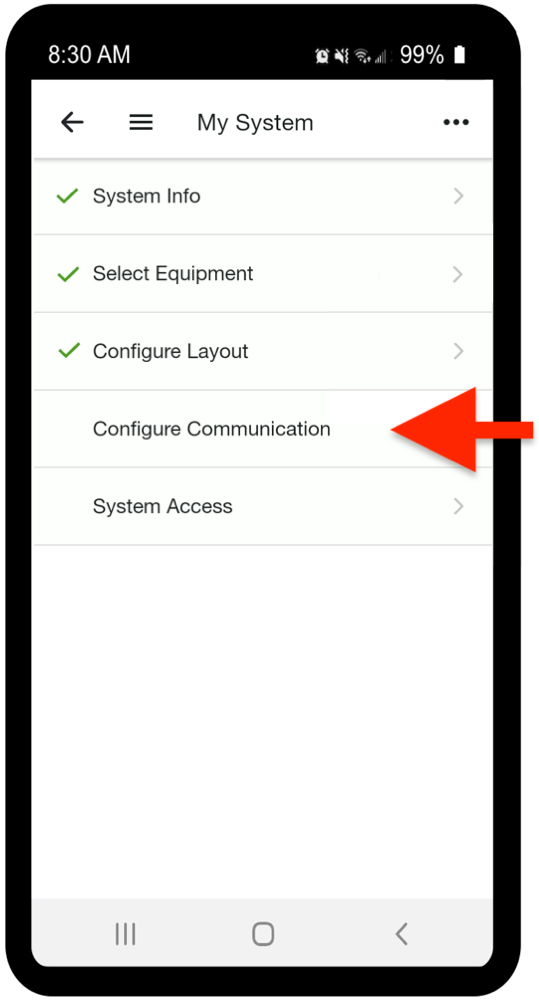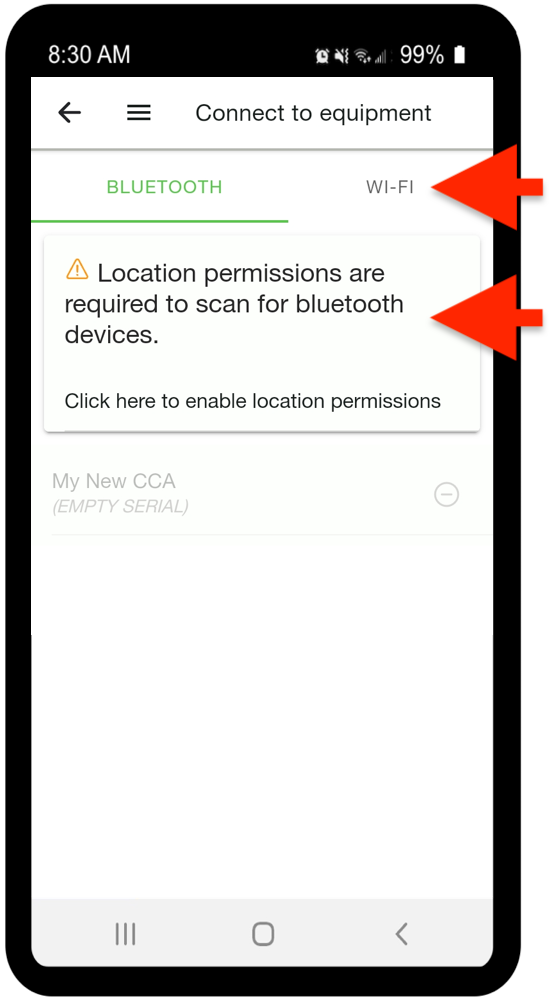 Notes:
Option 1. Connecting to CCA via Bluetooth (Most Common)
Make sure your phone/tablet's Bluetooth is on, but use only the Tigo EI App to access Tigo CCA. Do not use your device's Bluetooth settings to pair to the CCA.


Option 2. Connecting to CCA via WiFi
Make sure your phone/tablet's WiFi is on. Use the device's WiFi Settings to scan for the CCA's serial number and connect. You do not have to close the Tigo EI app while performing this task.
Important: Once you are successfully connected via WiFi, the phone/tablet's connection with the local WiFi or data network will be dropped. When you have completed the network and/or discovery tasks, you may return to the device's network settings to reconnect with the local WiFi.

If you experience any difficulty in connecting your phone or tablet to the CCA, see: Why can I not connect my smart phone to my CCA?
You know that you are successfully connected to the CCA when see the banner 'Connected to CCA' in a purple banner: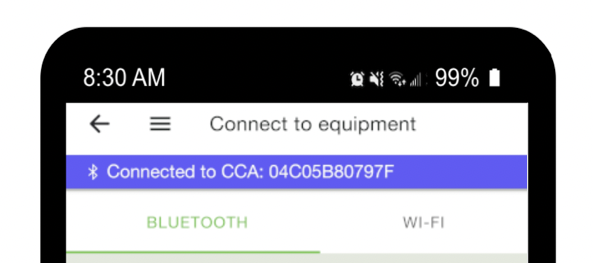 If you do not see a serial number, Pull down to refresh.

2.
Instruct CCA to Find and Connect with Network
The next step is to configure the CCA.
Select the CCA address that you want to configure.
Choose

CCA Configuration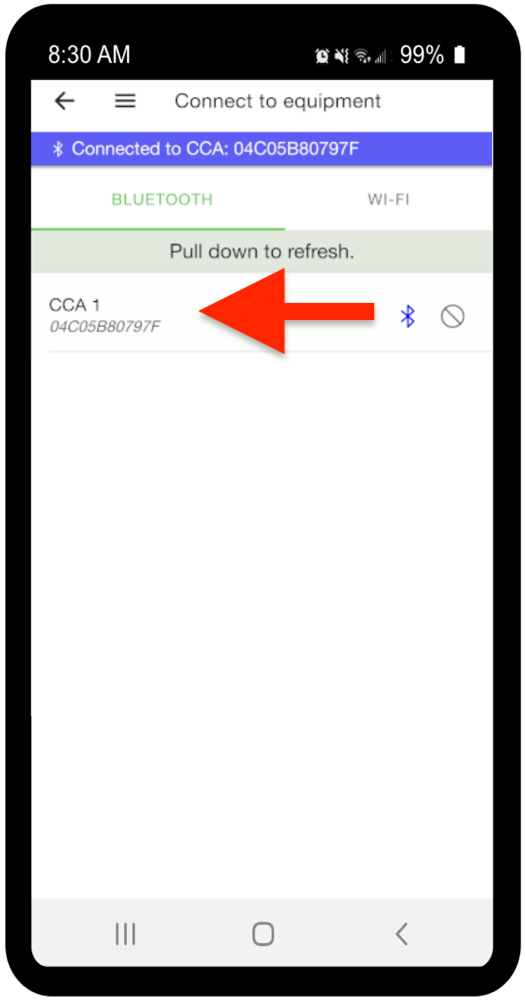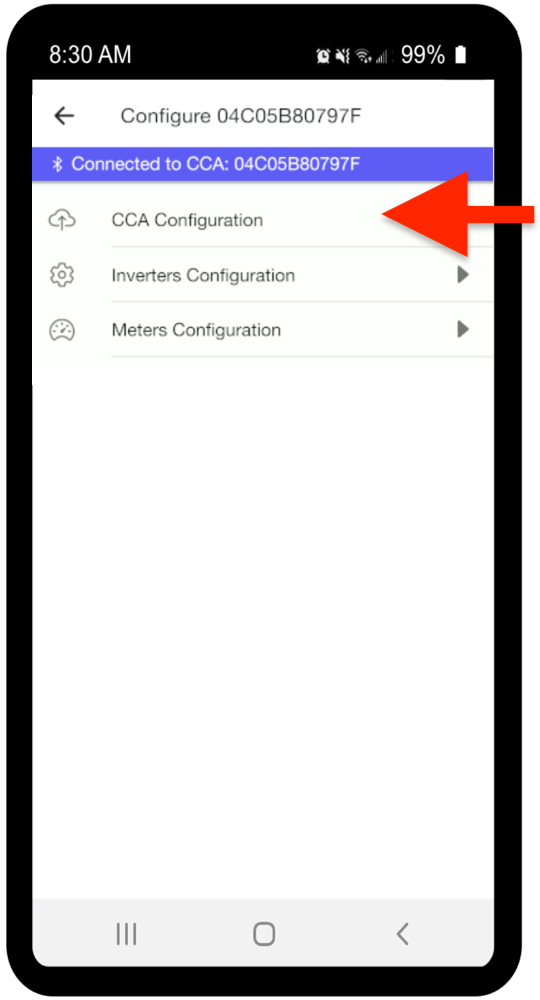 Select whether the CCA will be connecting to the Network via WiFi or Ethernet cable (at top).
Connect CCA via WiFi:
Select WI-FI (top left)
Pull down to Scan for Networks
Choose the correct local WiFi Network from list
When prompted, enter password for Network
Press CONNECT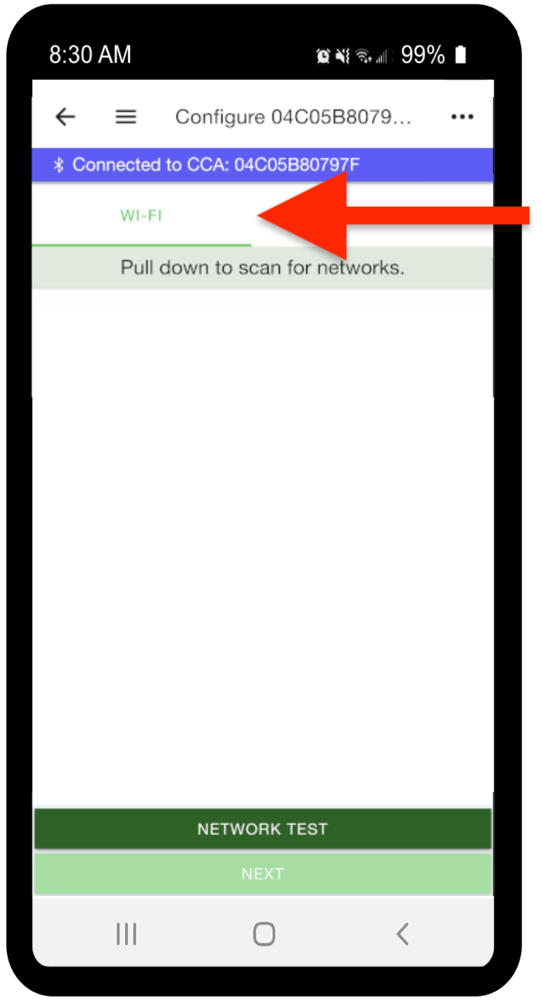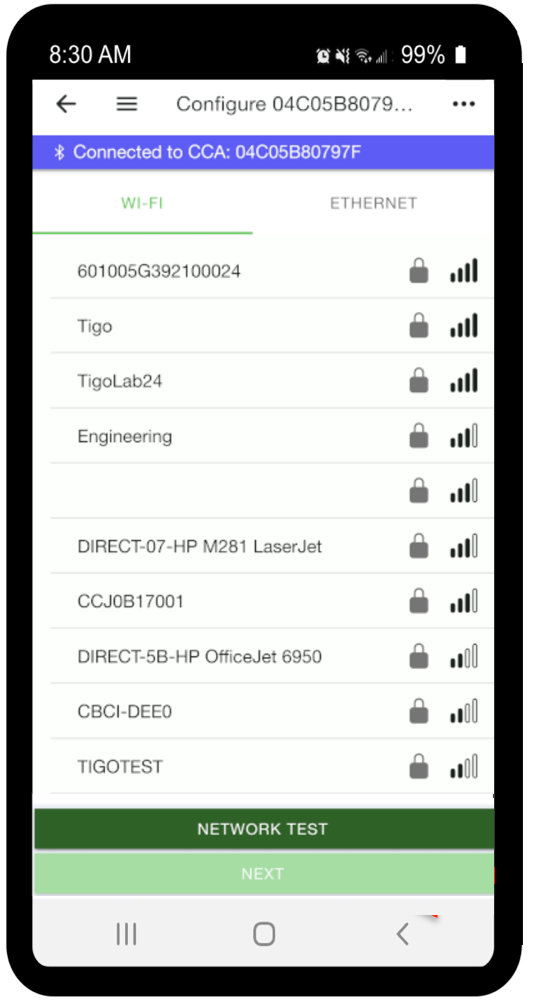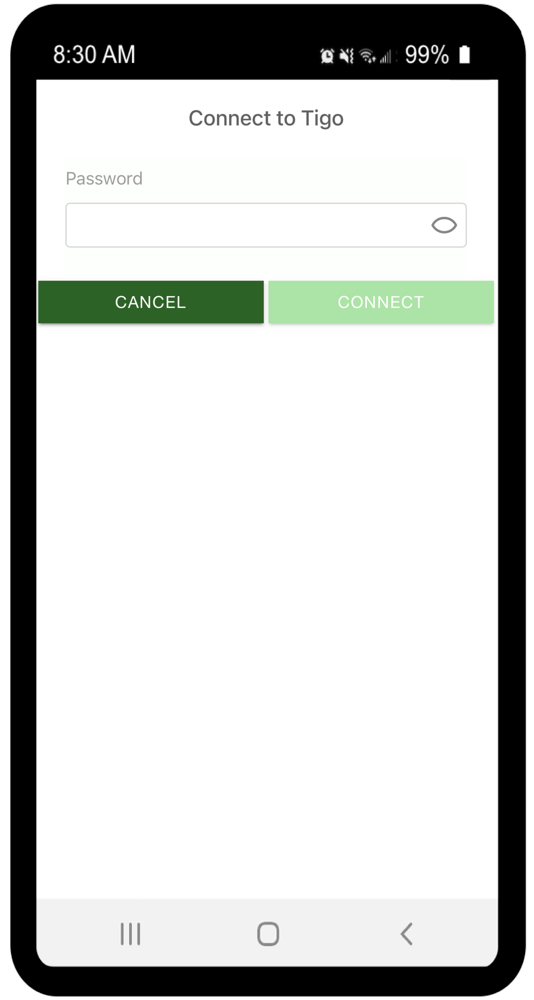 Note: The WiFi Network can be supplied by a WiFi router, MiFi (mobile cellular device), or a smartphone acting as a WiFi Hot Spot.
Connect CCA via Ethernet (cable)
If you are connecting the CCA to a network, via a wired (Ethernet) cable, please be aware that this does not require a Network Setup (passwords, etc). The CCA Ethernet port is always enabled, and is pre-configured (at the factory) to Automatic IP assignment using DHCP.
Select ETHERNET (top right)
Checkmark Automatic (Using DHCP)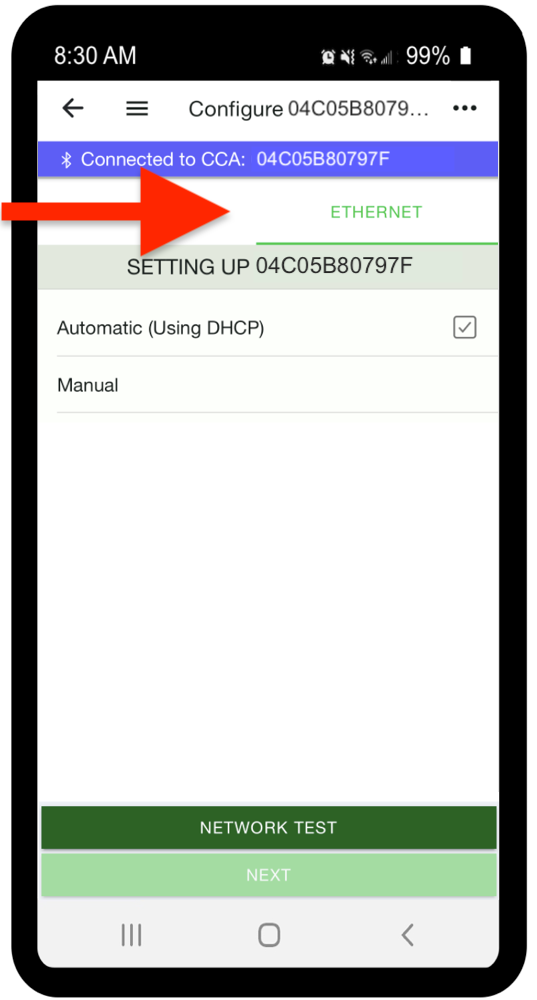 However, a static IP address may be required for security enhancement (if requested by the local IT/Network Administrator). To do this:
Select ETHERNET (top right)
Choose Manual
Enter in Manual (Static) IP information
Press JOIN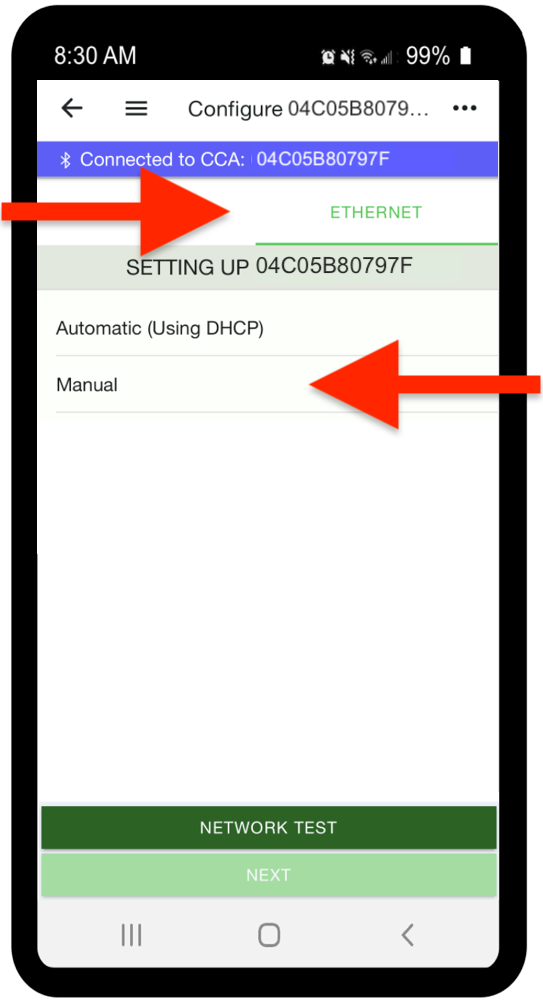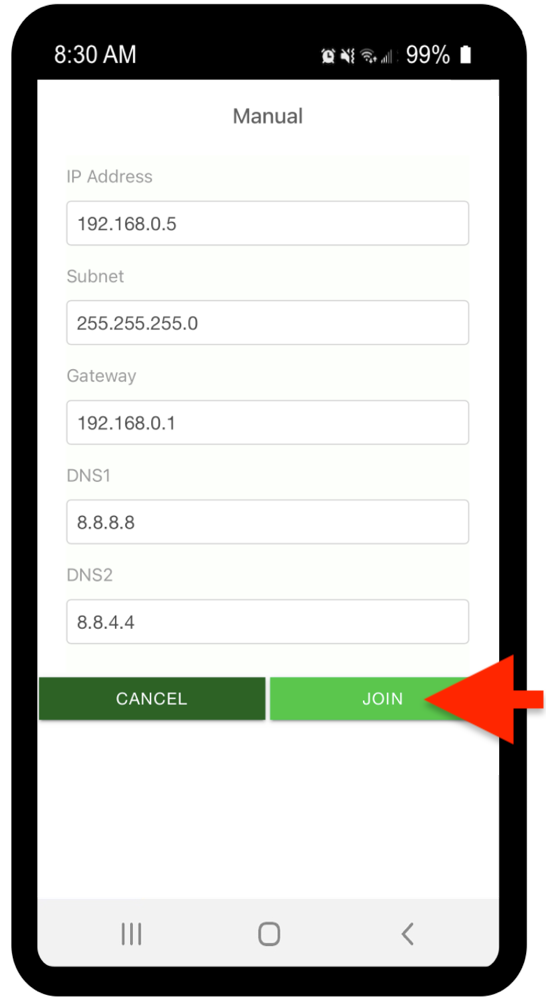 3. Confirm Network
To confirm the CCA's connection to the network is good, you may run a test of the network. This will will offer valuable data about the network connection (strength, speed, IP address, etc).
Press NETWORK TEST button (bottom)
Choose

START TEST

if you need to re-run the Network Test
Select CLOSE to end the

NETWORK TEST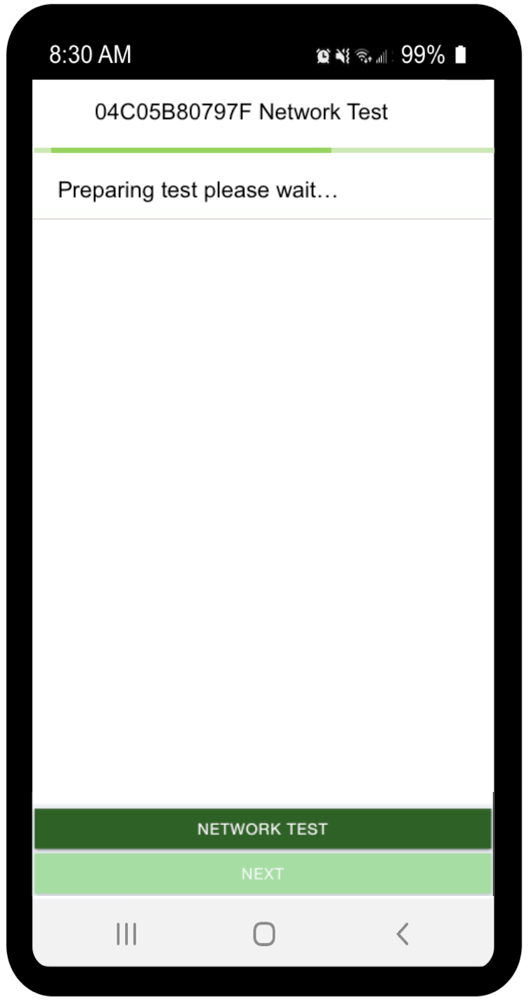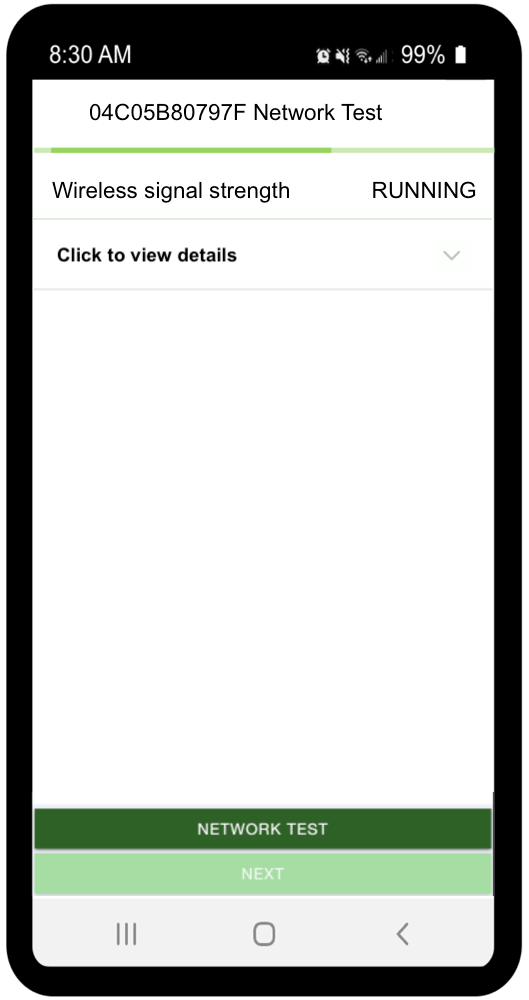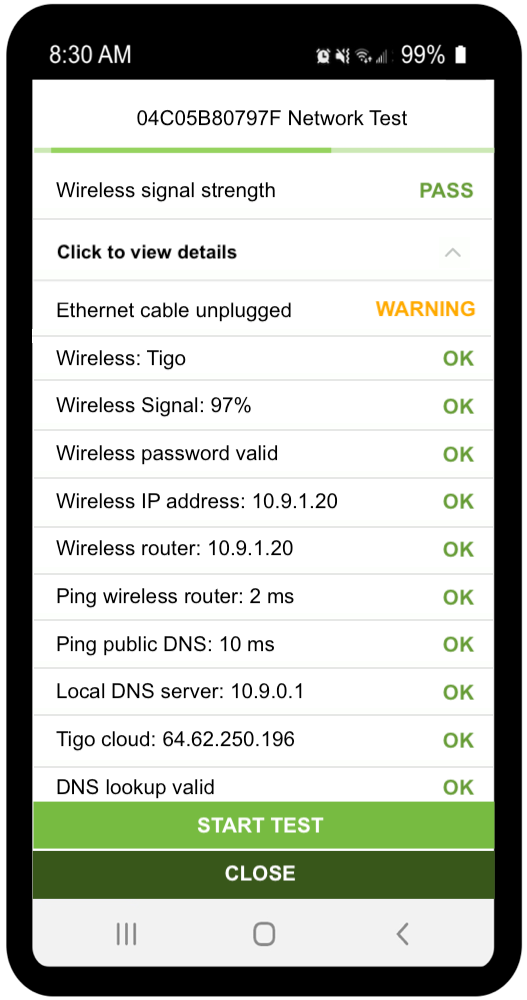 Note: If you have a wired connection, the Ethernet cable will show as plugged. If you are using a WiFi connection, then all results should be positive (except the Ethernet cable shows as Unplugged)