This article documents the Getting Started step of commissioning a Tigo TS4 system. 

'Getting Started':
---
1. Introduction
A Tigo TS4 Flex MLPE system is a data-enhanced solar Optimization and Rapid Shut Down (RSD) solution. The system is comprised of 3 components: 
Cloud Connect Advanced (CCA)


Advanced system management and data logging solution.
The CCA collects the system data and reports to the Tigo Cloud. It provide service updates, and deploys the RSD response.

 

Tigo Access Point (TAP)

 

The TAP is a rooftop radio transceiver that collects data and sends it to the CCA via hardwire (RS-485) connection.

       

Tigo TS4 Unit (MLPE) 

 

This MLPE (module-level power unit) clips to the frame of each Solar Module (panel), and is wired to the j-box. The TS4 provides data, optimization and RSD (depending on what model you are installing). 


   Models: 

TS4-O - Data + Optimization + RSD
TS4-S - Data + Optimization
TS4-M - Data (only)
---
2. Gather Materials
Gather the Tigo portion of the system (CCA, TAP and TS4s), as well as other items that are not included in the Tigo system purchase. 
Modules
Home run leads
RS-485 (or Ethernet) cable for rooftop TAP
Network items (Ethernet, Wi-Fi Extenders, etc)
---
3. Create Paper Map
Site configuration requires the entry of bar codes for the Cloud Connect Advanced (CCA) and each of the TS4 units (MLPEs).  
The Tigo TS4 units have two bar code stickers (one permanent and one that can be removed). The one on the right is intended to be removed and placed on your paper system map.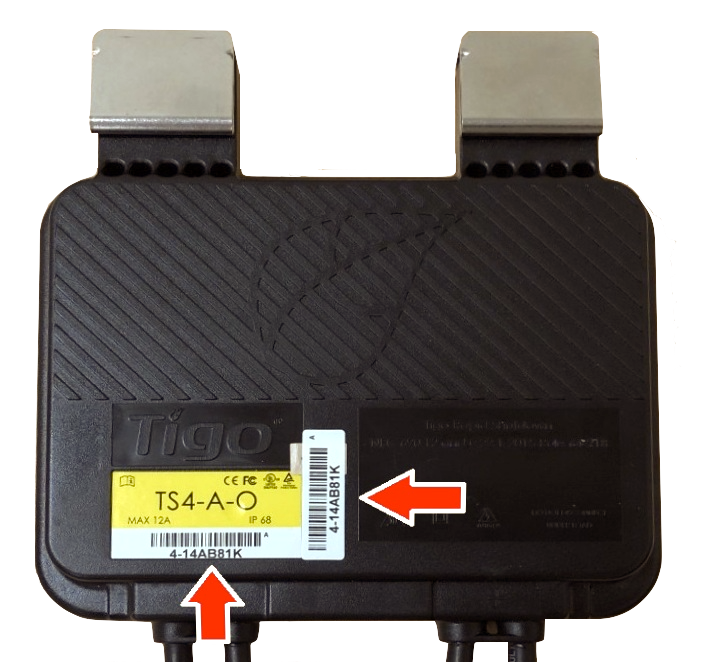 A system map can help to confirm serial number locations. This step can be done after the physical installation is complete (all modules and TS4s are in their final position). Make the paper map big enough to accommodate all of the bar code stickers without overlapping. You'll be placing the serials in their correct locations.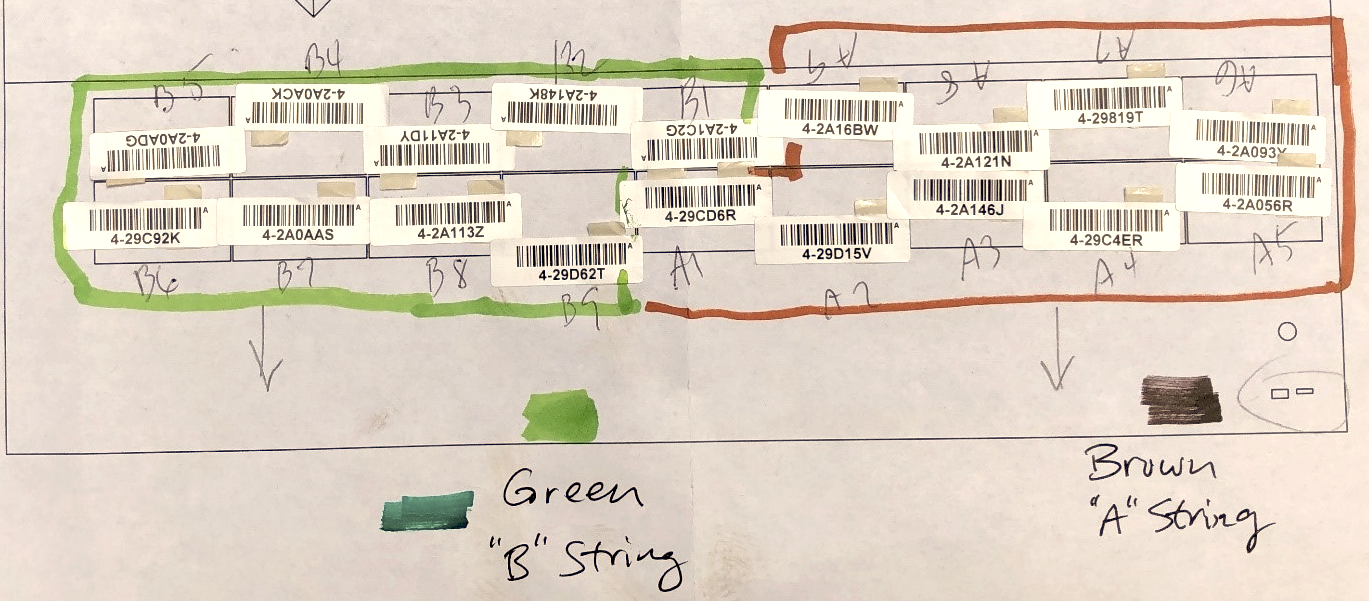 Tip: To reduce typos, you can also use a barcode scanner to enter the serials into the EI Portal.  Any USB barcode scanner should work. They are an inexpensive solution and simple to operate.
If you are configuring a large system, it helps to make a spreadsheet showing string assignments for each inverter, CCA and TAP.  For example, download:  String_CCA_mapping.xlsx


---
4. Install Tigo EI App
Download and install the Tigo Energy Intelligence (EI) App, as it is necessary to control the CCA when connecting with the local network. For full instructions on how to install the Tigo EI App, see: Install Tigo Energy Intelligence (EI) App.

This completes the Getting Started step of the commissioning process.

Next Steps
Continue to create and edit a system. Choose either method (EI App or EI Portal).
Create and Edit a System - Using EI App 
Create and Edit a System - Using EI Portal 
Tip: Use EI Portal method on website to pre-commission large systems.