How To use the Tigo Energy SMART App to create and monitor a Tigo system.
The App is named Tigo SMART. It is free to install and use on your Android or IOS smart-phone and tablets. Also, a web browser on a computer can be used to Create a Tigo website system.
Systems to be monitored, that is production data is available for viewing, are created and viewed on the Tigo Monitoring Portal web-site using a smartphone, tablet or computer - that has Internet access, Mobile Data is good, Wi-Fi is better.
Article Chapters
This article, Create and Edit System, consists of the following chapters. You can jump to a specific section by clicking on any of the following quick links.
To create a new system, tap on the Plus Sign shown to the left of the green arrow:
The Tigo SMART Mobile App is useful to create, edit and view a Tigo system when a personal computer is not available. The App is most practical to use to create systems with fewer than 50 PV modules, such as typical residential sites. For systems using 50 modules or more, we recommend doing system creation using the Tigo SMART Website on a personal computer (PC). This allows you to take advantage of the larger monitor screen size to enable easier placement of many module symbols, and enter their serial numbers. Login at https://www.tigoenergy.com
Note on New System creation using a computer:
It can be convenient to do the web site creation steps using a computer with it's large monitor, before physical installation of Tigo Equipment. It can be done as the final phase of system design and physical layout planning, after creation of installation drawings. See the article "Pre-Commissioning: Create a Tigo System on the App or Website" for details.
App Features:
The Tigo SMART Mobile App provides the ability to:
Create a system which includes entering equipment types, optimizers and serial numbers.
Place equipment symbols in two dimensions to represent a roof top module layout, provides for easy-to-use viewing of production data.
To change Serial numbers when equipment is replaced.
Note: When using the App, the phone/tablet must have either mobile data service, or Wi-Fi Internet access, to enable system selection for viewing, new system creation and equipment type changes/editing.
The Cloud Connect Advanced (CCA) unit, as well as the Cloud Connect and the Maximizer Management Unit data-loggers needs Internet connectivity to do any of the following:
Monitor production data on the Tigo Monitoring Portal.
Initially, to download Tigo equipment serial numbers.

Serial numbers are required to be downloaded to the CCA when rapid-shutdown operation is desired. Internet service to the CCA is not required during operation.
Note: If solar plant system site does not have Internet service

:

CCA needs temporary Internet service, in order that MLPE/optimizer serial numbers can be downloaded into the CCA. This can be done at any location with Internet service, except a Captured Wi-Fi Access Point - they require agreeing to a terms of service/usage before allowing access to the Internet.

Create and configure the new system on the Tigo Portal, then provide the CCA with Internet. Plan for 20 minutes of connection time for the system configuration data to be downloaded. Either the CCA Wi-Fi or Ethernet cable connection can be used for Internet service Also, when the site will not have Internet service, contact Tigo customer support team while CCA has Internet service. This will allow Tigo support team to ensure the latest updates are in use by the CCA.

An additional option at a site without Internet access is to use a smart-phone's Wi-Fi hot-spot or a cellular mobile Wi-Fi hot-spot, to provide Wi-Fi service long enough to download the system configuration.

When using site Wi-Fi to provide Internet service, the Tigo Energy SMART phone application must be used while being within 20 feet of the CCA. The app is used to select the site specific Wi-Fi Access Point for Internet service.

Using the Tigo SMART phone application.

How To Install App: https://support.tigoenergy.com/hc/en-us/articles/115012743508-Install-Tigo-Smart-App-3-1-for-iOS-and-Android

Other important articles on Installing and Commissioning your new Tigo system: https://support.tigoenergy.com/hc/en-us/categories/200231068-Install-Commission

This article walks you through the creation and editing of a system with the Tigo SMART Mobile App. For a video run-through, watch this video!
To create a new site, press

+

at the top right of the screen. It is to the right of the All Systems page title, as indicated by the green arrow outlined in red in the screen image below:
Note: To service or monitor a system that has already been configured, click on the relevant system.
Fill in a name, address information, select a Time Zone, then tap 'Create System':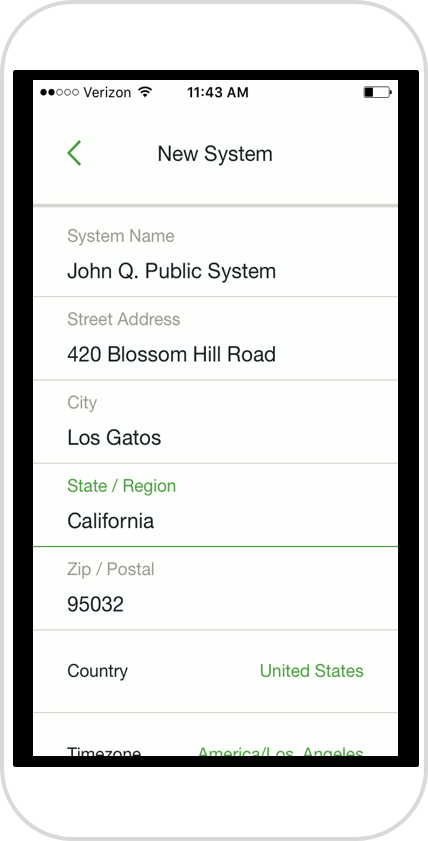 Bottom portion of the New System page showing the Timezone setting field: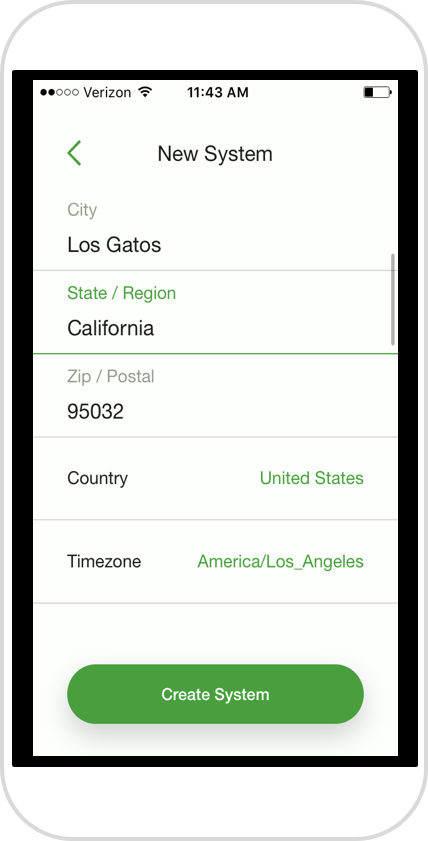 Verify that 'Site Info' is now checked with a green arrow: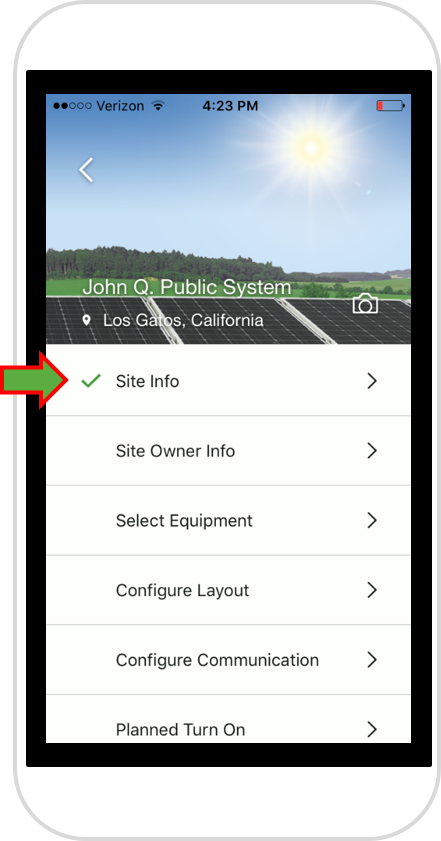 Tapping Site Info text to revisit the 'Site Info' page will now show the assigned system identification number, a 'System ID'. It is the 5 digit number shown for system selection purposes: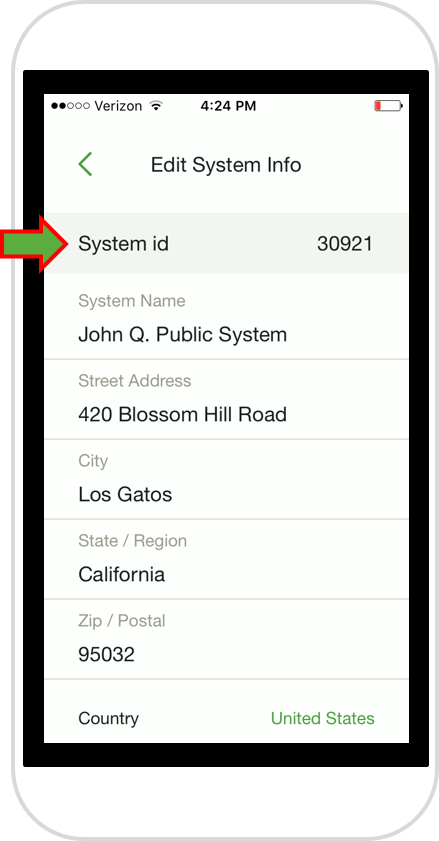 Note: The 'system ID' identifies the installation distinctly and always useful to know for support requests. It allows multiple systems to have the same System Name.
Note: At this point, the new system is now shown as Pending on the All Systems page:

Tap the text 'Site Owner Info.' to configure system owner access to the monitor the system.
Enter the email address and name of the site owner.
'Site Owner Info' is not mandatory to setup up the new system and can be entered and edited at any time.
Tapping

Save Owner Info

button will send an invitation email to the site owner to setup their Tigo Monitoring Portal account in order to be able to view the electrical energy produced by their commissioned system.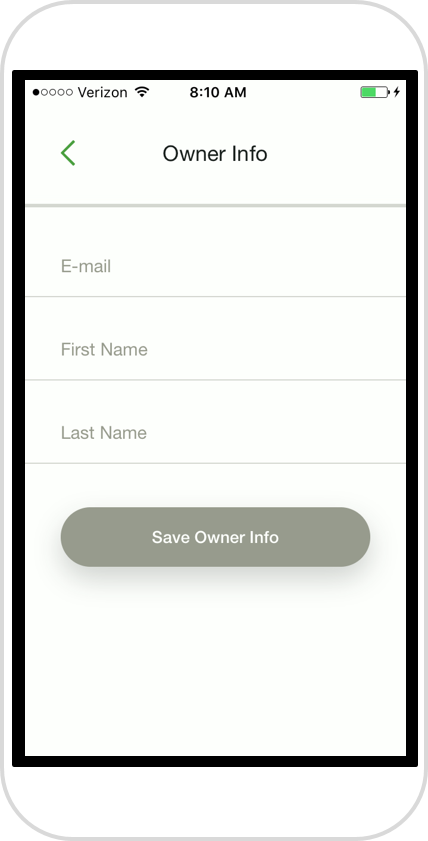 After leaving 'Site Owner Info', verify it is checked.
Tap on 'Select Equipment.'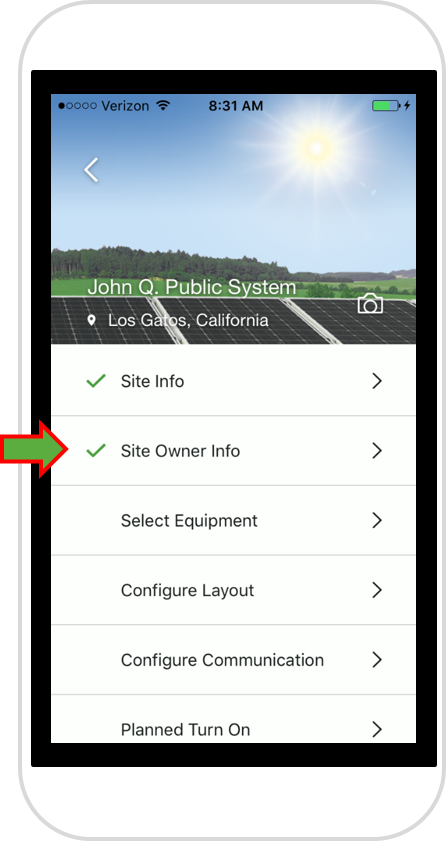 Tap on the

+ symbol at the top right of the Equipment page to begin adding equipment used at this site.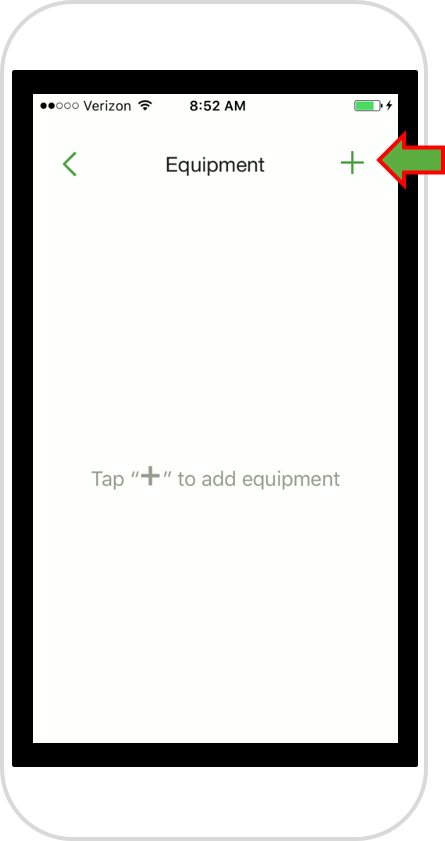 Tap on the text Cloud Connect Advanced - (CCA).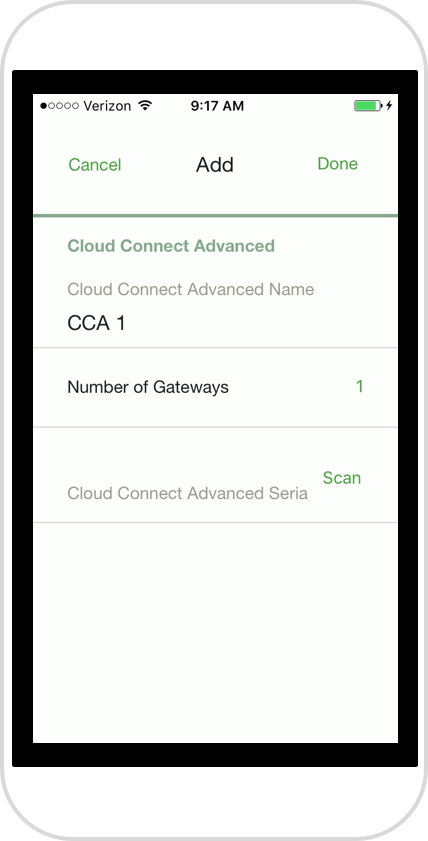 Enter a unique name for every CCA or leave the default name 'CCA x' where 'x' starts with the number 1 fo the first CCA added to a system.

Note, Using a physical location as a CCA name can help site owners locate it years later, such as 'Garage Cloud Connect'.

Enter the number of gateways that are connected to the CCA. This must be accurate as all gateways must be detected for Discovery to start finding Tigo module level panel electronics (MLPE), that is optimizers.
Enter the CCA serial number(s) manually or by scanning the CCA bar code by taping the word '

scan

' in the section Cloud Connect Advanced Serial Number, as shown in the below screen shot: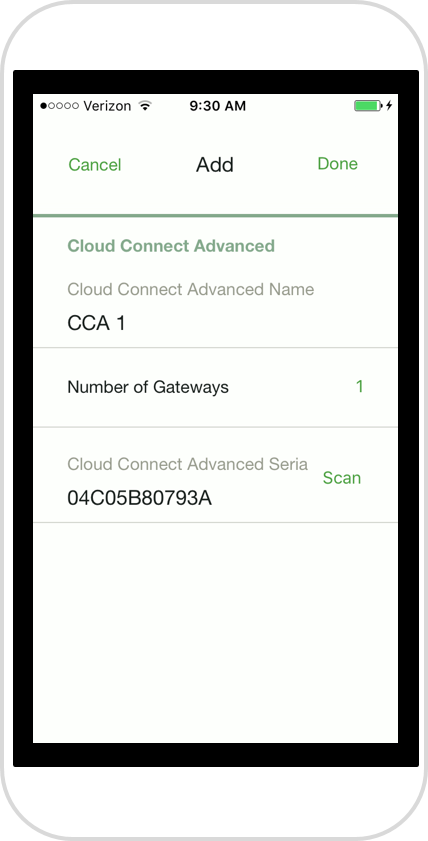 When Scanning for the bar code: If not previously done, Allow the Tigo app to access the camera.
Then position the phones camera to focus on the bar code sticker, so the sticker fills the screen horizontally in the middle vertically:
Tape Done. Then enter or scan any other CCA that is used in the system.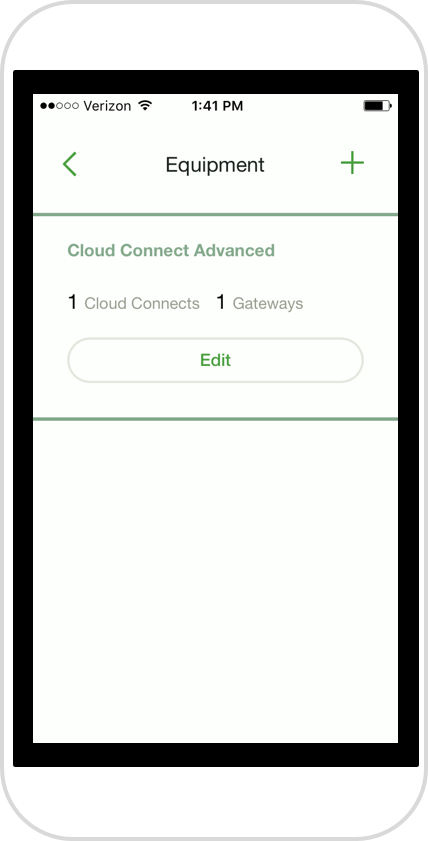 When 'Cloud Connect Advanced' serial number entry is completed, select 'Inverter and PV Modules.'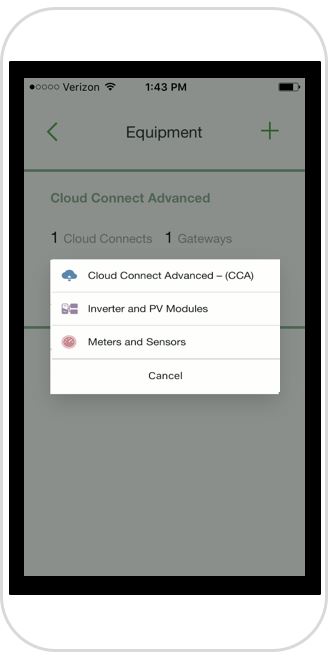 Name the inverter (better), or leave the default name of 'Inv 1'. Again a location can be useful: 'Garage Inverter 1'.
Choose the inverter model, or create one if needed
Set the number of MPPTs used, for a given inverter, and the CCA used to managed the PV modules connected to that given inverter.
Select the manufacturer and model of the PV modules.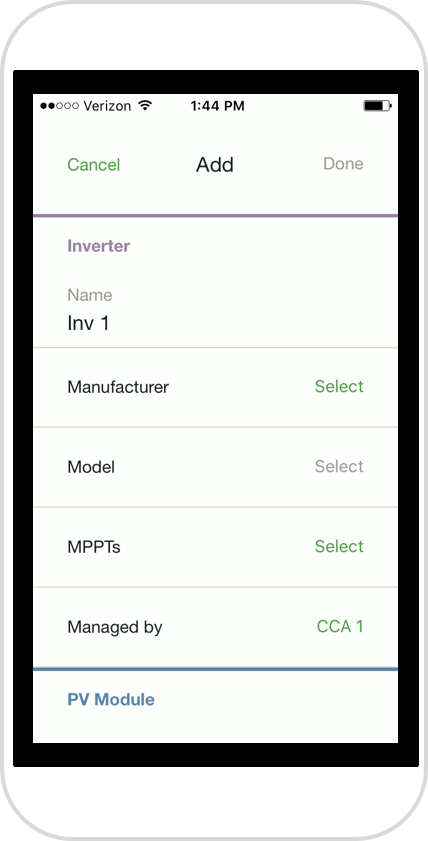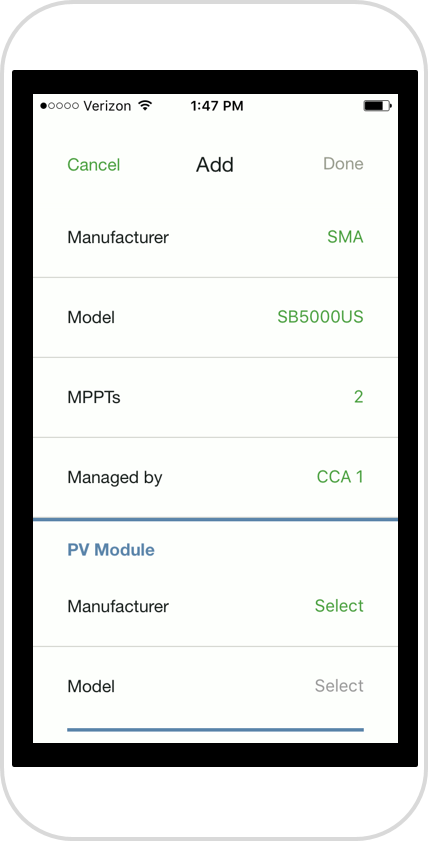 Note: If you need to add an inverter or module that's not in the list click the "+" sign at the top right corner. This device will not be available for use on other systems, it is private to this system only.
Assign the number of strings, modules for each string, and which MPPT they are connected to.
Toggle the uneven strings switch to ON, when the number of panels in the strings connected to a particular MPPT are not the same.
Select

Done

in the upper right hand corner of the screen.




Note: You can change the inverter and module types, numbers and MPPT assignments at by tapping on Edit button at the bottom of the second screen.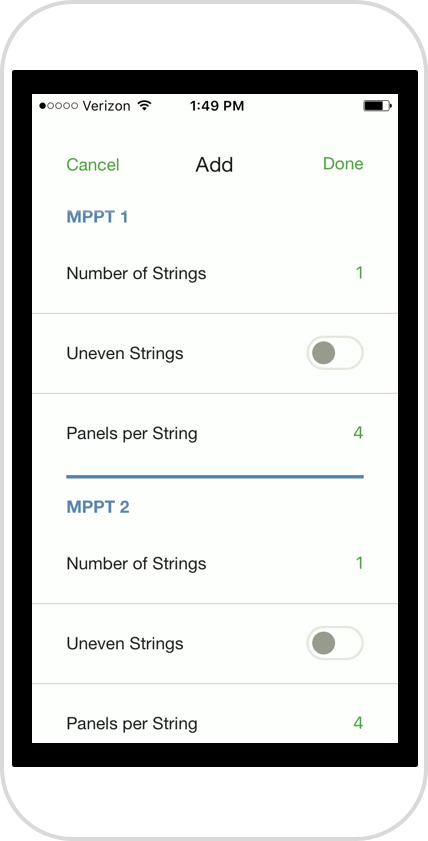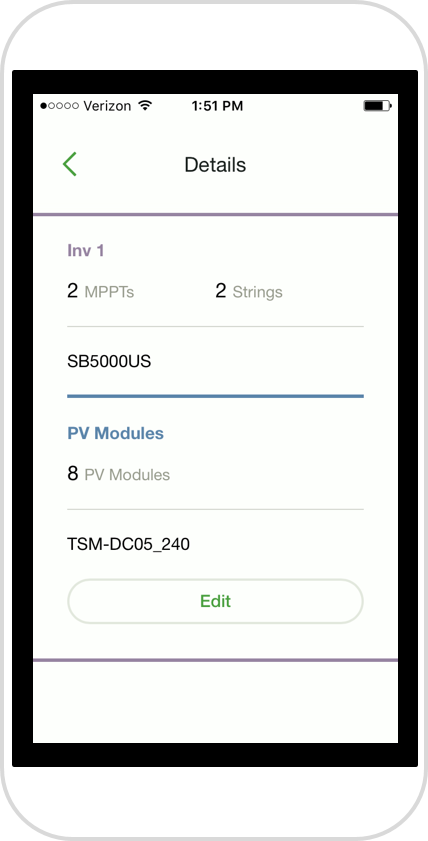 Verify that 'Select Equipment' is now checked.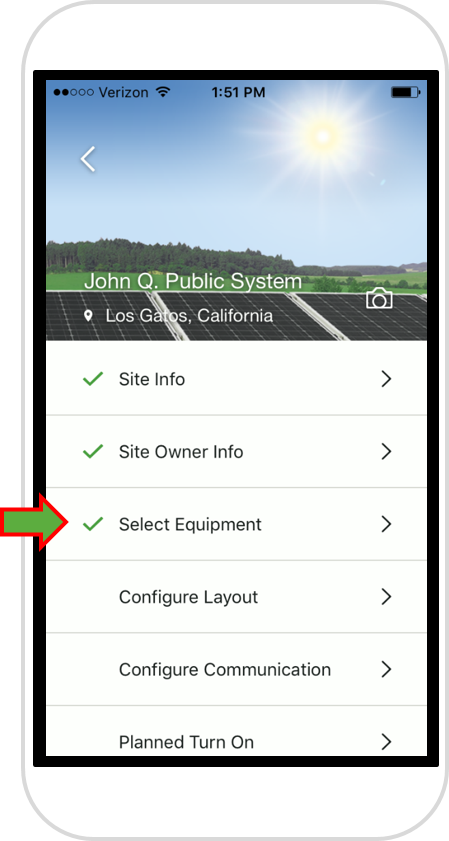 Tap on the text 'Configure Layout'.
Configure or Edit the Equipment Icon positions/Layout and Serial Numbers.
Note: You can change the MLPE Optimizer serial numbers by using this page at again in the Future. Tap on Register button to initiate editing, than TAP on MLPE/module icon.
Place a CCA icon onto the Layout page by tapping anywhere you want it to appear on the layout plan. Note, the CCA icon is not displayed in the System View.
Note: Press and hold on a Icon to drag it to a different position on the screen.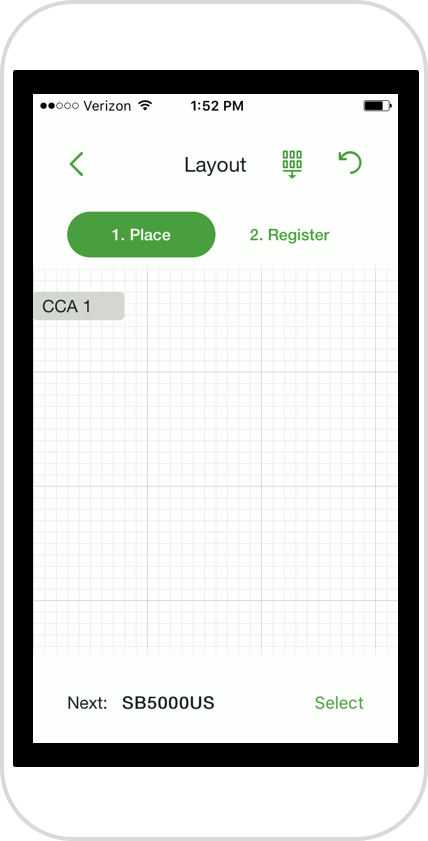 After all Cloud Connects are place you will see equal values for the Placed status such as shown here, 1/1 Placed: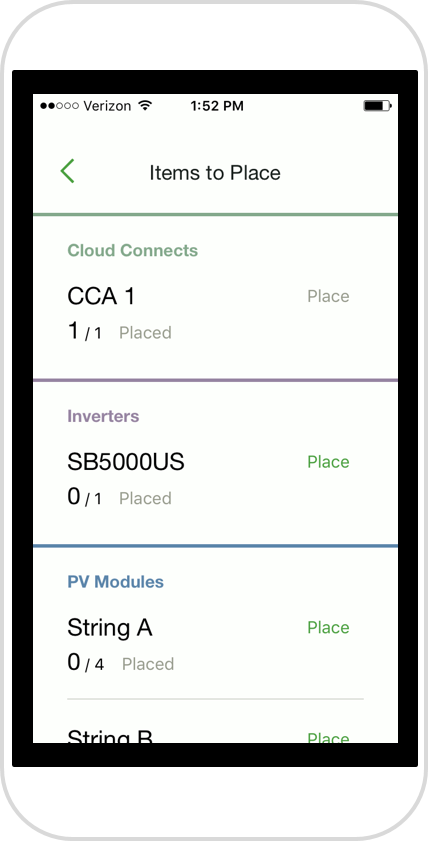 Next, Inverter icons are placed: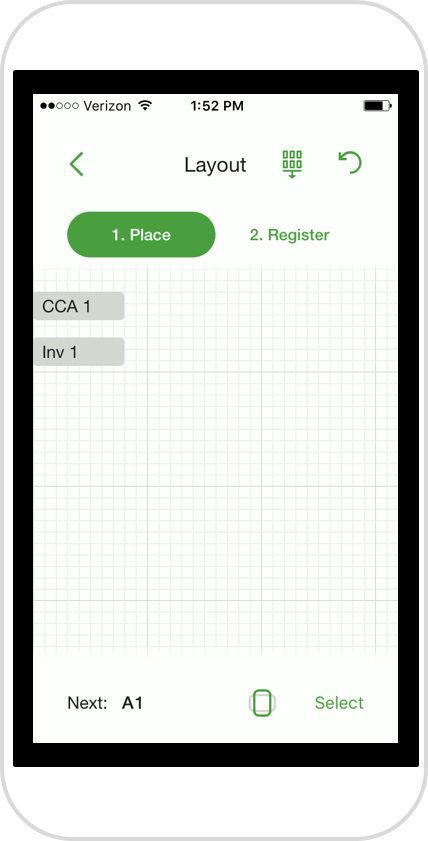 After all Inverter Icons are placed: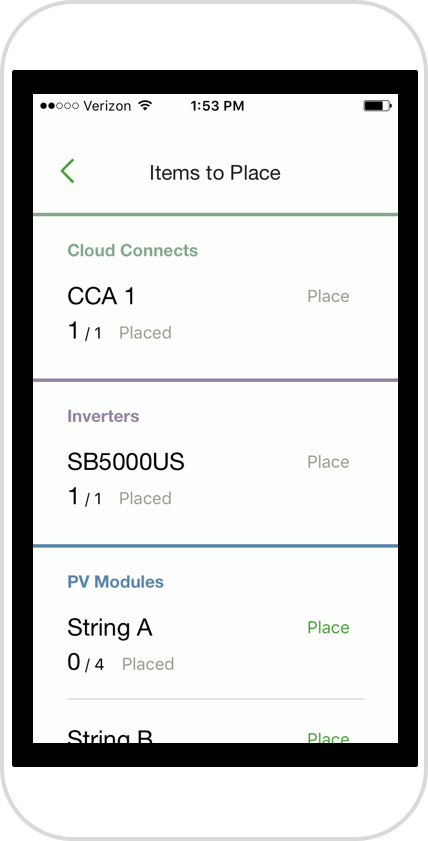 Finally, PV module icons are placed on the Layout grid.

one by one with accuracy in position according to their relative physical placement on site.
Module with label A1 is placed first, then A2, etc until all string A icons are placed.
Then String B modules are placed.
Repeat until all modules from all strings are placed.

Note: It is essential, and highly recommended, to place the modules position on the Layout page with accuracy as to their relative physical positions to each other. That is exactly (with correct serial numbers), as they are physically located on racking and roof surfaces.
An accurate "physical site map": enables understanding of shading effects on production and energy recovery, and assists future maintenance activities requiring accurate physical location information, now and in the future.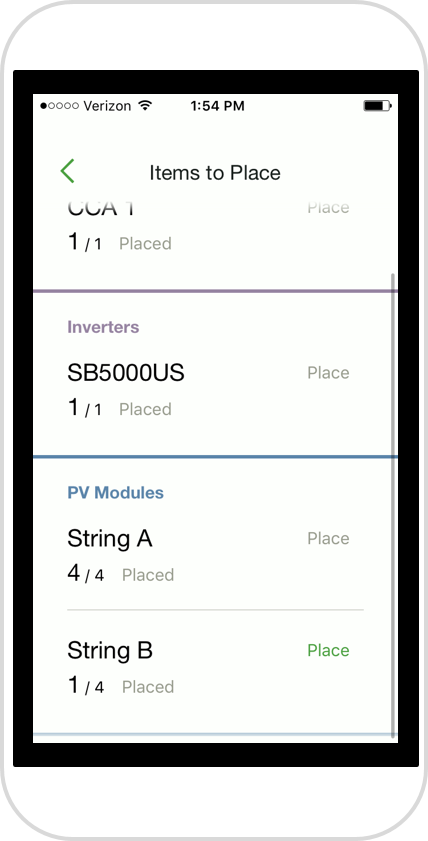 Note: After all MLPE PV module icons have been placed, the MLPE units need to be registered that is, their individual serial numbers must be entered.
You must enter serial numbers, for all MLPE units installed onto PV modules.
After all module Icons are placed, you tap

Register

to begin entering serial numbers: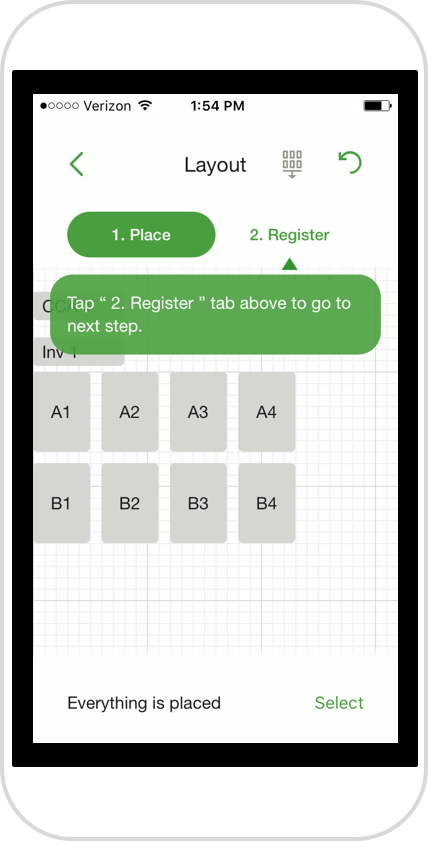 Tap on any gray module icon in the layout to enable typing or scanning (with camera or bar code scanner) the attached MLPE serial number on the sticker.
There are peel-off bar code stickers on each MLPE unit that should be collected during physical installation to ensure accurate position information.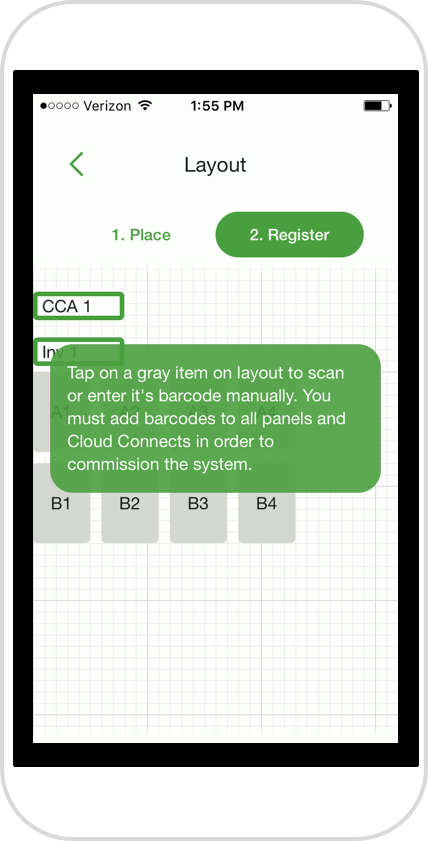 After tapping on a module icon, it turns green to indicate that it's serial number needs entering: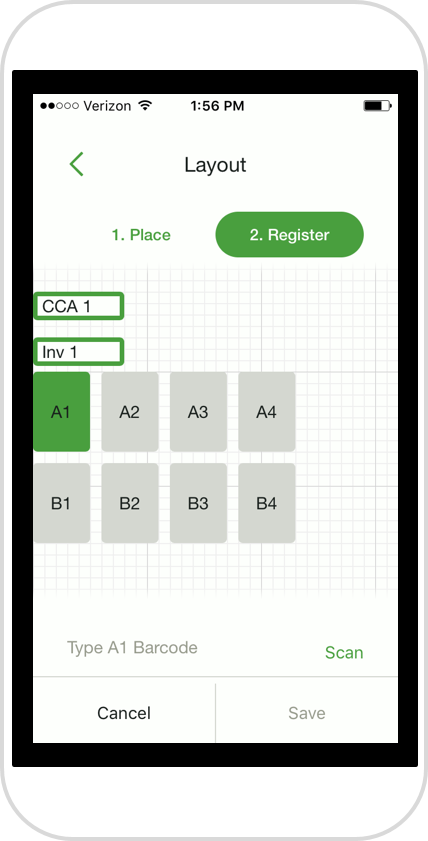 Enter the module's serial number manually by typing it, or scan it with phones camera by tapping on

Scan

.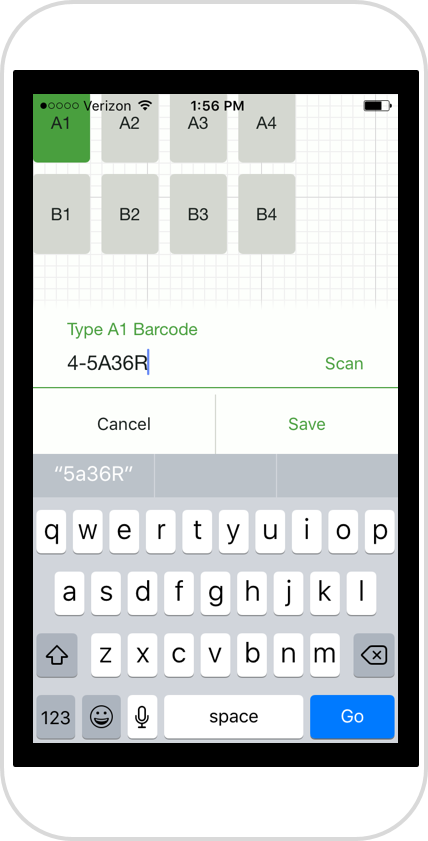 Below is what a serial number/bar code sticker looks like for our Safety model. The peel-off sticker is the smaller white one to the right of the permanent Model and serial number sticker. The red background used on this sticker indicates it is a TS4-S (safety) model.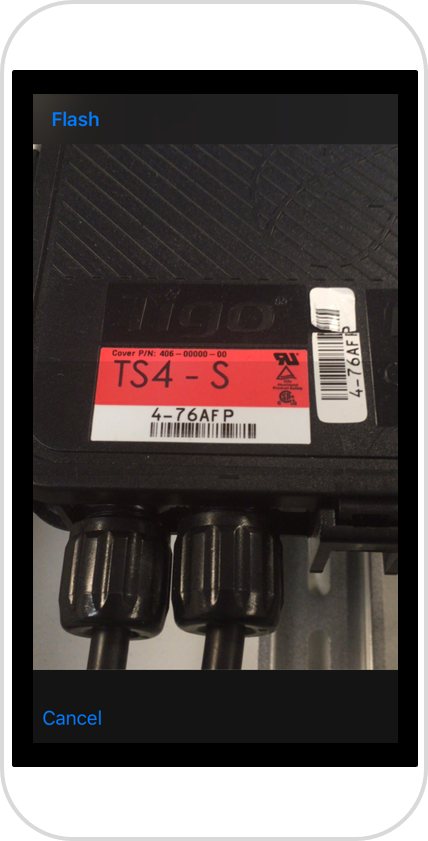 Note: You can change the modules serial numbers by using this page at any time. Tap on Register button to initiate editing.
After entering serial numbers for all MLPE units, you will see this message: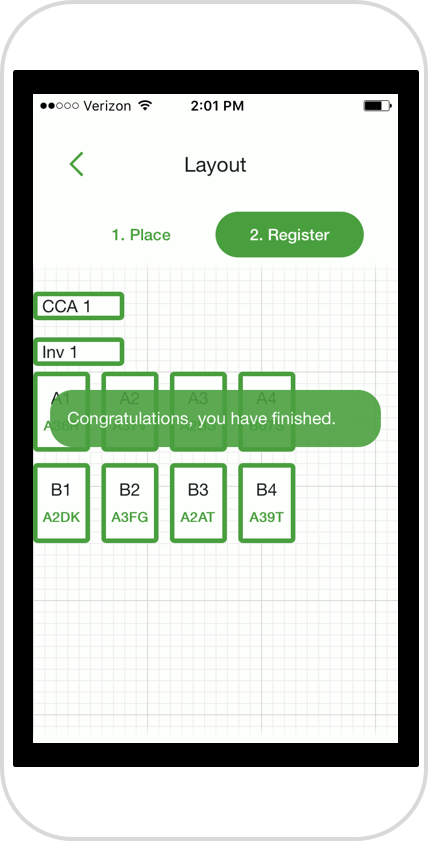 Below screen shot shows 'Configure Layout' having a green check mark, indicating all equipment (CCA, Optimizers, Inverter) icons are now placed on the Layout page as needed in order to be shown in the System View.
Tap on text 'Configure Communication' to go to the Connect to CCA page to setup Internet access for the CCA.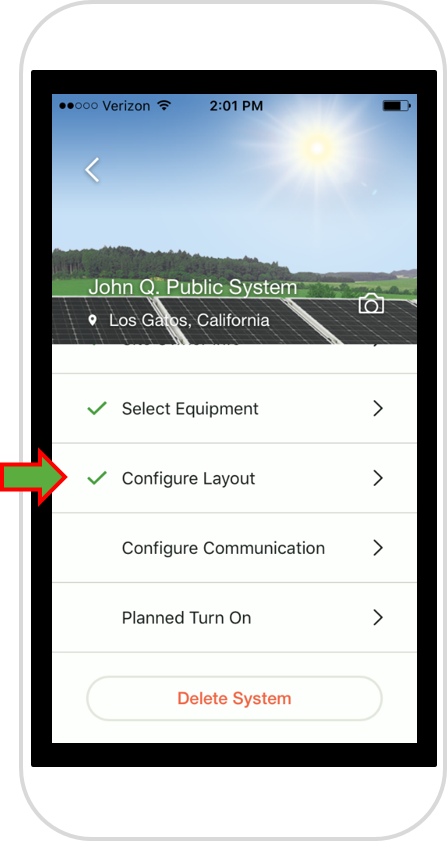 Configure CCA Internet Access
For detailed information on Internet access see https://support.tigoenergy.com/hc/en-us/articles/201072448-Network-101-Providing-Internet-access-for-data-loggers-Cloud-Connect-Advanced-CCA-Cloud-Connect-CC-and-Maximizer-Management-Unit-MMU-
When using Ethernet, no configuration is necessary when the router is configured to assign an IP address using DHCP - which is nearly always the case in most networks.
To set the Wi-Fi Access Point and password:

Tap on 'Configure Communication' on the Edit Systems page (shown above).
To configure Wi-Fi, connect SMART App to Cloud Connect



You can use either Wi-Fi or Bluetooth to connect a mobile device (phone/tablet) to the CCA.
Wi-Fi and Bluetooth not seen: The Cloud Connect Wi-Fi or Bluetooth device may not be shown after the Cloud Connect has been powered on for 2 hours. To see the wireless names, quit the phone App, power cycle the CCA, wait 2 minutes, and connect. Restart the SMART app, and if still unable to connect, restart the phone, too.
NOTE: Regarding App request for LOCATION INFORMATION ACCESS:
In some circumstances, the application must be allowed location information access in order for the Bluetooth or Wi-Fi connection from the phone to the Cloud Connect to work. This is a requirement for both iOS13 and Android devices. If you have previously denied location information access by Tigo SMART App, you will see no Wi-Fi or Bluetooth names on the "Connect to CCA" page.
Location Information Access solution Steps:
How-To Allow Permission Request
a. You may see a pop-up requesting location permission when you start the app. If so, tap continue.
b. When asked to allow Tigo SMART to access device's location, tap allow.
c. If you have no more issues, disregard the rest of these steps. Otherwise, try solution 2.
Use the SMART App left-side menu, swipe in from off-screen left-hand side of App window, then tap on the Map.
a. If a request for Location access pops up, enable it.

This should address the issue, disregard the rest of the steps.
b. If nothing pops up, try solution 3.

Change permissions in your device's App settings:
a. Close the Tigo SMART app
b. Go to your Settings
c. Scroll down to apps (Application Manger in Android)
d. Tap on Tigo SMART
e. Scroll down to Permissions section
f. Ensure that "While Using the App - Enable Location." or similar named permission is Enabled.
Reboot your mobile device.
Run Tigo SMART App, then go to Tigo SMART App Menu and select Map. If Map shows the system location on a street map, Location Permissions are now correctly enabled for the Tigo SMART App. Try connecting to CCA using Bluetooth or Wi-Fi and you should now see the name of "SM-04C05Bxxxxxx on both Bluetooth and Wi-Fi connections.
If you still experience issues after trying these steps, contact our support team. Support contact information here; https://www.tigoenergy.com/contacts/.
Connect smartphone to CCA via Bluetooth (recommended):
Tap Bluetooth button.
Tap the serial number of the CCA you wish to connect with.
Note: Please only use the Tigo Smart App to access Tigo CCA devices, never use the phone's Bluetooth pairing screen.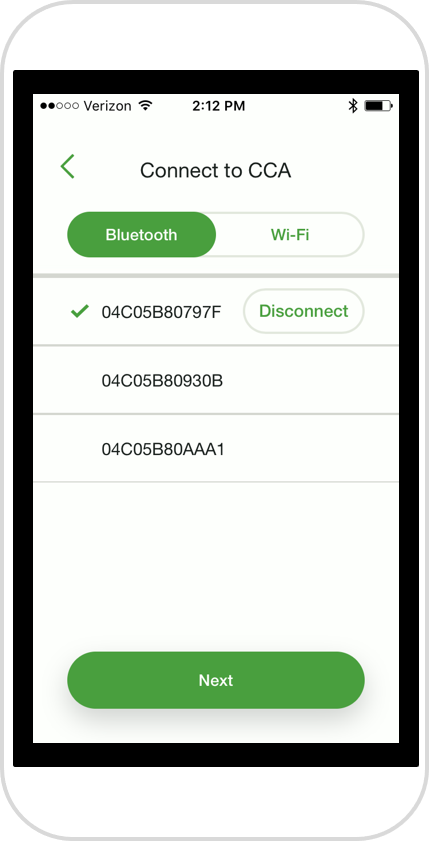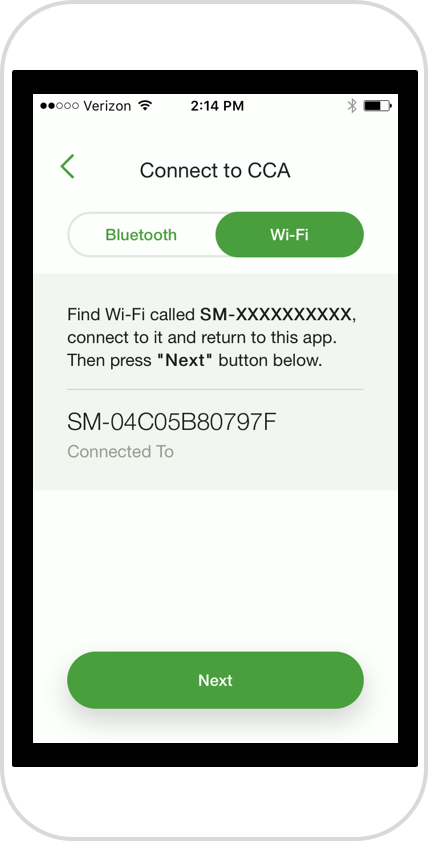 Connect smartphone to CCA via Wi-Fi:
Tap the Wi-Fi button.
Tap the CCA's Wi-Fi connection in the phone's settings.
Note: Using the Wi-Fi connection disconnects the smartphone from any previously connected Wi-Fi access point.
Note: Connecting the phone to the CCA via Wi-Fi mandates leaving the app and coming back to it once done. You do not have to close the app while doing that.
After your Smartphone is communicating with the CCA, Tap 'Next'.


Configure Internet access settings:

Either an Ethernet cable, or a Wi-Fi connection, can be used to provide Internet service.
The Wi-Fi connection access point can a routher, a Cellular service Mobile Hot Spot, or a Smartphone acting as a Wi-Fi Hot Spot.
Ethernet Note: Ethernet port is always enabled, and is factory configured to Automatic IP assignment using DHCP. For security enhancement, a static IP address may be required as specified by a local-area network administrator.
To connect with Ethernet cable tap Ethernet button, then Manual to set a network administrator specified value.

For Manual IP the following values must be configured

The values, below, are example values, and typical for a small business and home network. These values might work in your system.
Don't use Manual IP, or the other settings shown - unless instructed to do so by a network administrator. Manual IP is only needed so that the CCA has a known, and unchanging, IP address that the firewall is configured to allow the CCA Internet access.

IP: 192.168.1.136
Subnet [mask]: 255.255.255.0
Gateway: 192.168.255.255
DNS1: 8.8.8.8 (used as primary Public DNS)
DNS2: 8.8.4.4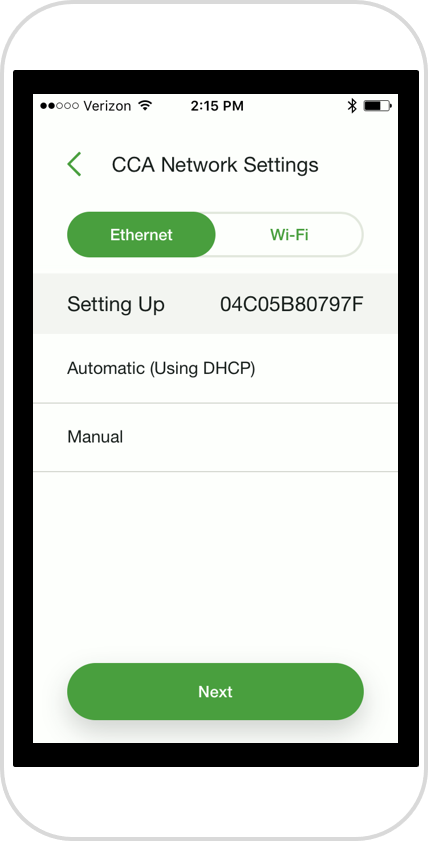 To connect the CCA via Wi-Fi, tap

Wi-Fi

button, then choose the local Wi-Fi connection from the list that of available Wi-Fi routers that is generated after a minute.
Enter the Wi-Fi router password in the dialog that displays.
Tap 'Run Test', the middle button on the line with the green arrow in the below image.

NOTE: The 'Run Test' feature checks the Internet connection status of the CCA to ensure communication with a Domain Name Server (DNS) and the Tigo web page server, i.e. the 'Tigo cloud'.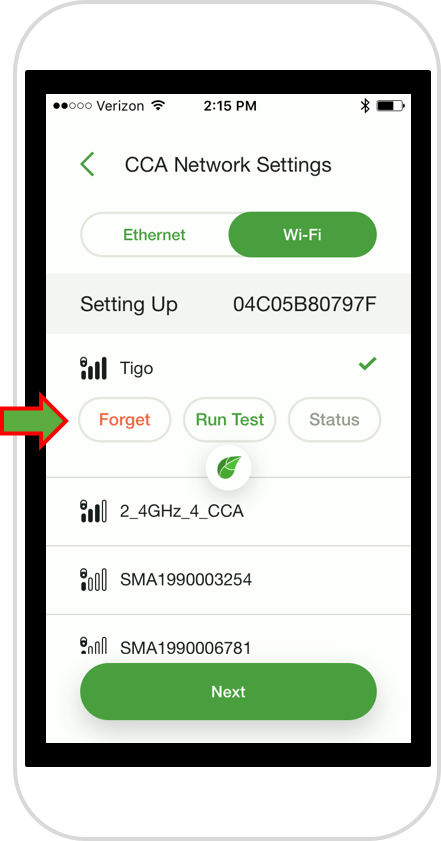 Test in progress display: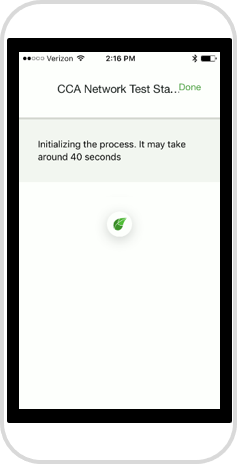 CCA Network Test Status - test results displayed:
Many local network router and Internet access tests are performed and the technical results are shown. such as IP addresses. The results have more lines of text than fit on a single device screen page. The first image, below, shows the last test performed (HTTPS queried Tigo cloud, which is the web server) at the top of the screen, just under the Progress and Success status display. To see the other test results scroll down and you will see results as shown in the second and third images. The bottom of the the third screen shot shows 'Ethernet cable unplugged' test result, it is the first test performed. The most recent test is at the top of the first screen shot - in this case showing Success.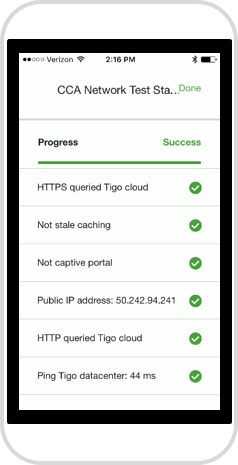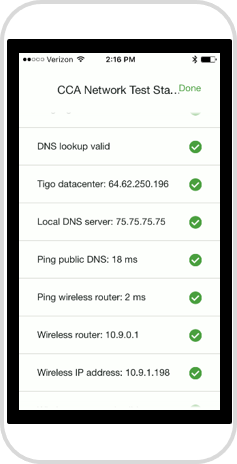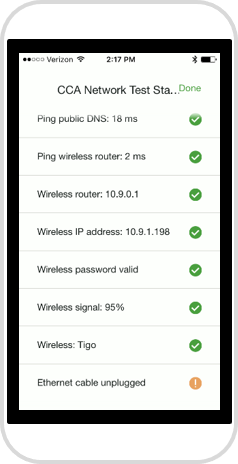 Note: When an Ethernet cable is not connected, the orange exclamation point in a circle to the right of Ethernet Cable is Unplugged test result, is expected. Otherwise, these are good/normal results as indicated by the white check mark in a green circle,
To go back and see the configured CCA Network values, tap Done at the upper right of the screen, to the right of 'CCA Network Test Status'.
Start Discovery
In case Discovery has not already been started automatically by the App: tap 'Next' which is at the bottom of the 'CCA Network Settings' page as shown below, to manually start Discovery. Discovery establishes the radio communication to a TAP. If MLPE serial numbers have not completely downloaded to the CCA, you will be notified that Discovery is waiting for serial number download to complete.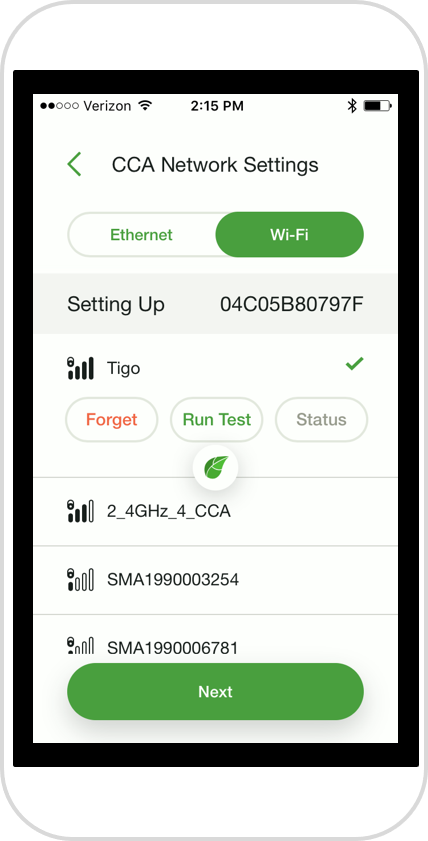 Discovery Note 1: Before starting Discovery, make sure that all equipment, Inverter, CCA and optimizers, are installed and powered on. Also have completed entry of all CCA and MLPE serial numbers.

Discovery Note 2: Discovery takes time! For a typical sized residential system, with proper TAP placement, Discovery normally completes in less than 60 minutes. Be aware, due to the processing time of MLPE production data prior to display on the web site, the icons for modules can remain gray at least 15 to 30 minutes after they are discovered. Please allow 60 minutes or longer before requesting technical support.

Discovery Note 3: If Discovery can not find all MLPE devices, even after waiting 60 minutes (for systems with fewer than 20 MLPE, or a few hours when there are hundreds of MLPE), Discovery will continue to attempt to discover them automatically, into future hours and days, as required. Please allow at least 2 hours after the next sunrise before requesting support on undiscovered MLPE, by emailing support@tigoenergy.com or calling.

Discovery Note 4 - discovery not finding MLPE: Modules can not be discovered for the following reasons:
Incorrect serial numbers entered in Layout for a MLPE.
The TAPs, or all TAPS, are located to far away or to obstructive to radio signal: see https://support.tigoenergy.com/hc/en-us/articles/360001532327-TAP-Placement
The MLPE is not receiving at least 16 Vdc from the solar panel.
App display during Discovery: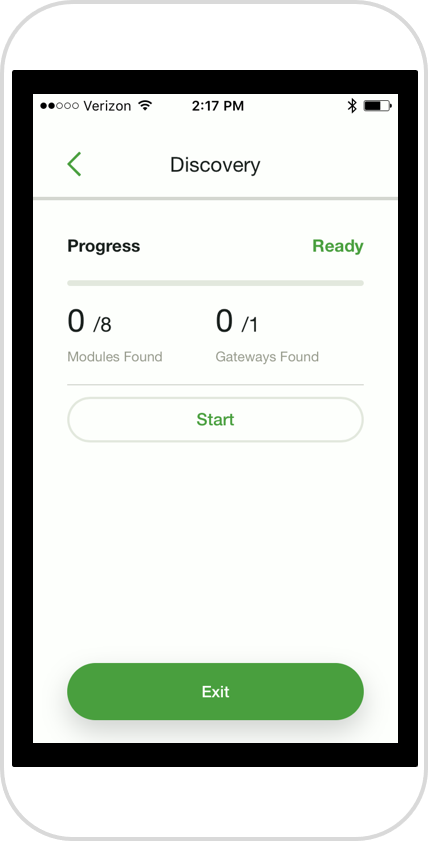 When button is available, tap 'Dismiss' to acknowledge that you may quit the application at this time, the CCA continues with the Discovery process, independent of the application activity including phone connection to the CCA.

You may disconnect from the CCA, and reconnect at a later time to check Discovery progress.
However it may be desirable to keep the app. connected to the CCA until the CCA reports that the number of Gateways Found equals the number of Gateways/TAPs installed on the system, and that the number of Modules Found equals the number of modules installed for the system. This normally takes only a couple of minutes for residential systems.
Discovery will run in the background, regardless if the App is active
If you keep the App running, tap 'Exit' after Discovery completes, to view the production data.

After tapping Exit, the App displays a new window to tell you that it is OK to stop the App from running, and disconnect your phone from the CCA.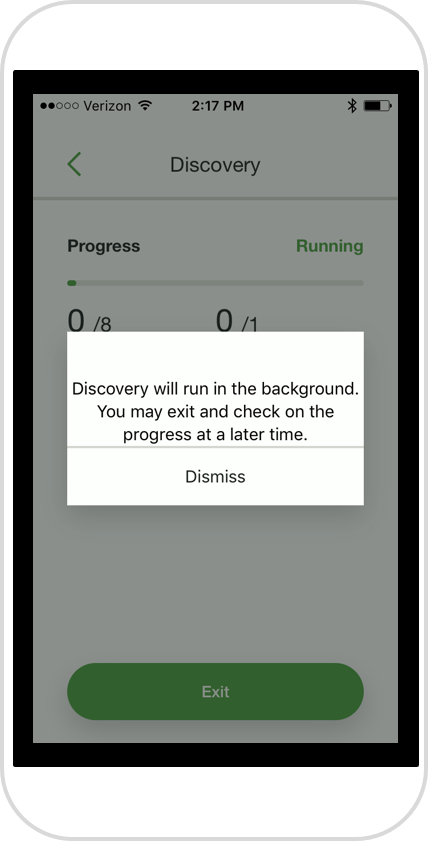 As shown below, when Discovery receives communication from a given MLPE, the number of Modules Found will increase. When all Modules (MLPE devices) are found, Modules Found will show x modules found out of y modules.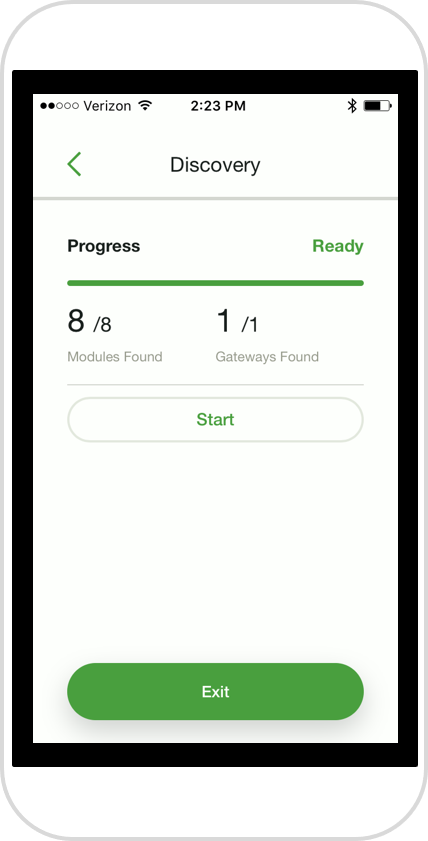 In case the connection between the smartphone and the CCA was by use of the CCA Wi-Fi, reconnect the smartphone a Wi-Fi access point with Internet access so that the application can communicate with the Tigo data center servers. This is not necessary if the phone using mobile data for Internet, or the phone is already on a Wi-Fi access point with Internet (which could be the situation if Bluetooth connection to CCA is used)
After pressing Exit to finish Discovery (Exit is shown in above screen shot), check that 'Configure Communication' now has green check mark. This indicates the CCA still has working Internet as needed to communicate with the Tigo servers, as configured prior to starting Discovery.
If a system is not to be monitored, Internet access can be removed now. This is is the case if a phones Wi-Fi hot spot is being used to provide temporary Internet access.

CCA can be pre-configured, that is the MLPE serial numbers can be downloaded, at a location with Wi-Fi or Ethernet to the Internet, before installing at a site with out Internet service.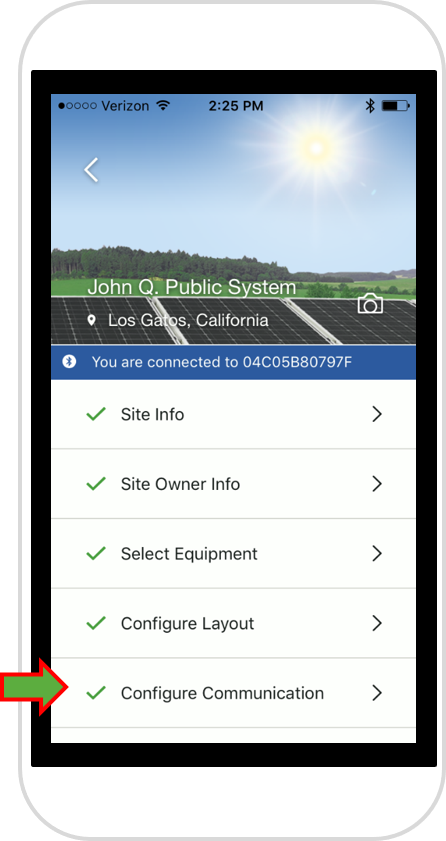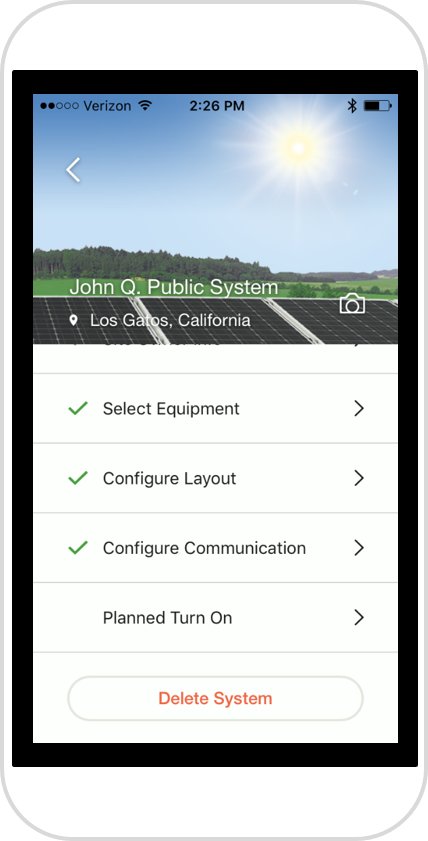 Planned Turn On Date

Note: By using Planned Turn On Date button, you can set a date that the system is expected to be operational for full production. This is for reference only, to indicate system production expectations. It does not effect operation of the Tigo products. Lack of full production prior to this date, might be normal. - for example in the situation that a system is installed in phases.
Before the Planned Turn On Date, the system will be shown as

Ready

.
Once the date is reached, the system status will show as

Active

.
This is useful to allow time for testing and the passing of inspections prior to expectation of normal production operations.
Tap on 'Planned Turn On', (shown in above screen shot) to select a planned (expected) fully operational date. Before this date, a system will be shown as Ready on the System View.
Tap Set Planned Turn On Date, shown below
Choose a date.
After choosing a date, a green check mark appears next to Planned Turn On on the Systems home page of the App, This is shown in second screen shot, below: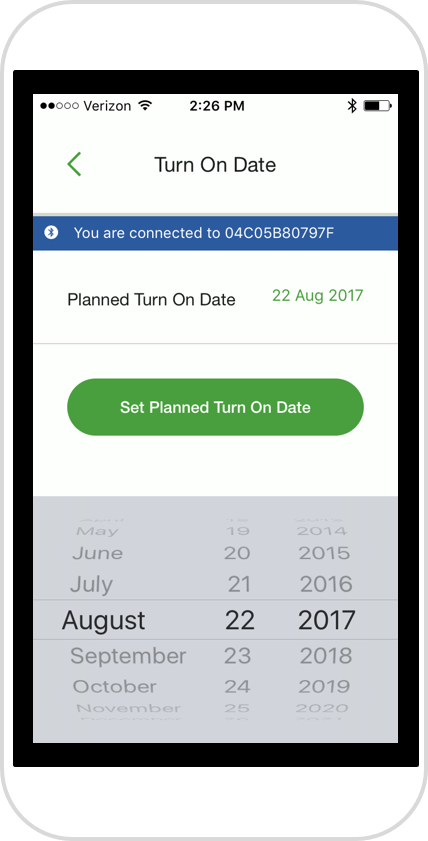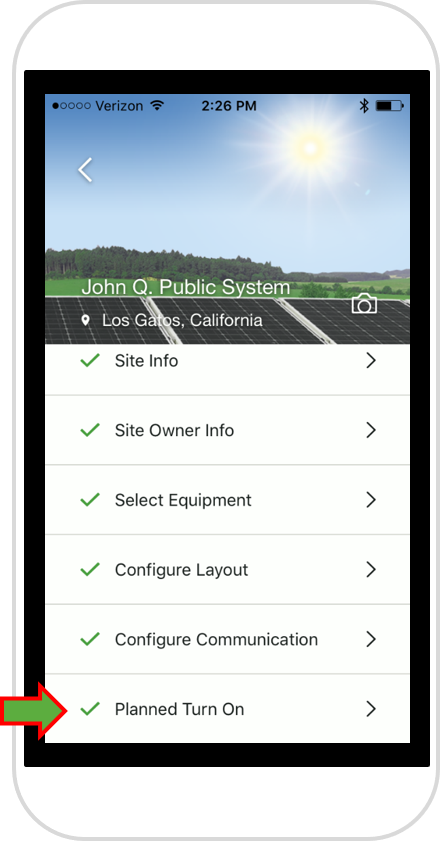 Monitoring Inverters and Meters.
Tigo SMART website can display values measured by Inverters and Meters if they are connected to the CCA. Please use "Set up Inverters, Meters & Sensors" article for detailed information on setting up optional devices. This needs to be done with the TigoSMART mobile app.