This article provides instructions on how to do the Configure Communication (Network and Start Discovery) step when commissioning a Tigo TS4 system:

Contents:
Instruct CCA to Find and Connect with Network


Connect CCA to network via WiFi
Connect CCA to network via Ethernet (cable)
• Setting up a Static IP
Start Discovery of System (only required once)


Prerequisite: This article assumes that you have installed the Tigo EI app on your mobile device (phone or tablet), and that 'Configure Layout' stage has been completed (a green checkmark will show on the System Settings page, as shown below). If it does not, then refer to: Create and Edit System - Using EI App.
---
Overview
The CCA is a streamline device that has no buttons or screen. Instead, the Installer will connect their device (phone/tablet) to the CCA's virtual temporary address via Bluetooth, and use the Tigo EI App to "steer" the CCA into finding the correct local network. 
Important: The CCA only provides a broadcast signal of it's virtual temporary address for a duration of 2 hours. For this reason, the CCA may require a restart (unplug, or flip it's circuit breaker), in order to return to broadcast mode. Once it powers back on, it will be transmitting it's virtual temporary addresses, again.
---
Connect Tigo EI App to CCA
The first step in configuring communication, is to connect the phone or tablet (device) to the CCA via your chosen wireless method.
To do this:
Activate your Bluetooth within your device's settings (iOS-Control Center or Android-Connections), and proceed with these steps to connect your device to the CCA:
Sign into the Tigo EI App, and select system on the Installations page
Choose Edit (bottom)

 


Choose Configure Communication
Enable Local Permissions (if you see the warning)

 


Select the Tigo CCA that appears under the BLUETOOTH list
• if CCA is missing, pull down on the menu to refresh
• If CCA still missing, restart the CCA and try in 2 mins

 
If connected, CCA address will show in purple banner (at the top) and you will be on the CCA Configuration page. If there are any errors, you will be required to confirm the Password with the Network administrator (or system owner). 


Connecting to CCA via WiFi:
Tigo's older generation CCAs allow for connection via a Temporary WiFi Address, as well as Bluetooth. If your CCA came with a USB Dongle (on the side), then you can connect with either platform. Just make sure your phone/tablet's WiFi is on. Use the device's WiFi Settings to scan for the CCA's serial number and connect. You do not have to close the Tigo EI app while performing this task.
If you experience any difficulty in connecting your phone or tablet to the CCA, see:  
Why can I not connect my smart phone to my CCA? 
---
Instruct CCA to Find and Connect with Network
The next step requires the app to "steer" or control the CCA, in finding and confirming the network. This can be any local WiFi connection (including: Routers, MiFi, and smartphone Hot Spots), or a simple Ethernet cable connection.
Connect CCA to network via WiFi:
Select Internet Settings on CCA Configuration page
Pull Down to scan for networks

 


App scans for networks
Choose the desired network from list

 


Enter Password for network and press CONNECT

(right)

Checkmark appears next to network, press

DONE

(bottom)


 

 


Connect CCA to a network via Ethernet (cable):

Connecting via Ethernet cable does not require a Network Setup (passwords, etc). The CCA Ethernet port is always enabled, and is pre-configured (at the factory) to Automatic IP assignment using DHCP. 
Select ETHERNET (top right of Network Configuration page)
Checkmark Automatic (Using DHCP)



Setting up a Static IP:
A Static IP address may be requested by the local IT/Network Administrator. 
Select ETHERNET (top right), and choose Manual
Enter in Manual (Static) IP information and press JOIN



  




Select DONE on the Network Configuration page
Important: Once you are successfully connected via WiFi, the phone/tablet's connection with the local WiFi or data network will be dropped, and you may see a screen like this: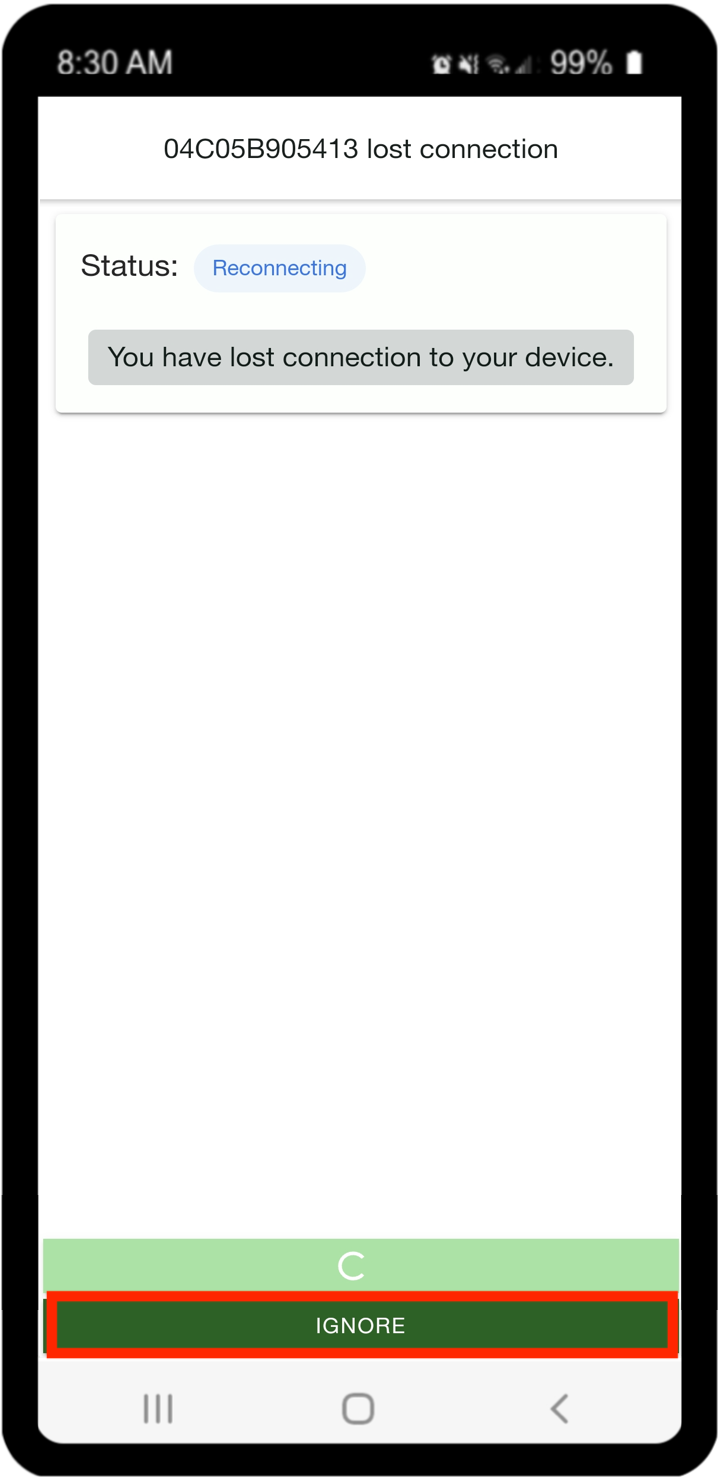 When the System Discovery has been completed, you may return to the device's network settings to reconnect the App to the CCA, to perform any additional work.
---
3. Confirm Network
To confirm the CCA's connection to the network is good, you may run a test of the network. This will will offer valuable data about the network connection (strength, speed, IP address, etc). 
Return to Network Configuration page and press Internet Settings
Choose the correct CCA from list

 


Select the 3-Dot button (top right corner)
Choose Network Test from the pop-up (bottom)
 
   


When Finished, the prompt will say

PASS

or FAILED.
(Click to view details for more information)
Press CLOSE button (at bottom) 

 
Note: The Ethernet warning is specific to the type of network you have connected to.
If you have an Ethernet/wired connection, the Ethernet cable plugged will show OK.
If you have a WiFi connection, Ethernet cable unplugged will show WARNING.
It is perfectly fine for the test to show a warning, if you are connected to the WiFi (instead of Ethernet). Please disregard, if this is the case.
---
Start Discovery of System
Now that the CCA is connected to the network, the next step is to initiate the discovery of the system.
From the Configure Communications page:
Select Discovery, to proceed to the Discovery page
Press START button (bottom), to initiate Discovery




Discovery Started

notification appears

Select

OKAY to exit



At this point, the Discovery

 will continue to run in the background. You may disconnect from the CCA (or walk away), and reconnect your device at a later time, to check on the 

Discovery

progress.




When complete,

 

Configure Communication

 

will show Checkmark

√  

on the My System screen:


---

IMPORTANT INFORMATION REGARDING DISCOVERY


The Discovery process is defined as: The download and delivery of packaged data (ie., serial numbers, system layout, etc.) along with the Rapid Shut Down command (RSD), to the CCA. This process usually takes approximately 15 minutes for a residential system, but can take longer if the system is larger in size (ie., commercial system), or the Internet signal has been compromised. 


Tigo Unit (MLPE) Verification Process:
Once the Discovery process is complete, the next step is verification of each Tigo unit (by serial number); this is automatically initiated by the CCA. It requires a minimum of one hour for units to start showing data on the System Owner's Layout page, and may take up to an additional 24-48 hours for larger systems.
For more local network basics, read our article on Network 101.
•••••••
This completes the Configure Communication step of the commissioning process.
Next Step: Add a System Owner To add an installer, homeowner, or additional viewers to the system.

Having a hard time? Contact our highly trained and helpful Technical Support Team today!