Tigo's Energy Intelligence (EI) software provides module-level monitoring for an accurate insight into your PV system. The software shows module-level performance and helps to easily identify problems such as diode failure, soiling, or wiring faults. This streamlines O&M and improves ROI.

The following video provides a tour of the portal:
---
Overview Page
A system can be viewed on Tigo's online portal, as well as the Tigo Energy Intelligence (EI) App.

On the primary System View > Overview page, general information can be found, regarding production, lifetime energy yield, and basic current weather information. 

On the left column, you will see page navigation tools:
View

Overview - General production info and weather
System View - Production data (by-the-minute)
Basic Charts - Historical data (by the minute/hour/day/month/year)
Advanced Charts - Granular data with controllable ranges
Alerts - Control center for outgoing Alerts
Info - System name, location and components 



Edit 

Site Info - Edit what is shown on the Info page (above)
Layout - Control the general layout and look of system

Settings

General - Set your Energy Rate, share system and add a background pic
Notifications - Modify your Alerts settings (above)
Premium - Enroll in the Premium Data package
These tools (along with other general tools), assist in navigation through the portal and provide ways to make changes to the account. 
---
System View page
The System View page will show the general shape and production for the system. On the right column, there is a view selector box that shows these options: 
Energy View - Accumulated total production (in Watts)
Power View - Moment by moment production (in Watts)
Reclaimed Power -

Extra

Power

recov

e

red

by Tigo optimi

z

ers

(in Watts)

Voltage View - Moment by moment production (in Volts)

-

Only visible with a Premium

Account

 

Current View - Moment-by-moment production (in Amps)

-

Only visible with a Premium

Account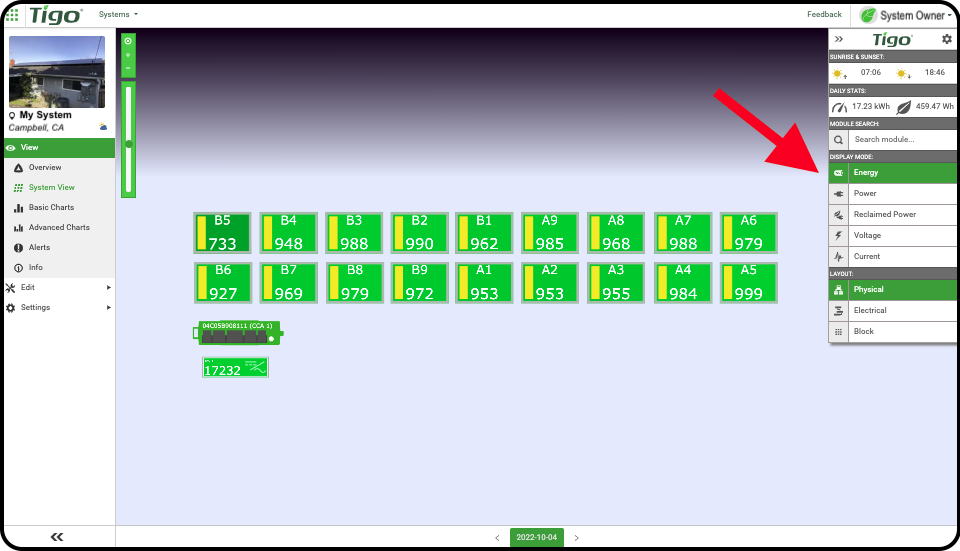 ---
Basic Charts Page
This page displays total accumulated production (in Watts). This can be viewed by Yearly, Monthly, Daily, hourly and even minute (top). There is a legend that shows lifetime accumulated production (in Watts), and a production table (top left) that allows you to narrow the focus of the chart, down to individual strings, or even MLPE units, within your system: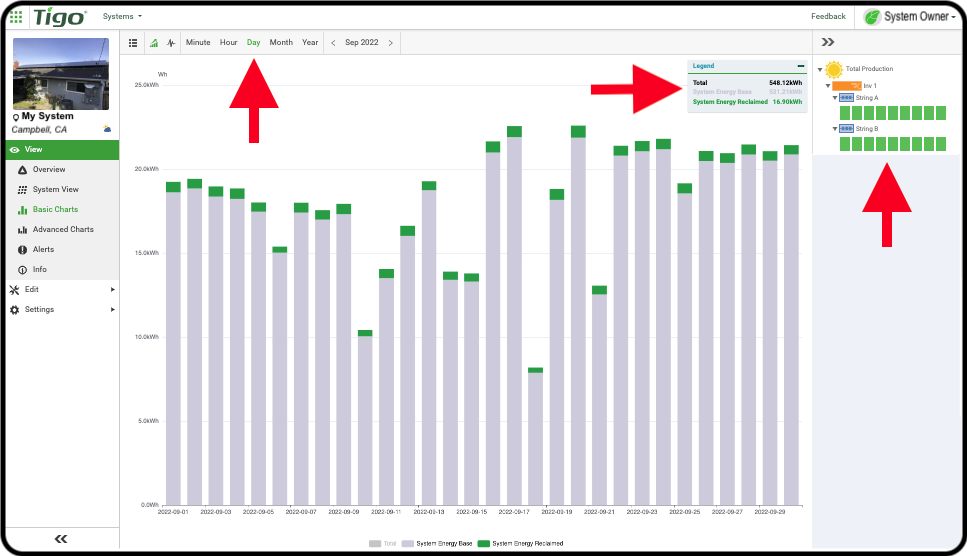 | | |
| --- | --- |
| Each bar on the graph is divided into 2 colors. One represents the Solar Base (what the system produces without Tigo Optimization), and one for Reclaimed Energy (additional production calculated from using Tigo Optimization). These data points are expressed in Watts. Hover the mouse over the chosen range, to see the results. | |
You can also choose to purchase Premium Account Services that include longer ranges (ie., full data granularity for more than a month of production).
 
---
Advanced Charts
This page gives you the tools to narrow the production down to a certain range and then provide that data in either a viewable chart, or a downloadable CSV file:

View Chart will show the data represented on a graph, with the X & Y axes showing the Production Totals over the Date Range selected. 
---
Alerts
This page allows you to see the Email or SMS text alerts of system activity. Click on any alert (left/center) to see additional information (right/center) for that Alert:



---
Info Page
This page displays all of the basic information on the system, including: System ID, Address and system components (PV-Modules, Inverters, etc):