Tigo offers a Freemium version of its software services. The feature matrix below describes what features are free and which are premium or paid-for. There are no requirements for "free" level of monitoring other than the purchase of the Tigo hardware (CCA - Cloud Connect Advanced) and a connection to the Internet.
Features
Free
Premium
Module-level data

Energy (Wh)

Power (W)

Reclaimed Energy (Wh)

Energy (Wh)

Power (W)

Reclaimed Energy (Wh)

Voltage (V)

Current (A)

Module-level granularity
15-minutes

1-minute

Production data history

Standard:

Granularity | Time
Yearly | Since inception
Monthly | Up to 2 years
Daily | Up to 2 months
15-minutes | Up to 2 weeks

Detailed:

Granularity | Time

15-minutes | Since inception

Production reports
Monthly

Daily and Monthly

Alerts via Email/SMS
Safety Alerts

Safety and Performance Alerts

Charts
Basic

Basic and Advanced

Downloadable data
---

Yes

API access
---

Yes
Definitions
Reports: Automated emails or SMS messages showing system production (daily
and/or monthly).
"Free" Data Granularity: The free version includes 15-minute data granularity for two weeks, then daily for up to
two months, then drops to month-level granularity for two years, and then
drops to year-level granularity for dates outside of that range.
Premium Data Granularity: Shows 1-minute data granularity for the full history of
the system.
Safety Alerts: (Free and Premium) Automated alerts (email or SMS) that include all safety-related
notifications, ie. PV-safe activation, system shutdown, over-voltage.
Performance Alerts: (Premium only) Automated alerts (email or SMS) e.g. low string or module production.
Dashboard: This is the fleet management tool that is usually the first page you
see when you log in to the software. This includes the Google Maps integration,
the fleet-level statistics, environmental impact analysis etc.
Device Integration: Support for 3rd party hardware like AC meters, inverters etc.
Performance Analytics: Compare module-to-module, string-to-string or inverter-to-inverter in bar chart or line graphs.
Trending Data Charts: Observe system performance over time, from the module
level to the entire system level.
Ability to download: Export data directly to a .csv document.
API: Access to our API to pull data directly into third party software.
Below is a comparison of the Safety Alerts (which come with the Free version) and Performance Alerts + Daily Production Report (which require Premium to unlock)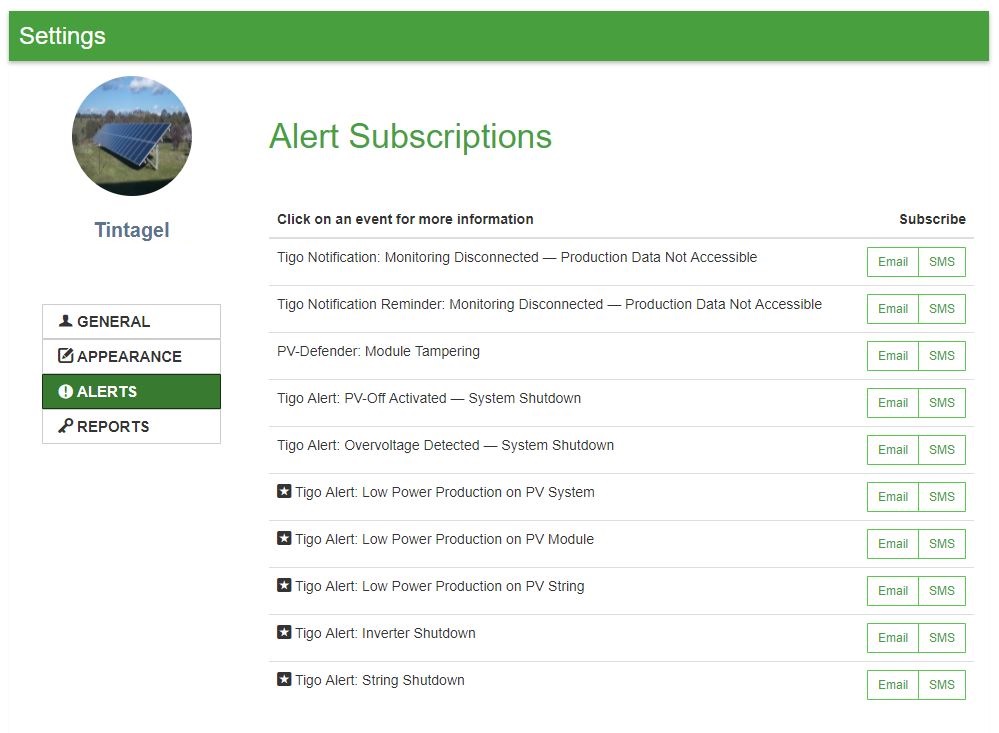 Pricing
Free: The free version is free, it only requires an Internet connection for the Tigo
Management Unit or Cloud Connect.
Premium: The cost for Premium monitoring is:
≤35 modules = $20/year
≥36 modules = $0.56/module/year
Discounts for long term subscriptions of 5 year, 10 year, and 20 year (5%, 10%, 15% respectively).
Premium monitoring can be previewed for a free one-month trial.
How to Buy?
Customers buy the upgrades online in the "Billing" app. Simply click the "apps" icon and then click on "Billing":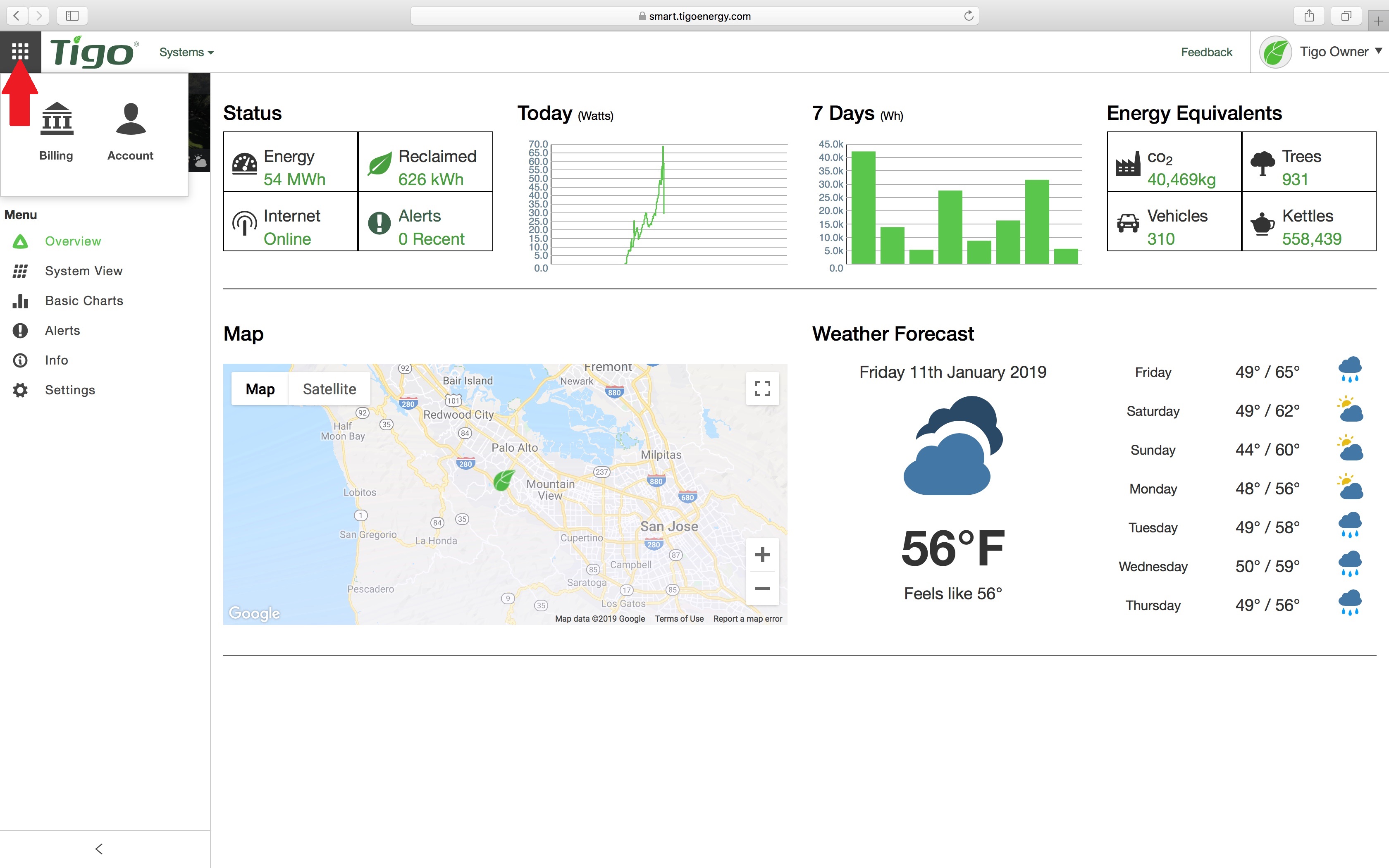 You will be directed to the "Premium" page. Under "Premium Status", select "ALL", then "Renew".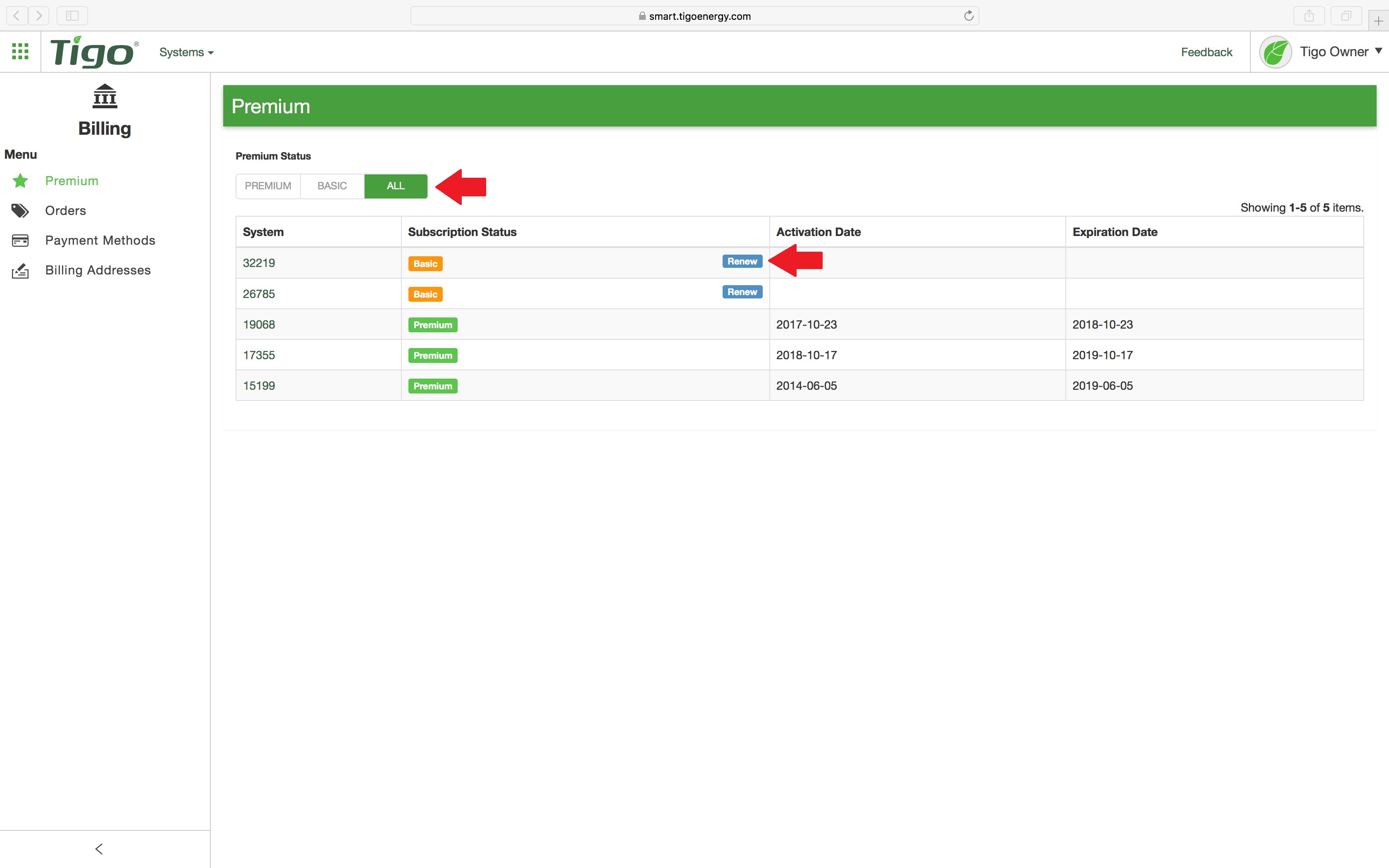 This takes you to the "Tigo Premium" page. Click on "Upgrade to Premium".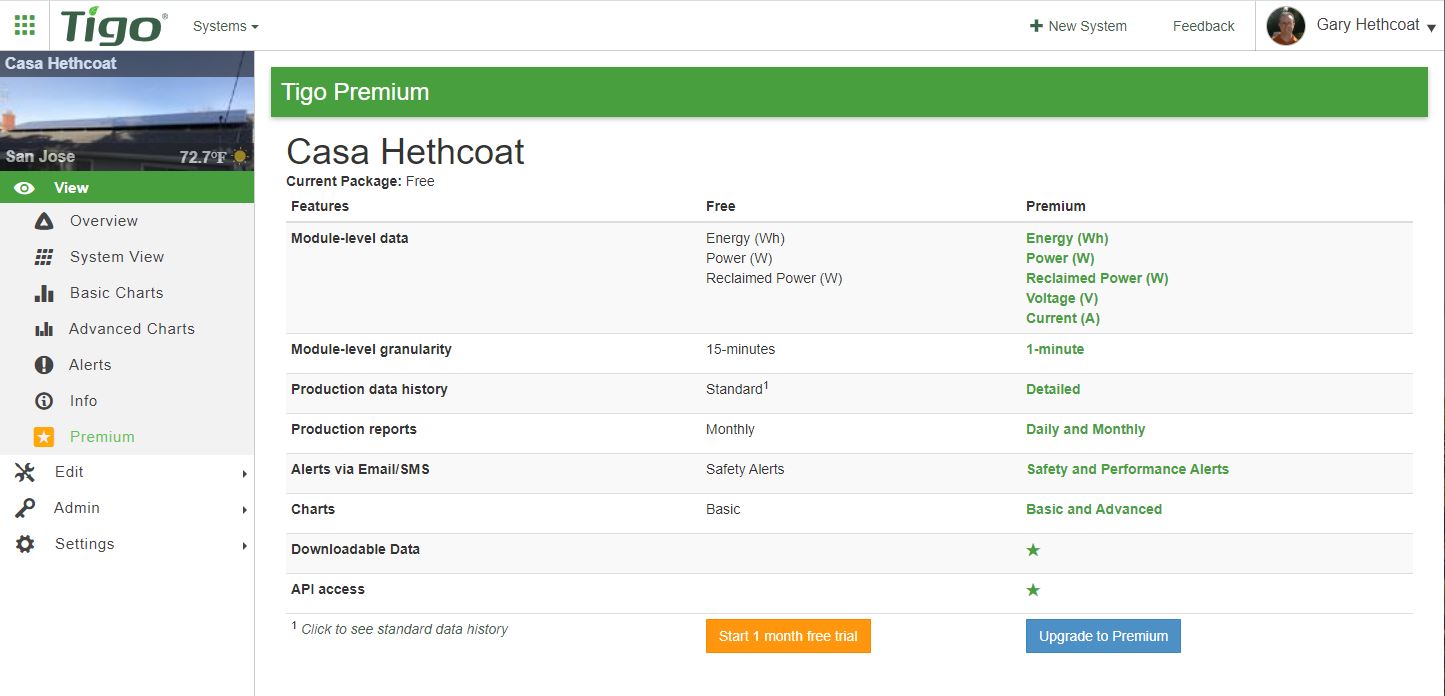 This takes you to the "Premium Access" page. Select the package then enter your address and payment method. Complete your payment and premium features will be enabled for this site.
Pricing shown here is for this particular system. Pricing will vary depending on the size of the system. See above section "Pricing" to see how pricing is calculated for each system.