EI Inverters (EU) support load management by grid operators using ripple control.
This feature requires:
EI app version

4.9.7 or higher

CCA software version 3.6.3 or higher
How It Works
Installers add an I/O networking module within a single- or three-phase EI Link. This module converts control signals from a grid operator's RCR and relays them to the EI Link's CCA component. The CCA then signals the inverter to provide either zero or 100% export to the grid. The response time is less than five seconds.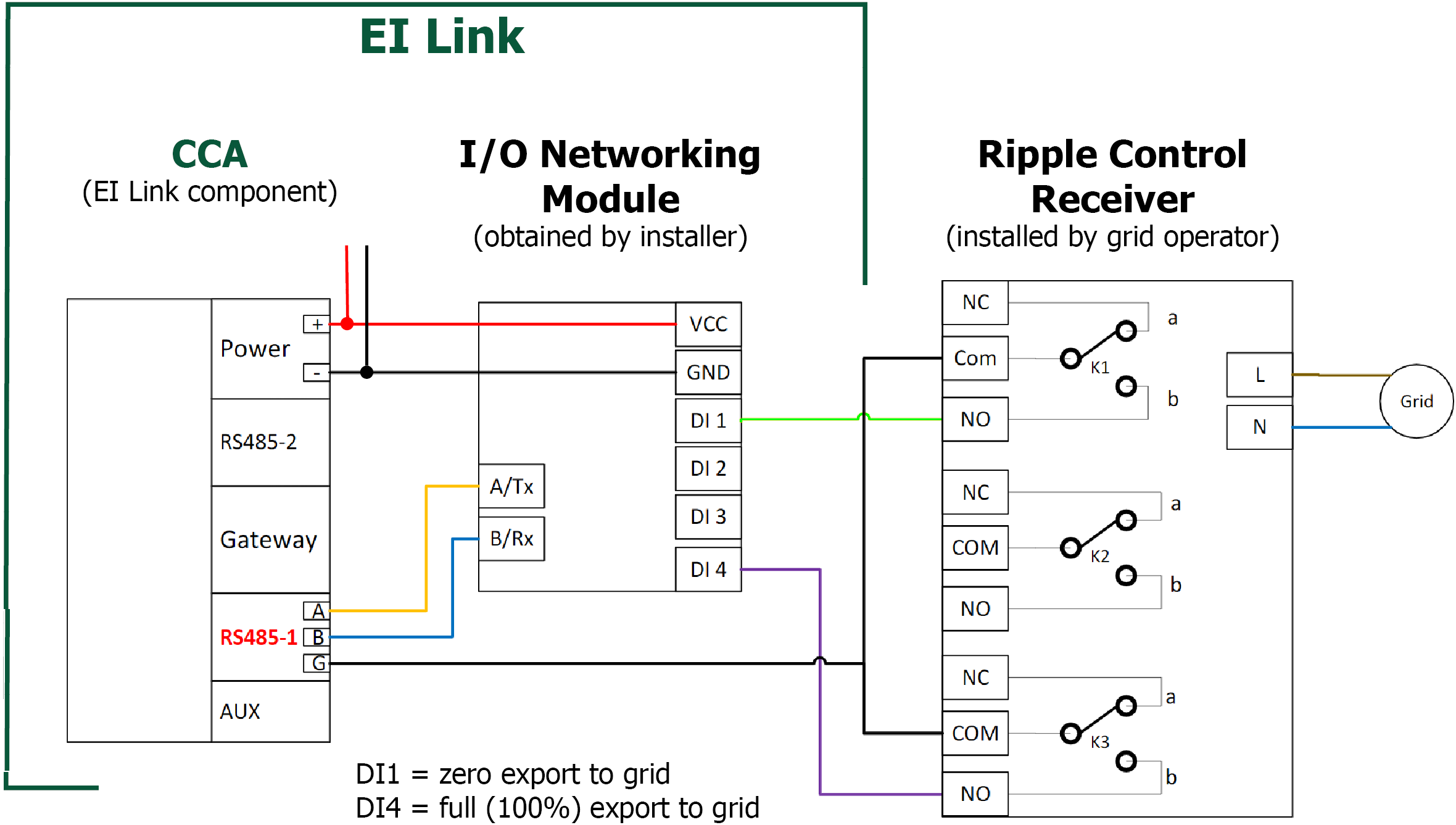 Tigo has tested and validated the use of an EBYTE MA01-AXCX4020 I/O networking module.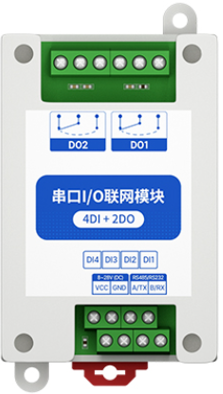 To enable load management using ripple control, you will:
Find a location for the I/O networking module.
Connect the EI Link CCA component to the module and RCR.
Connect the module to the RCR.
Configure the system for load management in the EI app.
Find a Location for the Module
Turn off the DC Switch on the left side of the link.
Turn off the EI Battery.
Turn off all link grid conductor breakers at the main panel.
When the inverter LED screen shows no power, open the link cover and remove the protective shield.
Determine a location for the module.
Images below are suggestions, as available space depends on how DC and AC cabling have been configured.


Connect the EI Link CCA to the Module and RCR
Splice 12VDC+ and 12VDC– wires (.5 – .75mm2) to the conductors supplying the CCA black power plug.
These wires must be long enough to reach the module.


Connect the wires to the module VCC and GND terminals.

Connect transmit and receive wires (RS-485 or CAT5/6 twisted pair) from the CCA RS-485-1 A and B terminals to the module A/Tx and B/Rx terminals.

Connect a ground wire (.5 – .75mm2) from the CCA RS485-1 ground terminal to the COM terminals of the RCR DI1 and DI4 switches.

Connect the Module to the RCR
Connect two RS-485 or CAT5/6 twisted-pair wires to the module DI1 and DI4 terminals.
These wires must be long enough to reach the RCR.


Route the DI1 and DI4 wires through the Meter port or an available knockout in the EI Link to the RCR.

Connect the DI1 and DI4 wires to appropriate NO (normally open) or NC (normally closed) switch terminals on the RCR.
DI1 = zero export to grid
DI4 = full (100%) export to grid.

If an export limit is set in the EI app, the DI4 value will be the lower of either the EI app setting or the allowable RCR limit.
Configure the System for Load Management
Open the EI app and tap the system to which you are adding the I/O networking module.
Tap the Settings icon.
Tap Edit System > Select Equipment.
Tap Add at the bottom right of the screen.

Tap Utility Control Device and select the appropriate module model.
Tap Save.