Tigo offers one of two different AC Adapter Power Supply (PS) types with the management devices: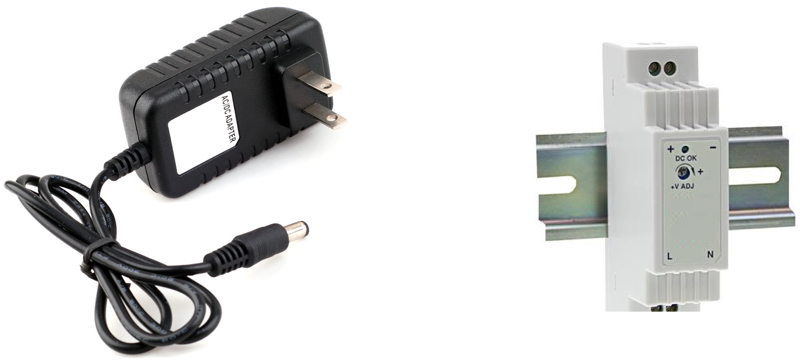 Wall Style Plug - 120/220 VAC household plug-in AC Adapter with barrel tip
DIN Rail Mount - 120/220 VAC Adapter with Attenuator (hardwired to circuit breaker)
This article provides the basic requirements and links to the instructions for replacing the power supply.



Basic Requirements for the Tigo's Management Devices:
Data Loggers (CCA, Cloud Connect, and MMU)
Tigo Data Loggers offer an input operating voltage range of 12-24 VDC. If the system has 3 (or fewer) TAPs/Gateways, and less than 400 feet of cable, a 12 VDC / 1 A PS may be substituted. If the system has more than this, a 24 VDC / 1 A PS is required.


Data Logger PS Specs:

Input: 100-240VAC - 50/60Hz 0.88 Amps
Output: 24VDC @ 1A (24 W output)



RSS Transmitter
No substitutions for higher/lower voltage can be applied to this model, as it may cause damage to the device and affect the coverage under Tigo's Limited Warranty.

RSS Transmitter PS Specs:

Input: 100-240VAC - 50/60Hz 0.63 Amps
Output: 12VDC @ 1A
Tigo strongly recommends that all substitutions and replacements be UL/TUV and FCC approved.
Note: TIgo's management devices now have screw terminals for mounting the bare wires of an AC Power Adapter or PS. However, the MMU (legacy product) came with a barrel tip wall plug-in style adapter. If your system has a Tigo management device that requires a wall plug AC Adapter, simply cut the barrel tip off and strip the wire ends.

DIN Rail Power Supplies:

DIN Rail Power supplies are not outdoor rated. They must be installed in a weather-rated enclosure and must be connected to an AC Breaker. They draw less than 1 A of AC Current, so they can be wired to circuits of only 10 Amps (or more).

Always use conductors compliant with local code, and de-rated (as needed) for installation conditions. (NEC 310.15 in the USA).

The DIN rail DC output wires require AWG #20 or larger gauge wires (not provided in the kit).
The specs for the CCA DIN Power Supply are:
Input: 100-240VAC - 50/60Hz 0.88 Amps
Output: 24VDC @ 1A
The specs for the RSS Transmitter Power Supply are:
Input: 100-240VAC - 50/60Hz 0.63 Amps
Output: 12VDC @ 1A



Instructions for Replacing a Power Supply:
Click on the image of the device for your system to see the complete wiring instructions: