DTS 307 is a Revenue Grade Meter (RGM) that can connect to Tigo's Cloud Connect (CC) or Cloud Connect Advanced (CCA). Other DTS meters from Measurlogic can connect to the CC/CCA as long as they are equipped with Modbus RTU RS-485 communication protocol. Meters sold separately by Measurlogic. Those models include:
DTS 307
DTS 310
DTS SMX
And others, click here to view list
This article is going to focus on model DTS 307 and CCA, but are instructions are applicable for CC as well.
Wire the DTS 307 RGM to Tigo CCA
Measurlogic DTS 307 meters have their Modbus RTU RS-485 connection at the bottom of the device, port name "RS-485", see figure 1.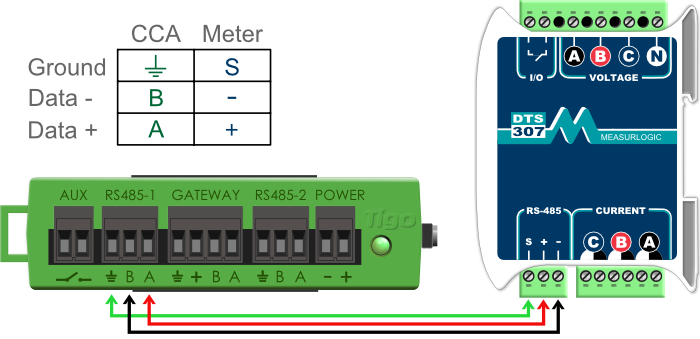 Figure 1: Left 3 connections of the RS-485 port on the bottom of the DTS 307 meter needs to be connected to the CC or CCA 
Connect CCA RS-485 port (either RS485-1 or RS485-2) to RS-485 port of the DTS307 meter(s) as described in figure 2.
Note: old versions of CC may refer to the RS485 port as "optional", nevertheless notation remains the same as in figure 2.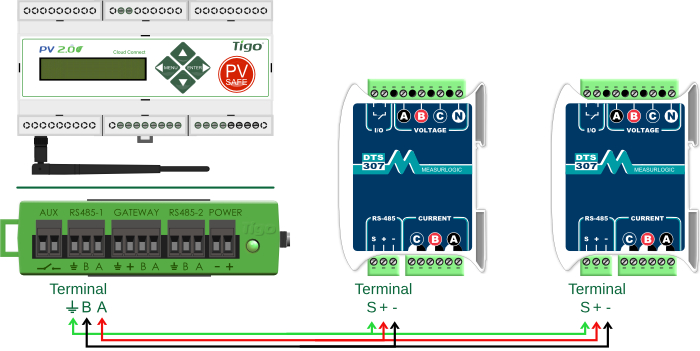 Figure 2: Connection between CC / CCA RS485 port to DTS 307 meter(s) RS-485 port
Configure the DTS 307 RGM
DTS 307 comes with the following factory settings:
M

od

bus Address: 100

Baud Rate: 9600

Parity: None

Stop Bits: 1
Up to 1 DTS 307 device per Tigo's CCA RS-485 ports can be installed without configuration (i.e., without changing those factory settings). For example, 1x DTS on RS-485 (1) and 1x DTS on RS-485 (2). However, in case there are 2 or more DTS meters on the same port, for example: 2x DTS on RS-485 (1) (as illustrated above in figure 2), device configuration is needed for the DTS.
Configure a DTS 307 (required when more than 1 device is installed per RS-485 port):
DTS Config is a program used to easily monitor and configure meters from the DTS family from your local
PC or across the LAN.
Download the latest version of DTS Config from http://www.measurlogic.com/tips-tools/. Alternatively, an email can be sent to info@measurlogic.com to request the latest version of DTS Config.
Unzip the DTSConfigSetup file and double-click

the setup.exe file to begin the installation process.

Follow the instructions on the screen.
Monitor at the Tigo Portal
Once the DTS 307 is wired and configured contact Tigo Technical Support via email Support@tigoenergy.com or via phone:
International: 00800.2255.8446
Americas: +1.408.402.0802 ext. 2
Have your meter information ready according to table 1 below, and the list of parameters you wish to display according to table 2. Contact us and our team will complete the setup so that you can view the RGM data on your Tigo monitoring portal.
When contacting Tigo Tech support, these are the parameters you'll need to provide:
| | |
| --- | --- |
| Parameters | Values |
| Cloud Connect / CCA MAC ID (barcode) |   |
| RS-485 Port Number | (1 or 2) |
| Meter Serial Number |   |
| Modbus Address | (default 100) |
| Baud Rate | 9600 |
| Parity | None |
| Stop Bits | 1 |
Table 1: Information to be provided to Tigo Technical Support to get the RGM information displayed in your Tigo portal, in addition to the parameters you wish to display 
Last, below Table 2 includes the available parameters to be displayed. You can select to display as many parameters as you wish.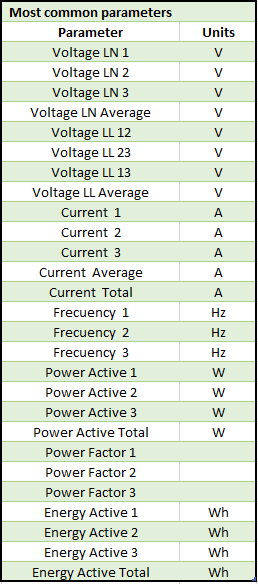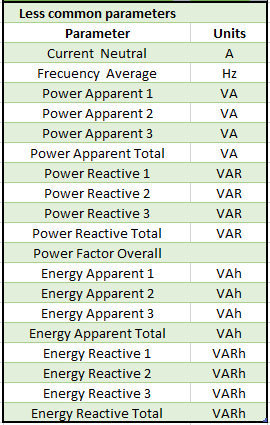 Table 2: List of available parameters to display from the DTS 307 RGM
Wire Current Transformers to the DTS 307 RGM
Please see attachments below detailing Current Transformers (CTs) connections to the DTS 307 meters.