Symptoms:
After replacing a Tigo MLPE unit (TS4, ES, 2ES, optimizer) on a panel, the panel icon is gray all the time. For example: The system has grey units, like in the picture below.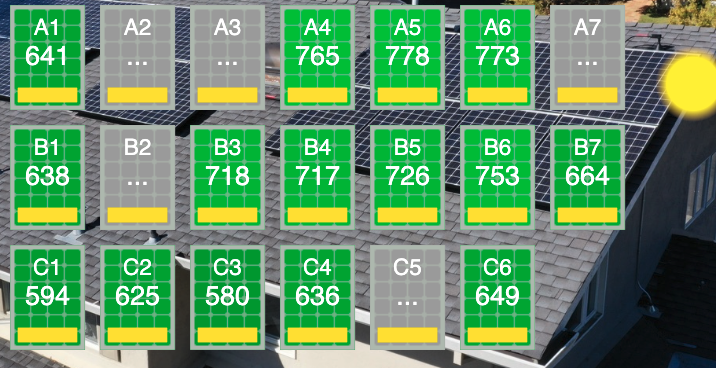 ---
Resolution:
The serial number for the new MLPE unit on the Energy Intelligence platform or App may need to updated. Follow the instructions in: Updating a Serial Number for an MLPE Replacement.

You may also Contact Tigo Support for assistance with this process. 


IMPORTANT: There is no Save button when performing the instructions to update the serial number (It may be wise to write down the previous serial, in case of error). When a valid serial is entered, it is automatically saved and downloaded to the data-logger MMU, CC or CCA immediately. Allow at least 15 minutes for the new unit to be commissioned and begin reporting. In some cases this time can be extended and be 30 minutes or more, or even after the next sunrise.
---
Other Issues
Grey units represent Optimizers that are not communicating. Although this can be caused by simple issues like an incorrect Serial Number (above), it can also indicate other communication issues, like: 
Distance from TAP
Assigned to wrong TAP (in a multi-TAP system)
Extreme block-shading event
Radio interference
Not connected to PV Module, correctly
Damage to the Tigo TS4
If you suspect one of these issues, please Contact Tigo Support and ask for a full system review. Our Support Engineers will provide valuable insight and potential solutions.


Click here for more information on Tigo's PV-Module Colors.