This article covers the basics of a TAP (Tigo Access Point):
Content: 
---
TAP Description
The TAP is a wireless radio transceiver (gateway). It has a bracket that clips onto the top/back of a module frame. It must be hung upright, as to not encourage water to follow cables into glands (at the bottom).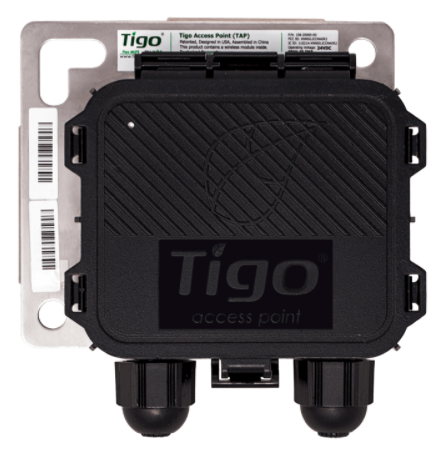 ---
TAP Wiring
The TAP has an integrated antenna that sends/receives data wirelessly from the Tigo TS4 MLPE's (O, S, and M models).
Once installed, it must be hard-wired to the CCA (Cloud Connect Advanced) via a data cable (not included with equipment):
RS-485 or Ethernet cable can be used to connect the TAP with the CCA
RS-485 or Ethernet cable can be used to connect multiple TAPs (daisy-chain)
A CCA can operate with up to 7 TAPs (max)
For more wiring guidelines, see: TAP Communication Cable Guide.
---
TAP Communications
The TAP is part of Tigo's Wireless Mesh system. It uses PAN (Personal Area Network), which requires a line-of-sight for communication. It is purposefully designed to maintain communications within short throw of signal (as to not cause over interference/saturation with other radio products).
TAP signal radius is 33ft / 10m and must be centered within it's array (for maximum coverage)

Multiple TAP systems must have at least 50ft / 15m distance (between each TAP)
The TAP antenna radiates most of the signal horizontally (from the side or narrow edge), with reduced signal coming from the front or back of the housing. The signal spread is dispersed equally in all directions along its horizontal plane and when mounted to a panel the signal would be strongest from the sides (not skyward or ground ward).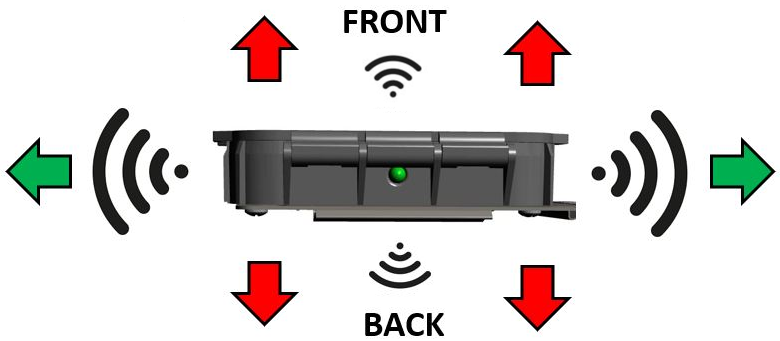 For additional information on design considerations (regarding obstructions and/or interference), see: Tap Placement and Layout
---
Mesh Requirements
Tigo uses a wireless Mesh network (WMN). This network consists of radio nodes organized in a Mesh or Web-like topology.
This allows the TAP to communicate with only the TS4 MLPE units that are within its 33ft / 10m radius. Then, those units act as radio relays, to transmit data to and from units, that are beyond the radius' threshold.
Minimum of 5 TS4s must be placed within the 33ft / 10m radius of each TAP
Maximum of 33ft / 10m distance between each Tigo MLPE (especially beyond radius)
Maximum range (or size of array) is

115ft / 35m

Multiple TAP systems must have at least 50ft / 15m distance (between each TAP)
This is a linear illustration of the maximum signal 'hop' distance between the TAP and the optimizers.

Having a hard time? Contact our highly trained and helpful Technical Support Team today!
Related Content