The TAP (Tigo Access Point) is a radio transceiver with an integrated antenna that supports wireless communication to and from the Tigo TS4 MLPE O, S, and M models all of which have a production monitoring feature. Communications are between the Cloud Connect Advanced (CCA) and a cable connecting the TAPs to the CCA. The TAP communicates to the TS4 optimizers wirelessly.
Best Practices
At minimum 5 TS4s must be placed within 33ft (10m) of each TAP.

This is to provide multiple routes to all TS4 in the system.

Space each TAP at least 50ft (15m) line-of-sight-distance between adjacent TAPs.

Do not place them too close together (unless a significant radio signal obstruction requires otherwise).

Place each TAP near the center of the array of units intended to be serviced in that area.

The TAP antenna radiates the signal horizontally in the plane of the narrow edge of the TAP housing, and equally in all horizontal directions
When mounted to a panel, it will have the signal directed sideways, and not skyward or groundward.
Below is an illustration of the maximum signal 'hop' distance between the TAP and the optimizers.
TAP Basics
Up to 7 TAPs can be connected to the Cloud Connect Advanced gateway port.

The 'gateway' TAP cable is daisy-chained in segments from TAP to TAP.
The cable must be an RS-485 specific or an Ethernet cable (a cable is not included with equipment).
For Ethernet cable, 2 of the twisted pairs must be used and there are IDC type punch-down terminals available.

Each TAP can communicate with up to 300 Tigo TS4 units.
Each CCA can communicate with up to 900 TS4 units.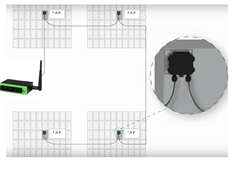 Now that you know the basics, it's time to design your layout.
The TAP housing and bracket is pictured. It clips on to a module frame edge.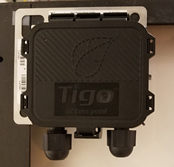 TAP Placement Requirements
With the TAP, the TS4's automatically act as repeaters relaying messages when required.

For the signal to make a hop to another TS4, the TS4s must not be more than 10m (33ft) apart.
So, if there is a gap between arrays of modules, make sure the distance is within the 10 meter limit. This is shown in the drawing below.

The maximum distance range of a TAP, and using multiple repeater hops, is a maximum of 115ft (35m).

If modules are located more than 115ft (35m) from the TAP, or if there are physical obstructions in the array, such as HVAC units, or roof gables, use additional TAPs. A height change of more than 3 feet (1m) can be considered an obstruction for these purposes.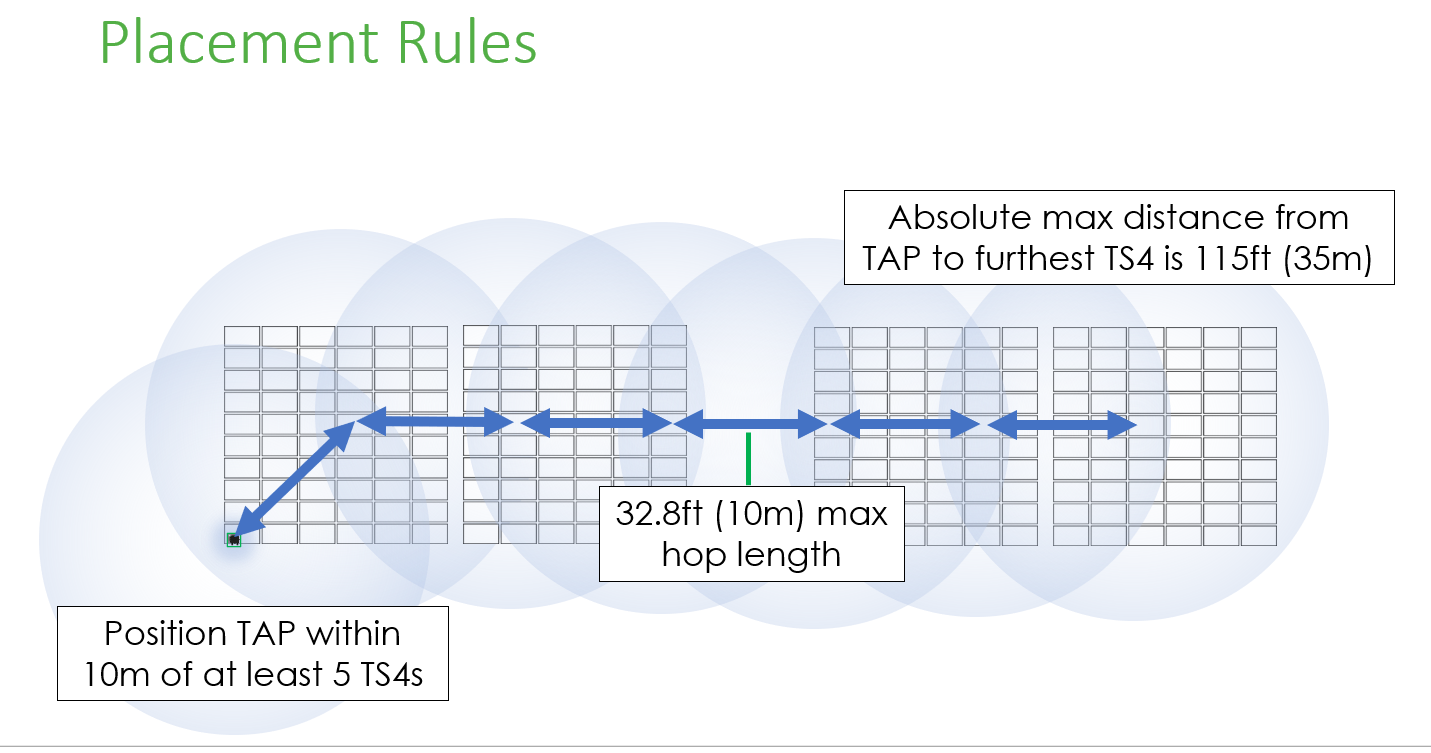 PV Module Arrangements Affecting Wireless Communication
Some PV module arrangements with gaps and signal obstructions affect the signal strength and thus the communication between TAPs and TS4s.
Below are illustrations of some common module position arrangements, and the related concerns.
Excessive GAP arrangement.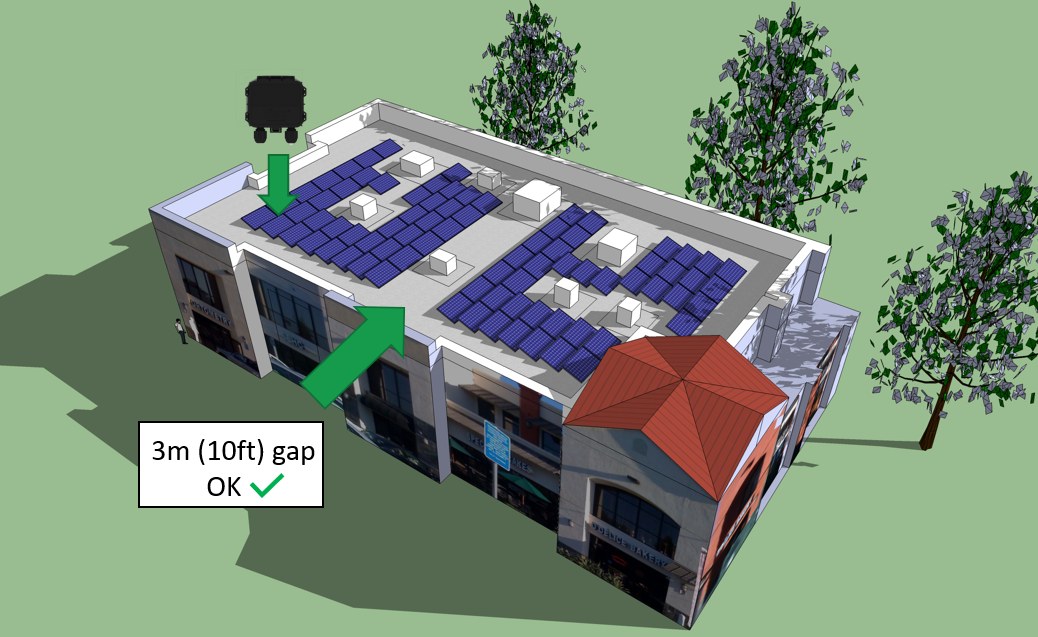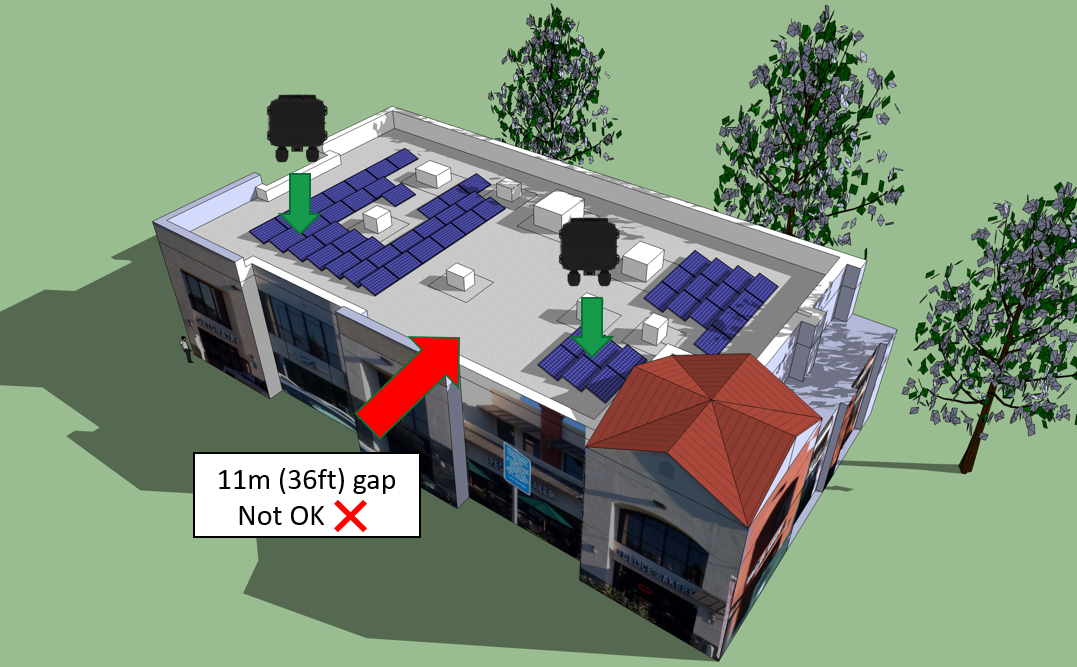 Obstructions reduce signal strength, even if the TAP and TS4 are less than 10 meters apart.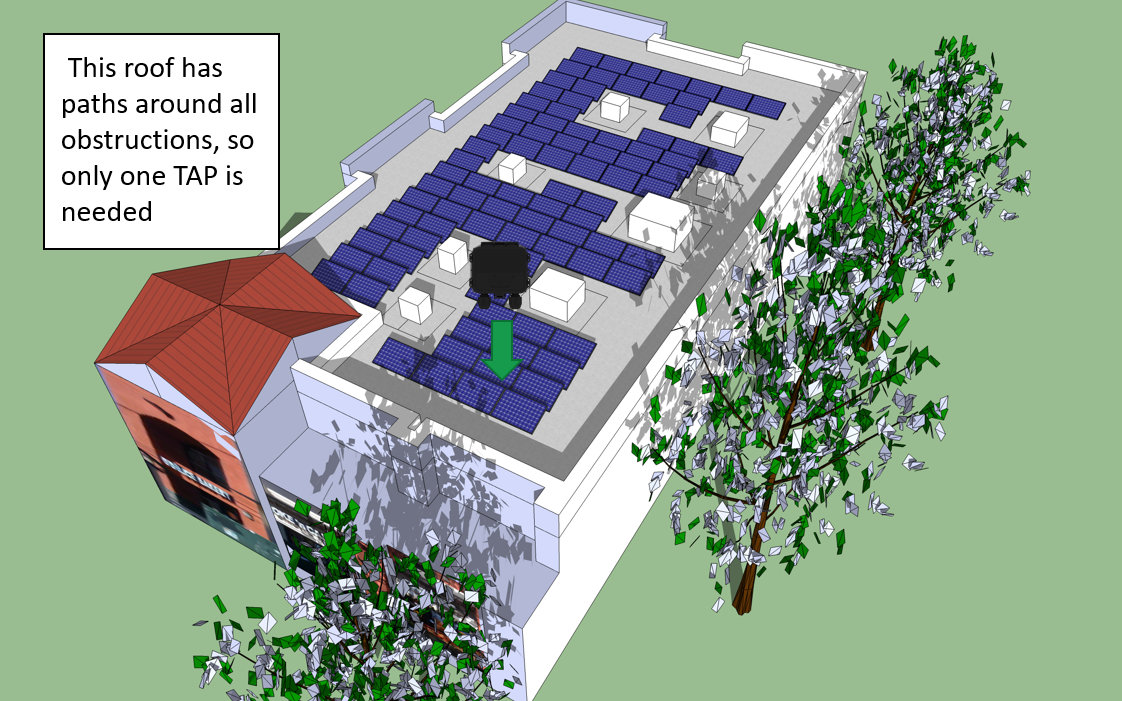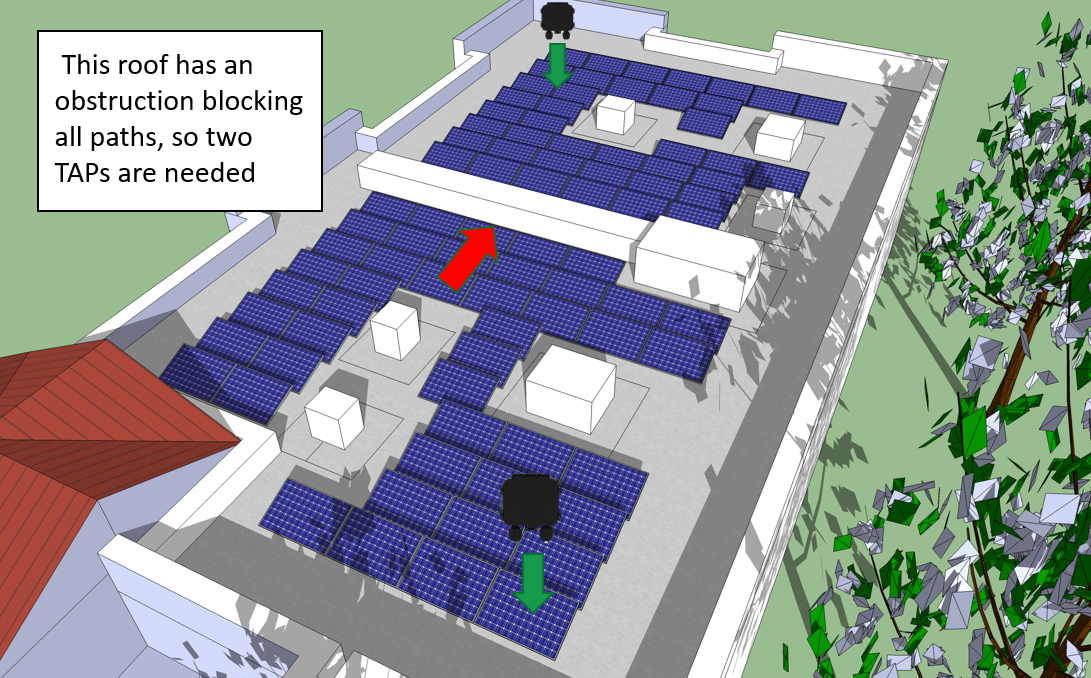 For assistance, please contact our Sales Engineers. Email support@tigoenergy.com