Subject: How To change the Wi-Fi password of a Cloud Connect.
Background: It is common to replace computer networking equipment including a Wi-Fi router or a Wi-Fi Access Point that was being used to provide Internet access. Internet access is required in order that the Cloud Connect may upload data collected from Tigo Maximizers and Optimizers to the Tigo Cloud servers for future viewing by a web browser.
Note: The control panel buttons have a 1/2 second delay before they are 'recognized' as being pushed. We are all used to a fairly fast press then release action that is only a 1/10 of a second, or less.
1. Press (for at least 1/2 second) the MENU button - the following text will appear that shows Press "Enter" on the top line, and ** Main Menu ** on the second line of the display.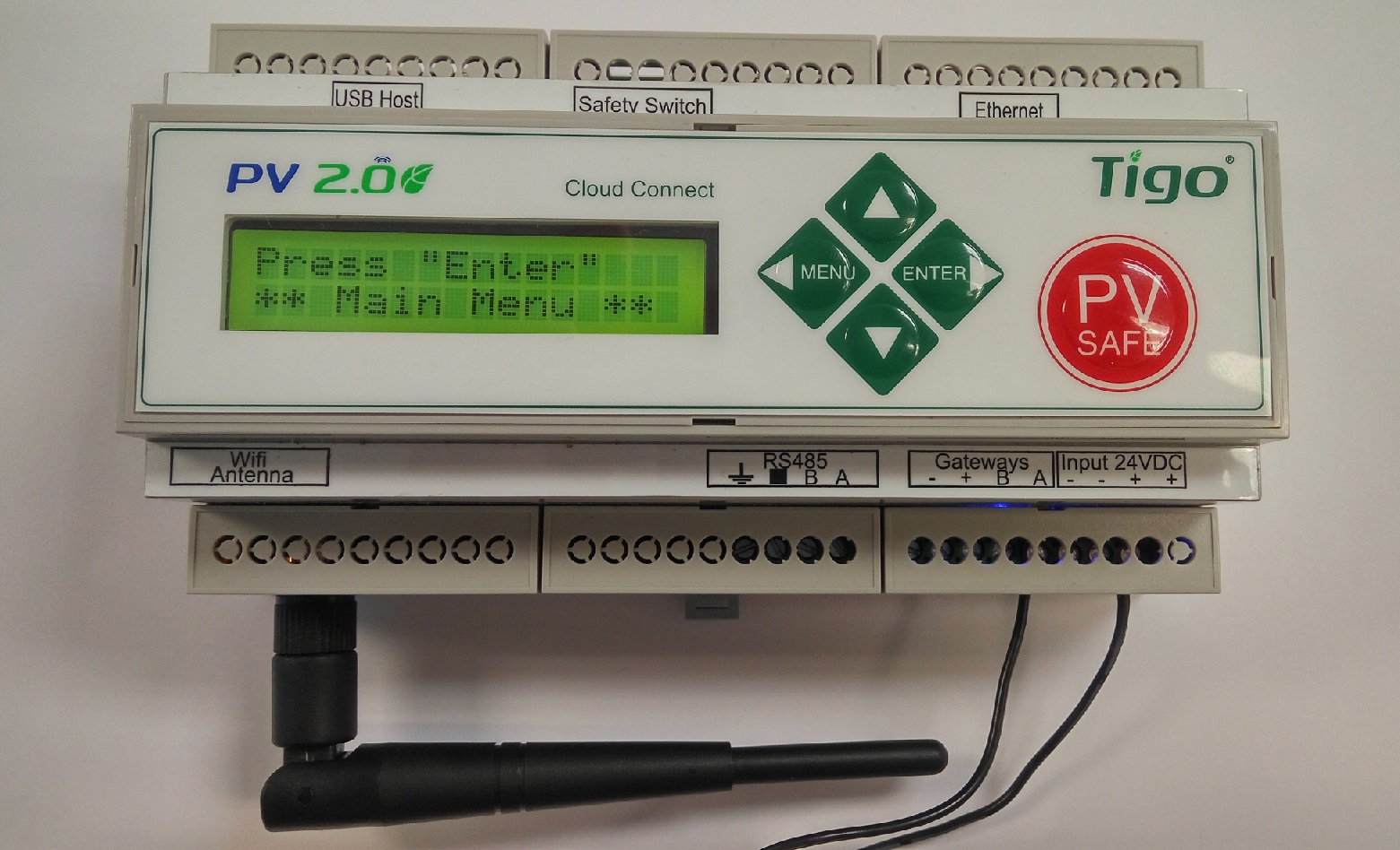 2. Press Enter button to display ** Main Menu ** and 1. Status text, not shown.
3. Then press the Down pointing triangle 'arrow' button which is the middle-bottom button of the diamond of four green buttons. This will cause the display to show 2. Control. Press Down button again to display 3. Network, as shown in the below picture: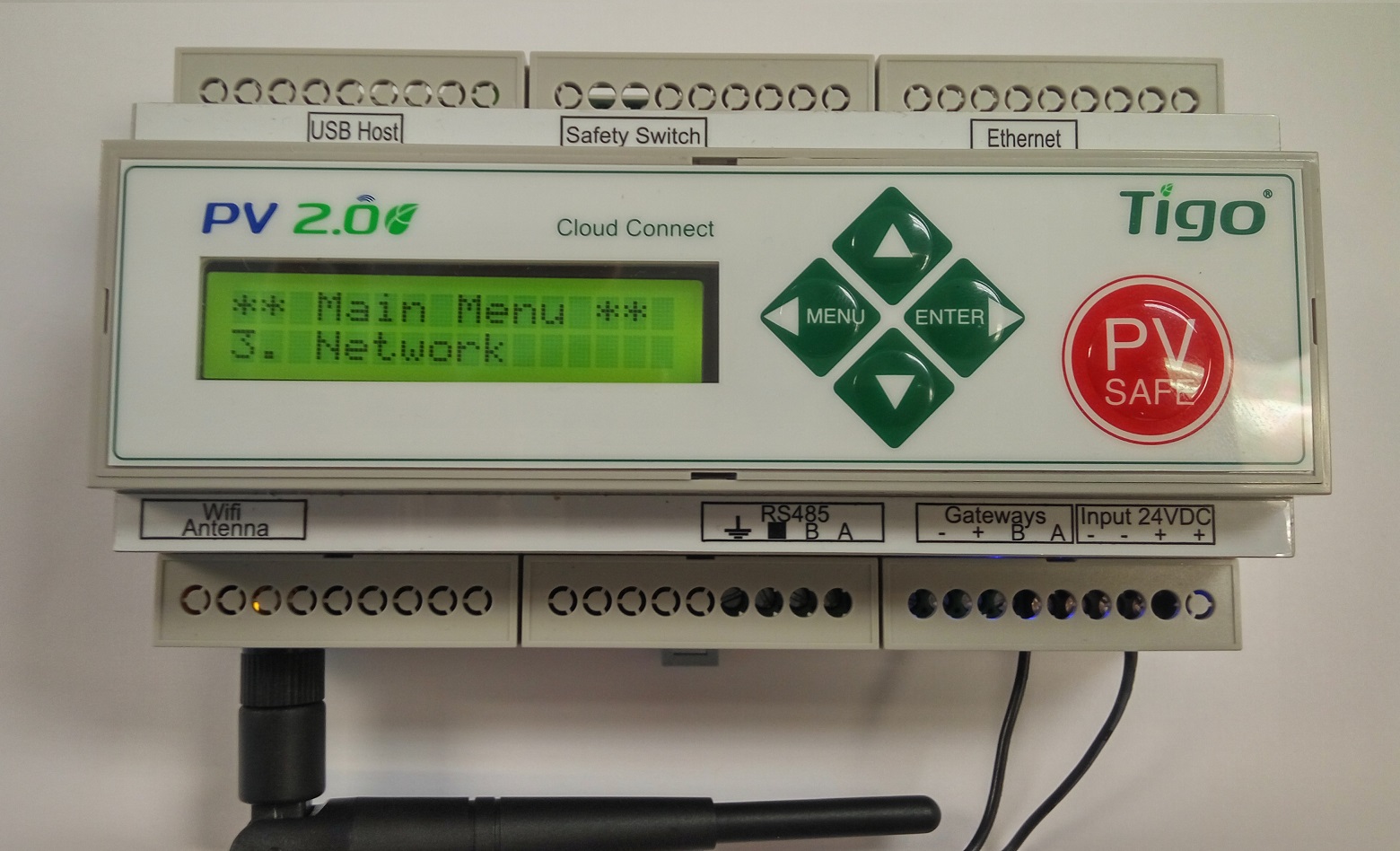 4. Press Enter to go in to the Network Menu submenu indicated by the text 3.1 Display IP that will be shown, not pictured.
5. Press Down Arrow button to display 3.3 Configure, and then press Enter button.
6.-Press Down Arrow key until you see 3.3.2 Wireless displayed, then press Enter.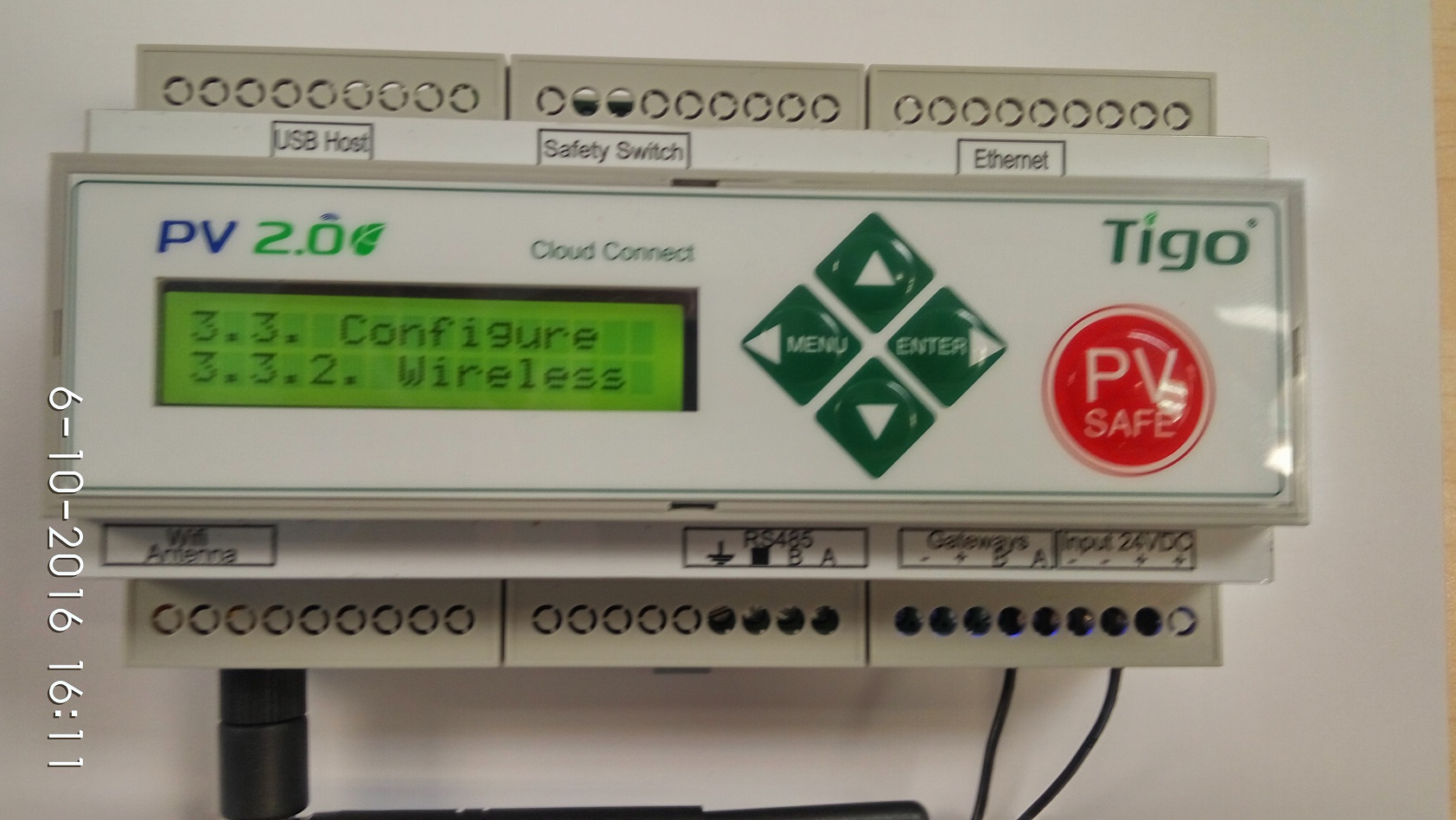 7. To Confirm that you want to configure the Wi-Fi (shown as Wireless on the display), press Enter in response to the messaged Are you sure? N=Menu which means No, and Y=Enter which means Yes, I am Sure I want to reconfigure the Wi-Fi settings.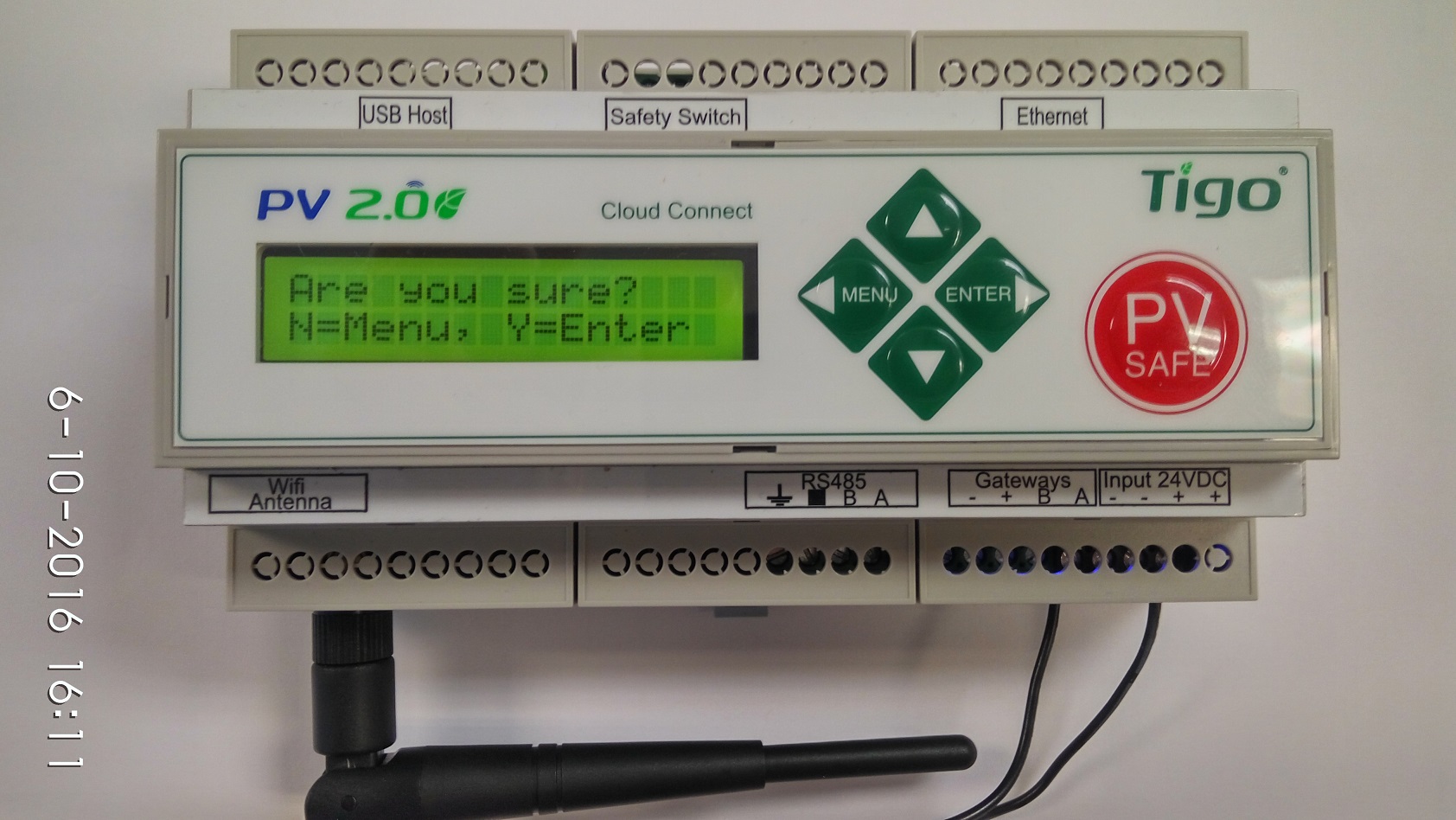 8. The Cloud Connect will now start a search for Wi-Fi signals it can receive, as indicated by the message Scanning Wi-Fi networks... This can take a minute or longer.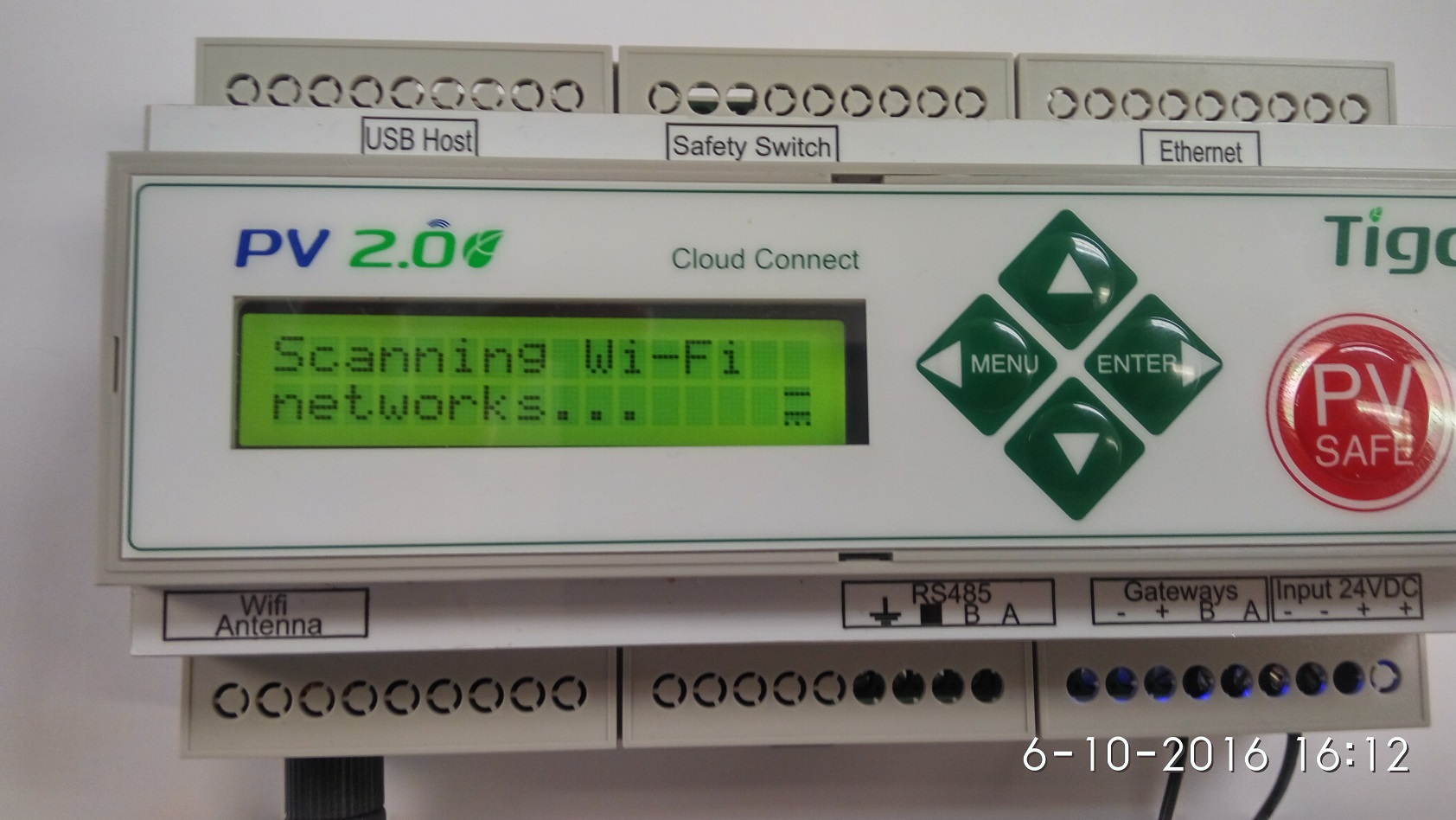 9. When the search/scan has completed, any received Wi-Fi SSID (names) will be displayed one at a time. by there SSID which is the Name configured for a particular Wi-Fi router/access point.
To select a particular SSID for use, press the Down Arrow key repeatedly until you see the name of the Wi-Fi router/access point you wish to use. Note that Captured Access Points which ask for you to agree to a terms of usage before connecting you to the Internet, are not supported.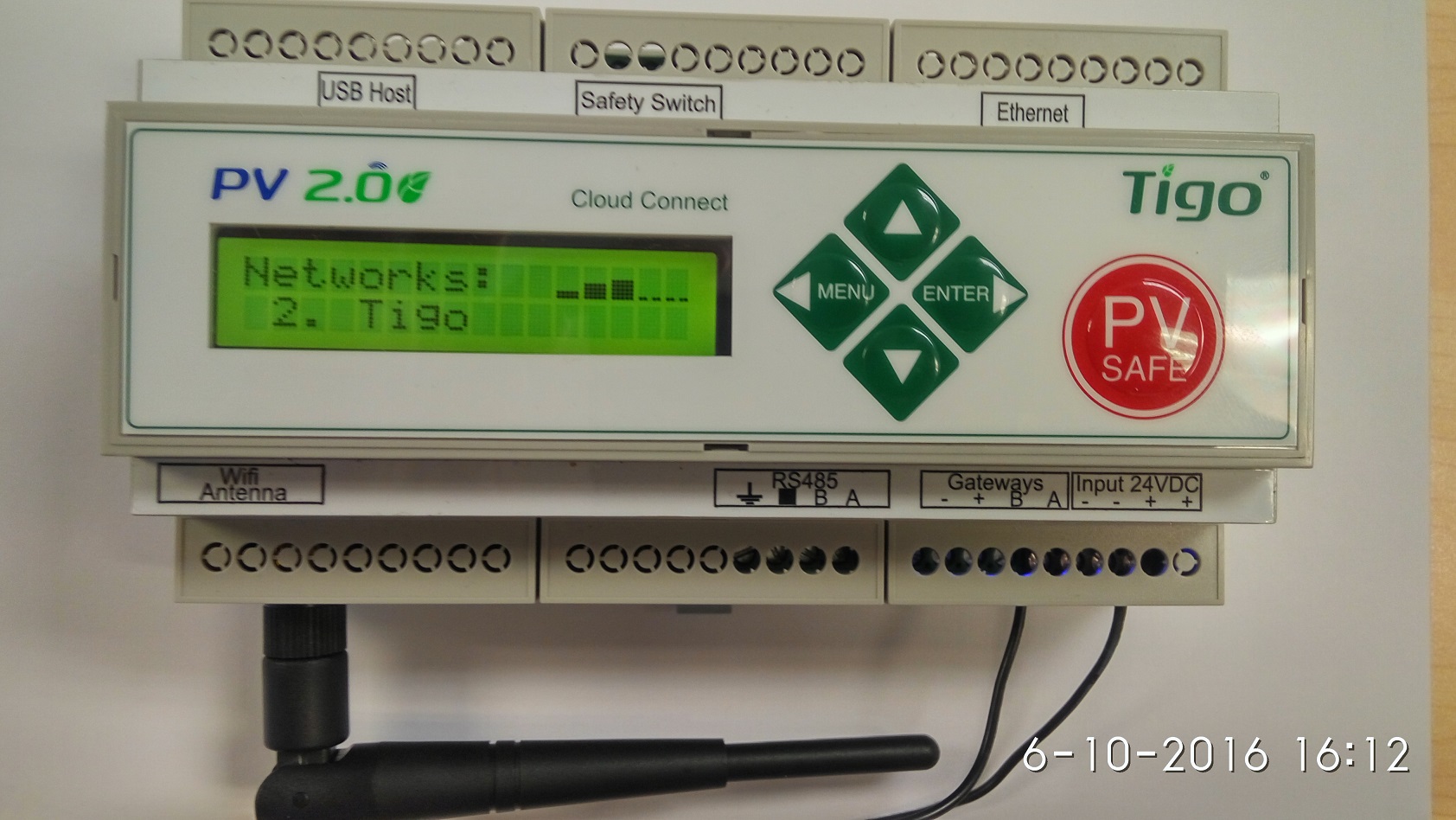 10. Press Enter key to select the display Wi-Fi router. The display will now ask, do you Need a user name?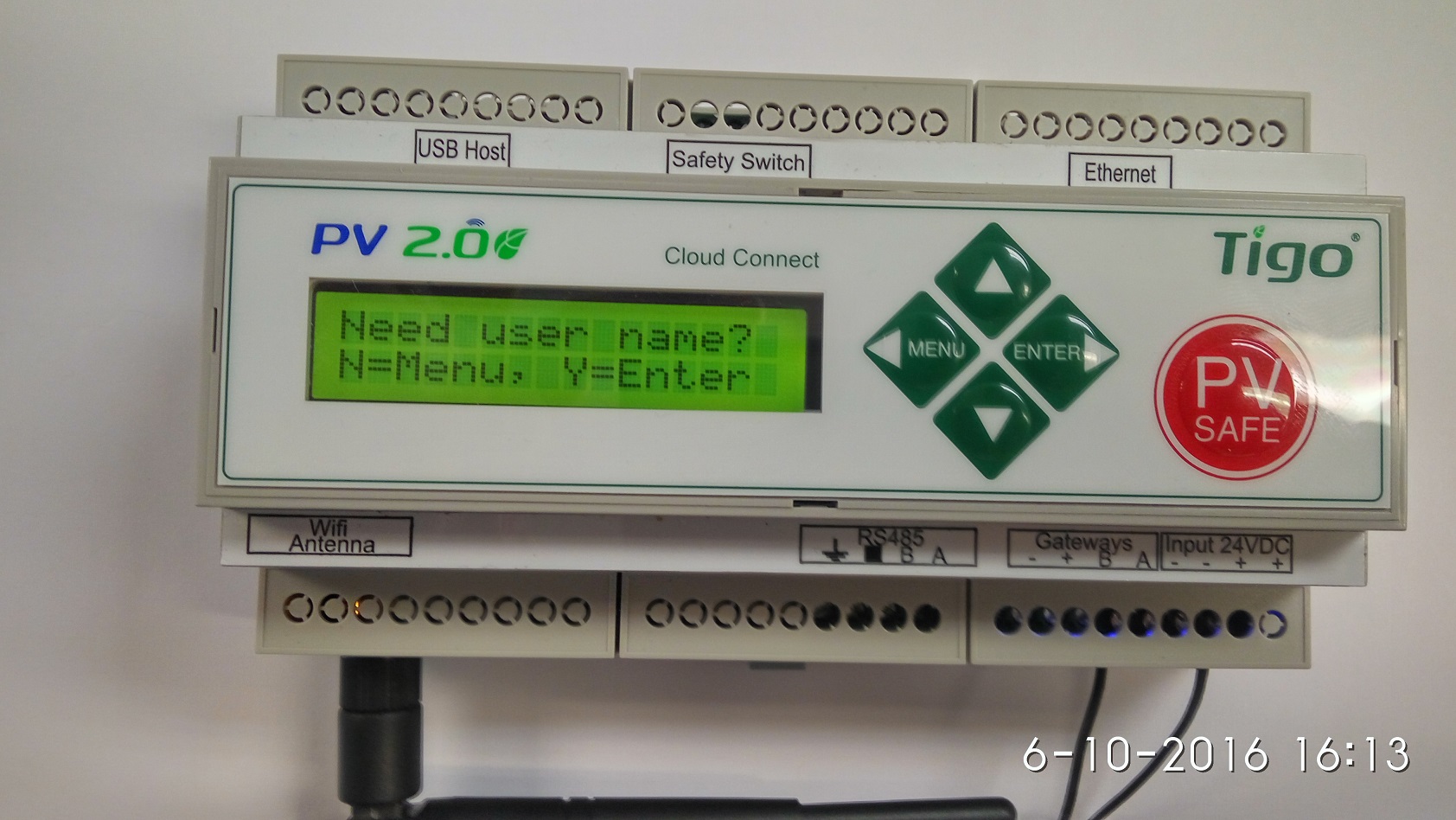 11. Normally for residential network Wi-Fi especially, a user name is not used, so press Menu button to choose No.
12. To enter the Password, use both of the Arrow Keys, UP and DOWN, to show a Letter, Number or Punctuation character, as needed.
Once the letter/number/punctuation needed is displayed, press Enter to select it, and also advance to selection of the next password letter/number/punctuation needed.
13. After selecting all the needed password characters, press and Hold the Enter character until Automatic IP? text appears on the display, as shown below: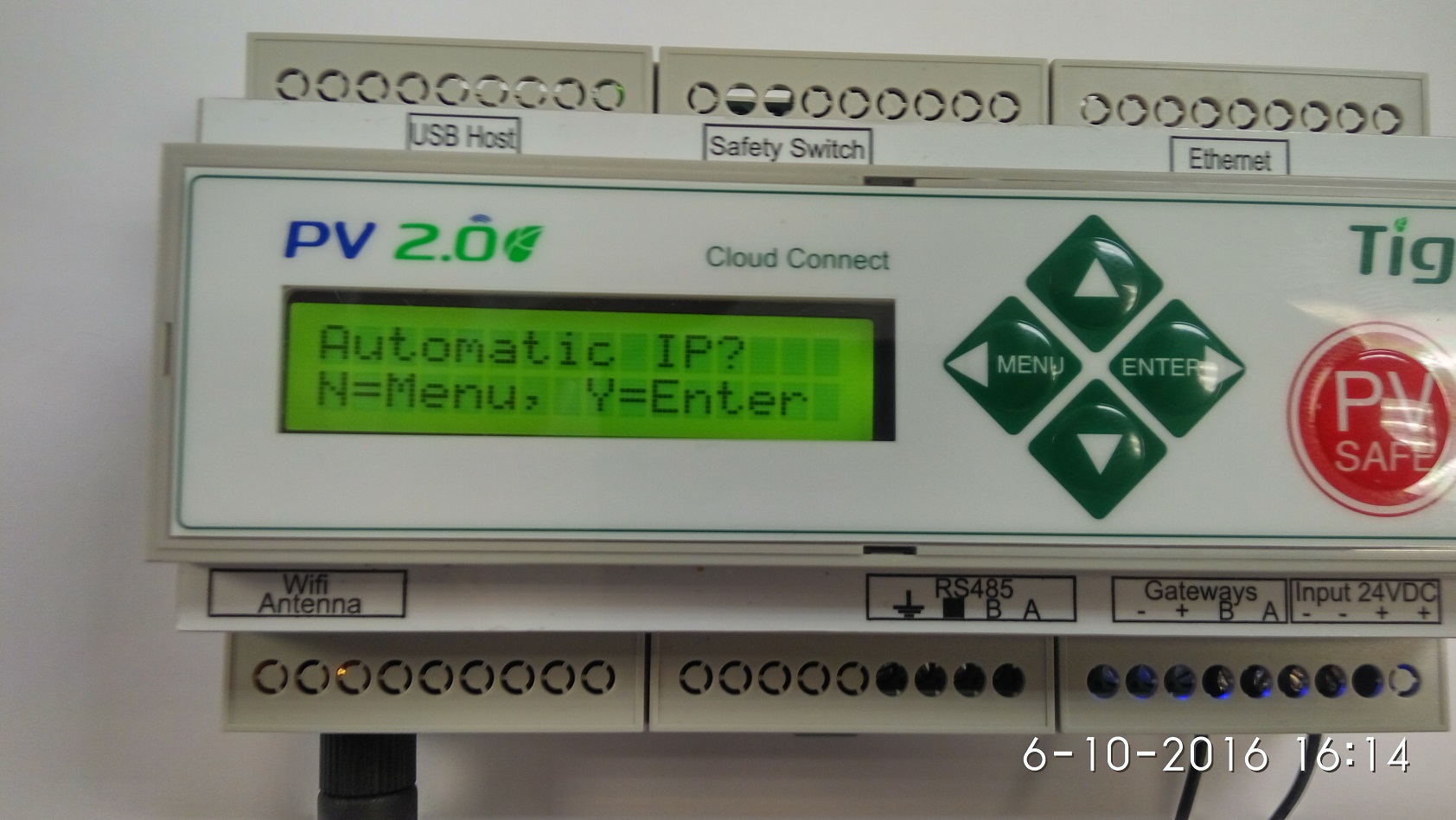 14. Automatic IP? question is asking if the Internet Protocol (IP) address should be determined automatically, or manually entered. It can be manually assigned if desired but it is rarely necessary for a residential network in particular. Therefore on a residential/home network, and most commercial networks for that matter, you want to press Enter button to select Y=Enter to use Automatic IP.

Note for Manual IP: If using a fixed (i.e. manual) address value for the IP, check with your network administrator for the value to use - otherwise you can cause another computer, or even the entire network to stop working.
15. After you press Enter, the Save settings? text appears: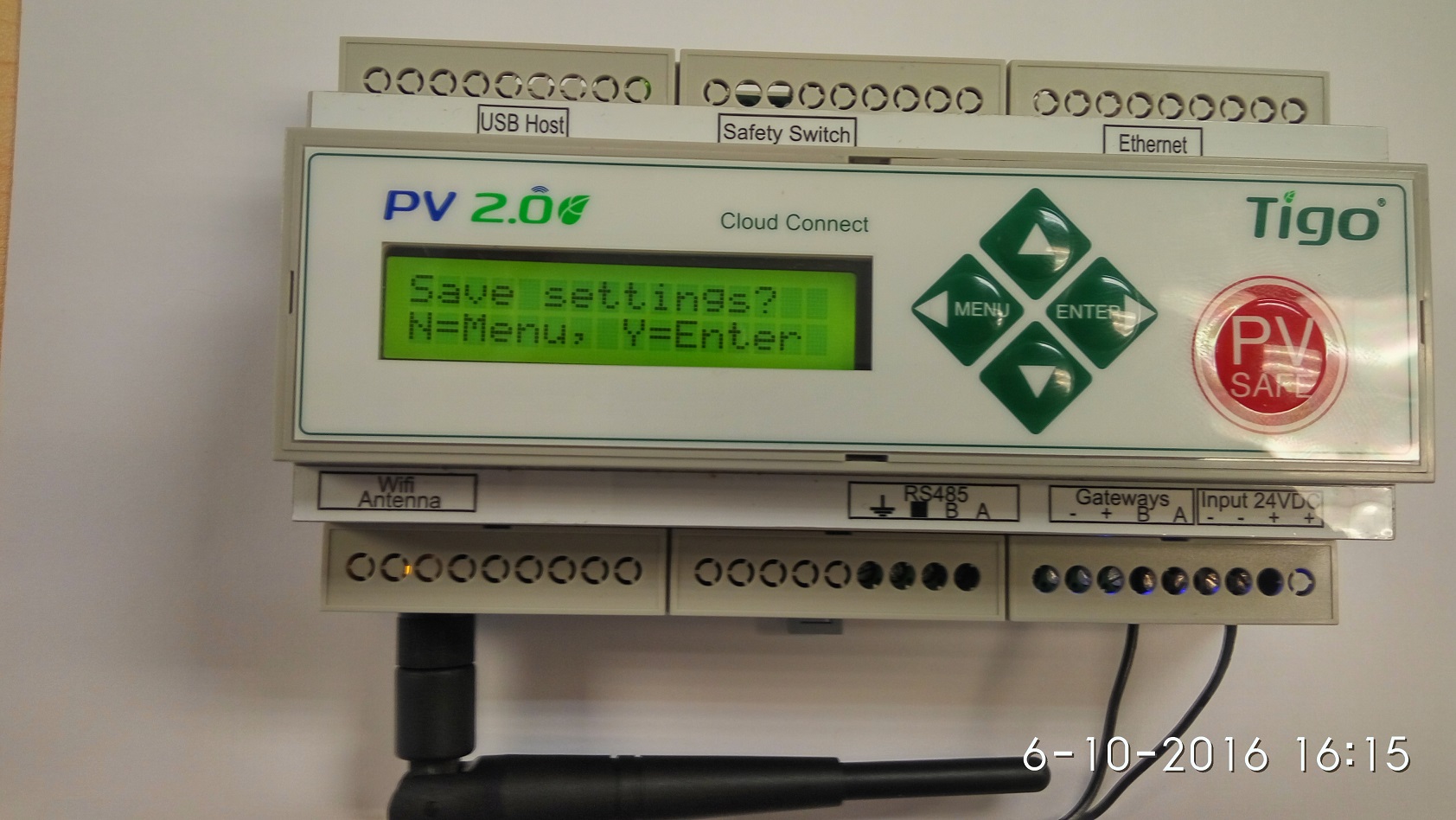 16. Press Enter for Yes to save the Wi-Fi name and password. This will be remembered in case of power loss. You will then see ** Activating **, Starting network displayed: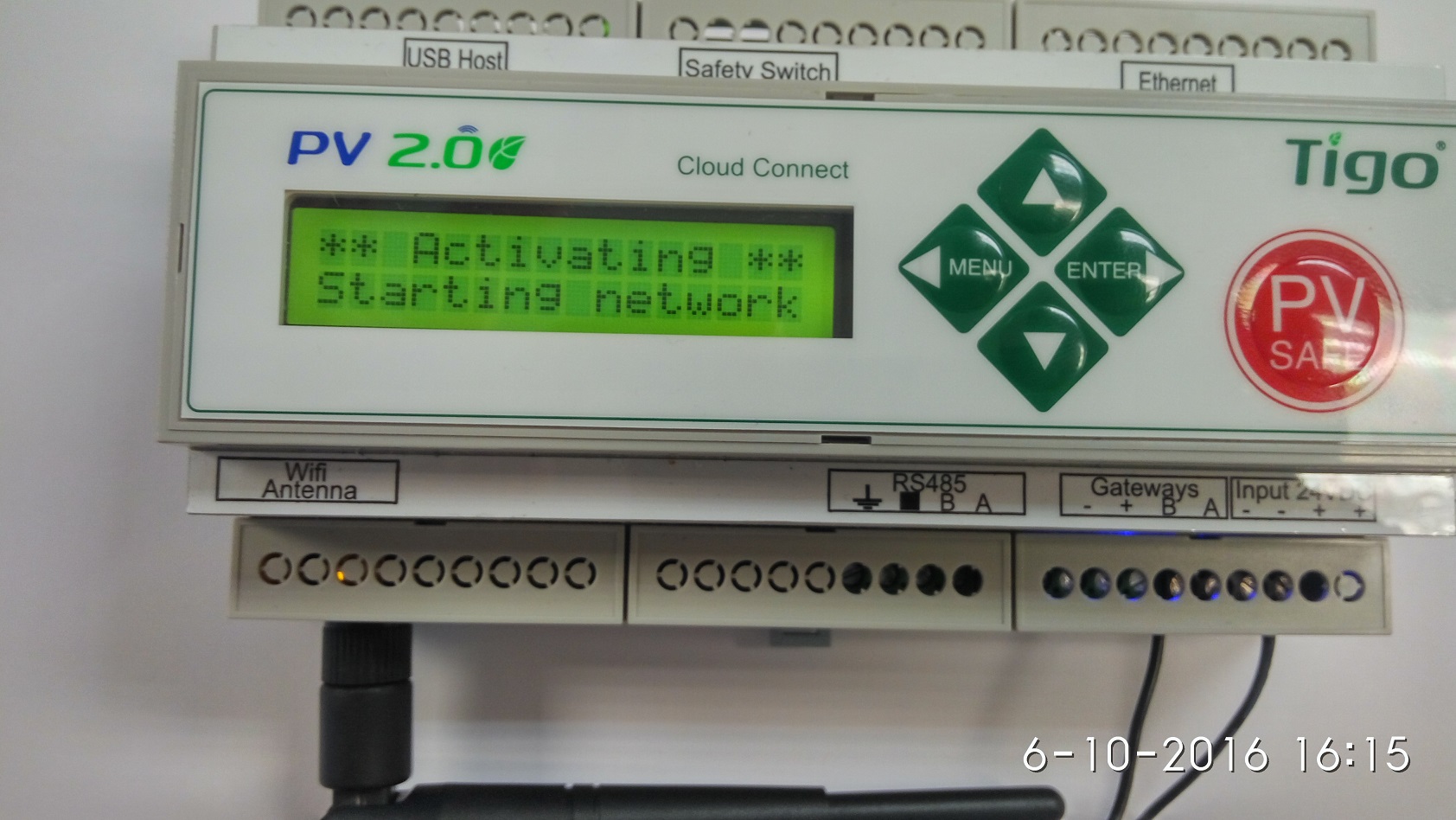 17. Once the wireless communication with the Wi-Fi router/access point is established (using the password provided above) you will see Success which confirms a valid password was entered for the Wi-Fi SSID (name) selected in steps 9 & 10. Additional text will be displayed as the new Internet access method is tested.

Note: During the time that Internet access was not available, the Cloud Connect will continue to store and save production data from your system, until it runs out of available memory/storage space. If that occurs, the oldest data that was not uploaded to the Tigo Cloud will be lost and appear as a Gray module icon, instead of displaying as the Power for that time period, or included in the Energy display mode total.