Contents: 

AC Loss and Rapid Shutdown (RSD)
In an emergency situation (ie., fire, weather, damage to grid), the standard procedure for first responders is to disconnect the AC circuit breaker for the building or street. This secures the AC grid from supplying power to the structure, but there is still a potential for damage caused by the DC power generated from the modules on the roof. 
Tigo's automatic Rapid Shutdown (RSD) solution recognizes AC Grid loss as a signal to automatically disarm the DC side of the system as well. The loss of AC power causes the Cloud Connect Advanced (CCA) or RSS Transmitter to turn off it's "Keep Alive" signal, and all TS4 units that are RSD ready (TS4-S, TS4-O, and TS4-F), enter a module level disconnect mode.
For TS4-S and TS4-Os: This lowers their output voltage to zero (under 30 seconds).
For TS4-F and TS4-2Fs: This lowers their output voltage to 0.6V per unit (under 30 seconds).
With Tigo's Automatic RSD Solution in place, there is no need for the emergency personnel to find or deactivate module level disconnect, as the TS4 units are already equipped to detect standard safety protocol and respond to the emergency.
Note: For owners of the new Tigo EI Residential Solution (Inverter, battery and ATS), the CCA is pre-installed in the Inverter and follows the same RSD protocol as the typical CCA setup.
---
NEC 690.12 Requirements
The NEC requires an RSD Solution for any structure mounted system. Tigo offers two product families that provide automatic solutions to meet the NEC 690.12 Rapid Shutdown Requirements.
Flex MLPE (TS4-S, TS4-O)
Tigo's Flex MLPE (Module Level Power Electronics) products use wireless radio communication (between the TAP and TS4 module electronics) to maintain active production. The full Flex MLPE system requires a TAP and CCA (Cloud Connect Advanced) to provide it's RSD solution.




TS4-F (Fire Safety)
The TS4‑F Fire Safety products use PLC communication and a RSS Transmitter. The TS4‑F accomplishes RSD, only (no module-level monitoring).



---
Manual AC Disconnect
Once a Tigo RSD solution product has been added to the PV Modules on a system, a manual AC Disconnect can still be employed for specific shutdowns (maintenance, etc), by placing an AC Service Disconnect to the CCA's on the system: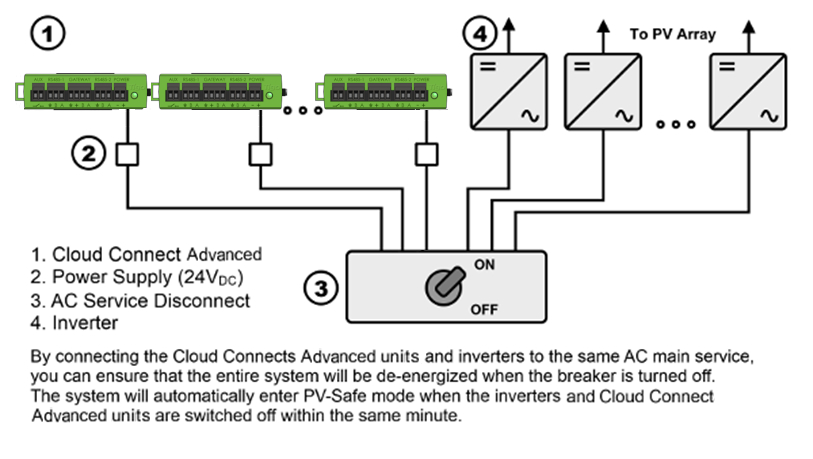 The same concept applies to TS4 Fire Safety Systems. If external RSS transmitters are used, they need to be powered off at the same time as the inverter to meet NEC 690.12 requirements.

See TS4 Installation Manuals for details.
---
Tigo PV-Off (Formerly PV-Safe®)
The classic Tigo PV-Off function also enables DC Disconnect at the module level. When PV-Off mode is activated, the TS4 disconnects the PV module from the string, leaving it with zero voltage output and making it is safe for either emergency personnel ore scheduled maintenance workers to navigate a PV system.
PV-Off activation with TS4: Current per module is shown in green, voltage in grey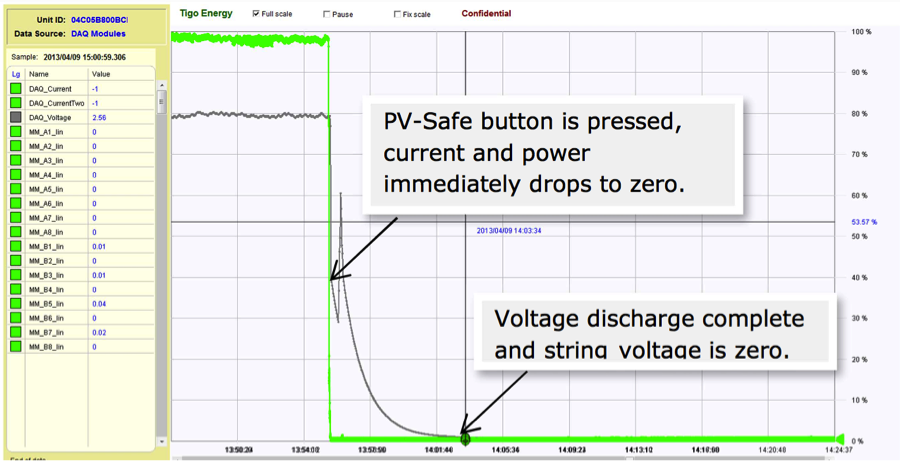 For legacy MMU and Cloud Connect (CC) based systems, there is a PV-Safe button on the front panel.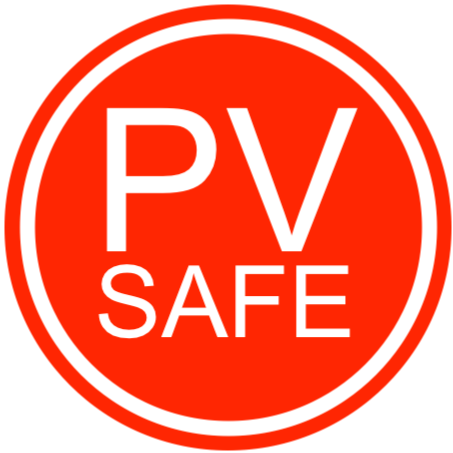 Once deactivated, the TS4 units will not turn on again until they receive a PV Safe Deactivation, or  "on" command. This is found within the Data Logger Menu, by following these steps on the MMU or Cloud Connect:
Press MENU button, then ENTER.
Press Up or Down Arrow to change menu item to 2.Control, and p

ress ENTER 

Press Up or Down Arrow to change menu item to 2.2.Modules On, and p

ress ENTER 
For the full Menu of legacy options, Click Here!
For modern CCA based systems, a third party button or switch can be installed to activate the PV-Off function.
---
Summary
Tigo offers an Automatic RSD solution that can also be activated manually, as well as a PV-Safe option for on-site deactivation. Functions like these, help to increase the System Owner's peace of mind, as the system maintains a high safety of operations.