NEC 690.12 Rapid Shutdown
There are two ways to meet NEC 690.12 Rapid Shutdown requirements with Tigo.
1. Flex MLPE (TS4-S, TS4-O)
Our Flex MLPE (Module Level Power Electronics) products use wireless communication between the TAP and TS4 module electronics. Flex MLPE requires a TAP and CCA (Cloud Connect Advanced) for rapid shutdown.
2. TS4-F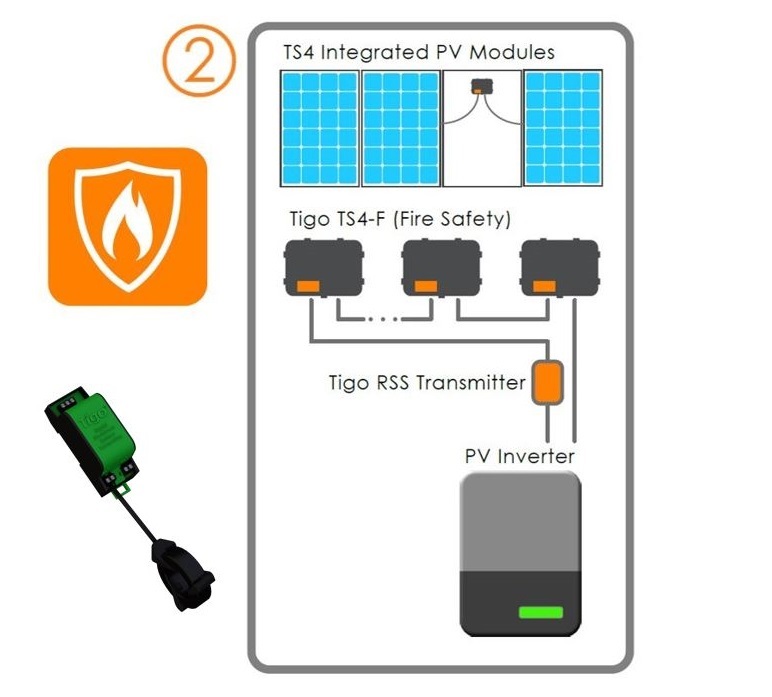 The TS4‑F uses PLC communication and a RSS Transmitter. The TS4‑F does Rapid Shutdown only without module-level monitoring.
AC Loss - Rapid Shutdown Solution
NOTE: Automatic Operation can comply with NEC 2014/2017 690.12 standards. See the link at the bottom of this article for details
In an emergency situation such as a fire, standard procedure for first responders is to disconnect the AC circuit breaker for the building. This loss of power from the grid causes the inverter and the Cloud Connect Advanced (CCA) or RSS Transmitter to turn off. Whenever the CCA or RSS Transmitter shut off, the TS4 units capable of safety (TS4-S, TS4-O, and TS4-F) automatically enter module level disconnect mode and lower output voltage and power. TS4-S and TS4-O drop to zero volts. TS4-F drops to a safety voltage of 0.6V per unit. Thus, even if the emergency personnel do not activate module level disconnect directly, the TS4 units are equipped to detect standard safety protocol and respond to the emergency.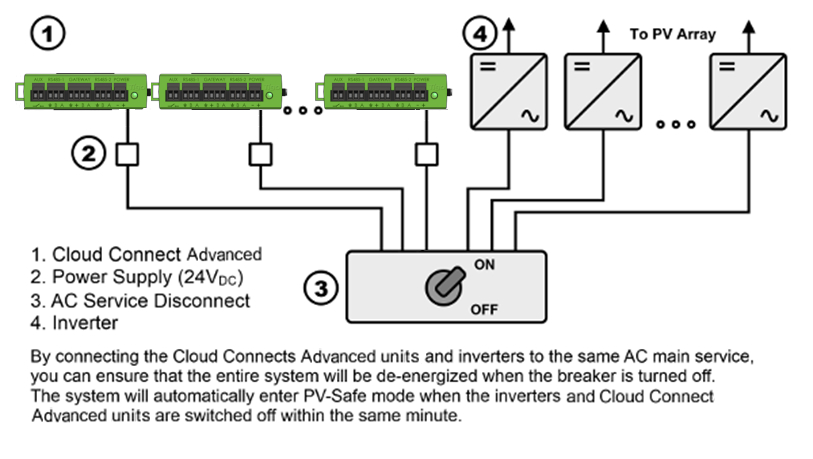 Sample MLPE system with CCA units on the same AC service as the inverters
The same concept applies to a TS4-F based system. If external RSS transmitters are used, they need to be powered off at the same time as the inverter to meet NEC 690.12 requirements. See the "Installation Manuals - TS4" for details.
For the criteria required to meet NEC 2014/2017 690.12 requirements, click here.
Tigo PV-Off (Formerly PV-Safe®)
The Tigo PV-Off function enables the shut down of an array at the module level, which is by far the safest way to deactivate a solar system. When PV-Off mode is activated, the TS4 disconnects the PV module from the string, leaving it with low voltage output. When module voltage output is low, it is safe for emergency personnel and scheduled maintenance workers to navigate a PV system.
For legacy MMU and Cloud Connect (CC) based systems, there is a "PV-Safe" button on the front panel. For CCA based systems, a third party button or switch can be installed and connected to the CCA for activating PV-Off.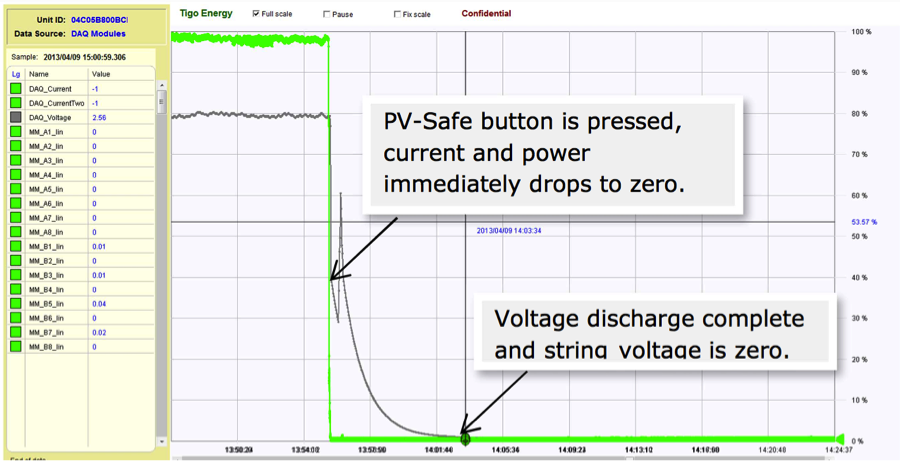 Real time chart demonstrating PV-Off activation with TS4-S; current per module is shown in green, voltage in grey
PV-Off - Manual Operation
NOTE: Only AC Loss is an NEC 2014/2017 690.12 compliant solution
For on-site activation, pressing a PV-Safe button (legacy equipment) or the PV-Off button (connected to the CCA) will trigger the unit to send an "off" command to all TS4 units. Once deactivated, the TS4 units will not turn on again until they receive an active "on" command, Menu item 2.2.Modules ON from the user via the MMU and Cloud Connect control panel, or CCA with SMART App.
https://support.tigoenergy.com/hc/en-us/articles/208746708-Cloud-Connect-MMU-Menu-Reference
Conclusion
With manual and automatic activation as well as regular module-level monitoring, Tigo's safety function greatly increases peace of mind for a solar system owner. Unlike standard DC switches, it cuts the voltage at the module level, bringing down string voltage to zero in case of emergency.
The Tigo TS4 system was tested to show compliance with NEC 2014 690.12 Rapid Shutdown requirements by Intertek as of October 2014, and by UL January 2017 for NEC 2017 690.12.
Click here to learn more about compliance with Rapid Shutdown.
Click here to view our rapid shutdown certificates.