EI Residential Solar Solution (EU) customers can optimize storage performance by adding a new EI Battery within two years of system commissioning. Adding storage after this period will provide greater capacity but some performance advantages may be lessened.
When adding a new battery, the new and existing batteries must have similar SOC levels. To ensure this, the EI Inverter has an Extend BAT FUNC feature that will set the existing system battery SOC to between 36 – 40% to match the new battery SOC. 
The existing system battery SOC appears on the inverter status display: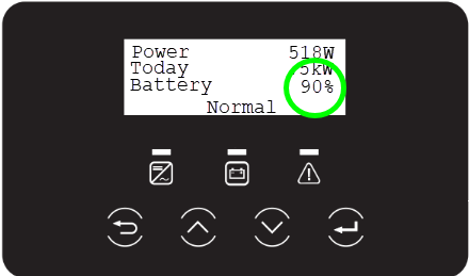 To let the inverter set the proper SOC for adding a battery:
Press Enter (the right-most button), select Settings, and enter your password (default = 2014).
Scroll to select Advanced Settings > Extend BAT FUNC and select Enable.
The system will automatically charge or discharge the battery to attain the desired SOC.
To speed discharge, turn on appliances.
When the SOC is between 36 – 40%, turn off the system and install the new battery following the instructions in the EI Battery Quick Start Guide.
After restarting the system, disable the Extend BAT FUNC setting. It will automatically disable after 48 hours.