The TAP (Tigo Access Point) is a wireless antenna that allows communication between the Cloud Connect Advanced (CCA) and the TS4 optimizers.
TAP basics
Up to seven TAPs can be connected in series to each Cloud Connect Advanced using RS-485 or CAT5/6 ethernet cable (not included.)
Each TAP can communicate with up to 300 Tigo TS4 units, or up to 600 PV modules if equipped with TS4-R-Duo units.
With the TAP, the TS4s act as repeaters. For the signal to hop, the TS4s must never be more than 10m (33ft) apart. So, if there is a gap between modules, make sure the gap is within these limits. This is shown below with the green arrow.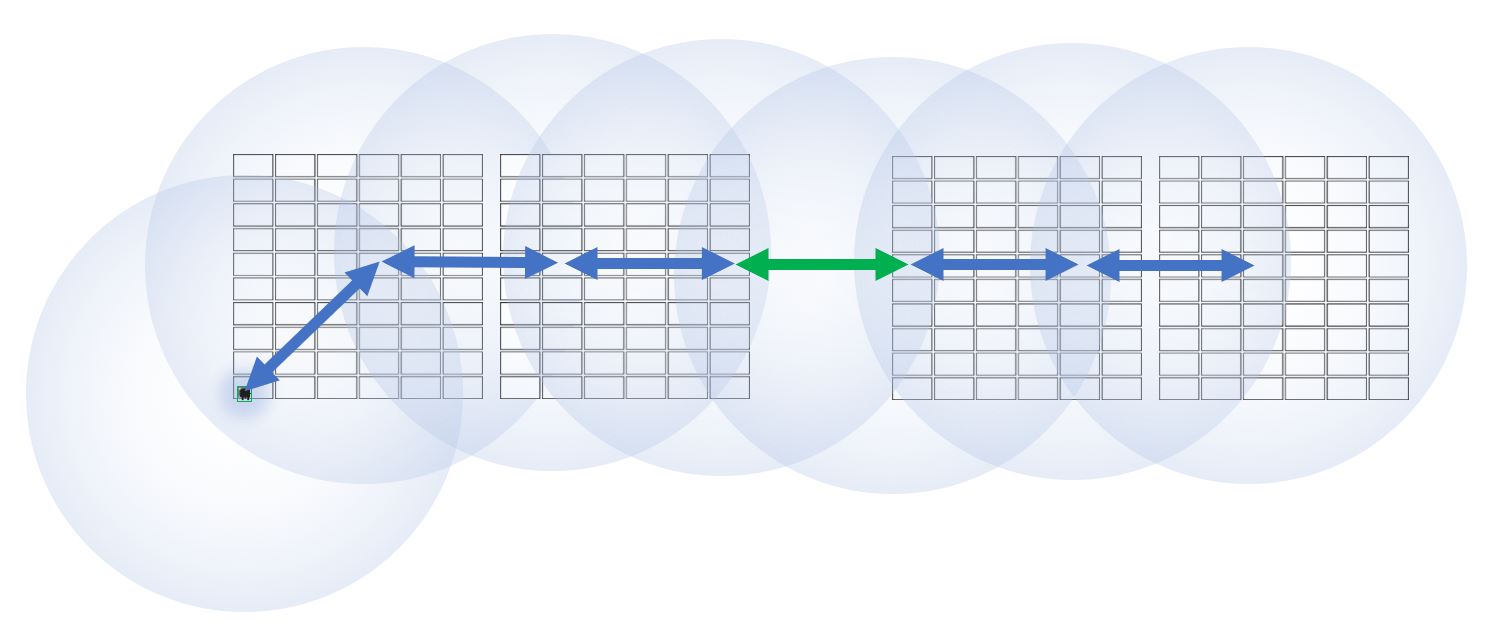 The range of a TAP, with hops, is a maximum of 115ft (35m) line of sight. If modules are located more than 115ft (35m) from the TAP, or if there are physical obstructions throughout the array such as HVAC units, or roof gables, use additional TAPs.
Site Conditions Affecting Range
The site conditions can affect range. For example, in a U-shaped array the range may need to be measured around the shape of the "U" since the direct distance (red arrow) is more than 10 meters. See below.
Another example is a metal stepped factory roof. A metal roof like this is considered an obstruction, so a separate TAP may be required for every roof face, even if they are less than 10 meters apart. See below.
For best results:
TAP needs to be placed within 33ft (10m) of at least five TS4s
Allow 50ft (15m) line of sight spacing between TAPs
Place TAP near the center of the array
Below is an illustration of the hop distance between the TAP and optimizers.
Below is an illustration of the range and scale of a TAP/Mesh layout, using average 60-cell size modules. In this example, there are over 500 modules within range of the TAP, much more than the limit of 300 per TAP. Since this array is 560 modules, we would need two TAPs. As you can see, we would have a lot of freedom in placing them.
Now that you know the basics, it's time to design your layout.