Designing a system to meet rapid shutdown with TS4-F/TS4-A-F is easy 👌
How it Works:
When your RSS transmitter is powered on, the RSS core in each RSS transmitter sends a pulsed signal to the TS4-F/A-F units in the system over DC wiring.
When your RSS transmitter is powered off, this signal disappears, and each TS4-F/A-F unit goes into shutdown mode, reducing voltage within the array to under 80V within 30 seconds.
CONTINUITY REQUIRED NOTE: RSS Transmitters need DC string-loop continuity to enable the signal to propagate correctly over the string cables to reach the TS4-F units. This usually means that the home runs need to be connected to the inverter. The inverter may also need to be powered-on for proper signal propagation through-out the loop.
How to Start Your Successful Design
Add one TS4-F/TS4-A-F to each module in your system, or one TS4-A-2F for every two modules.
Purchase RSS-integrated inverters from Tigo's Preferred Partners (such as the SMA Core1-41, Solectria PVI 50/60, Chint KTL 20/25/50/60, others) or use one RSS Transmitter Core for each 10 strings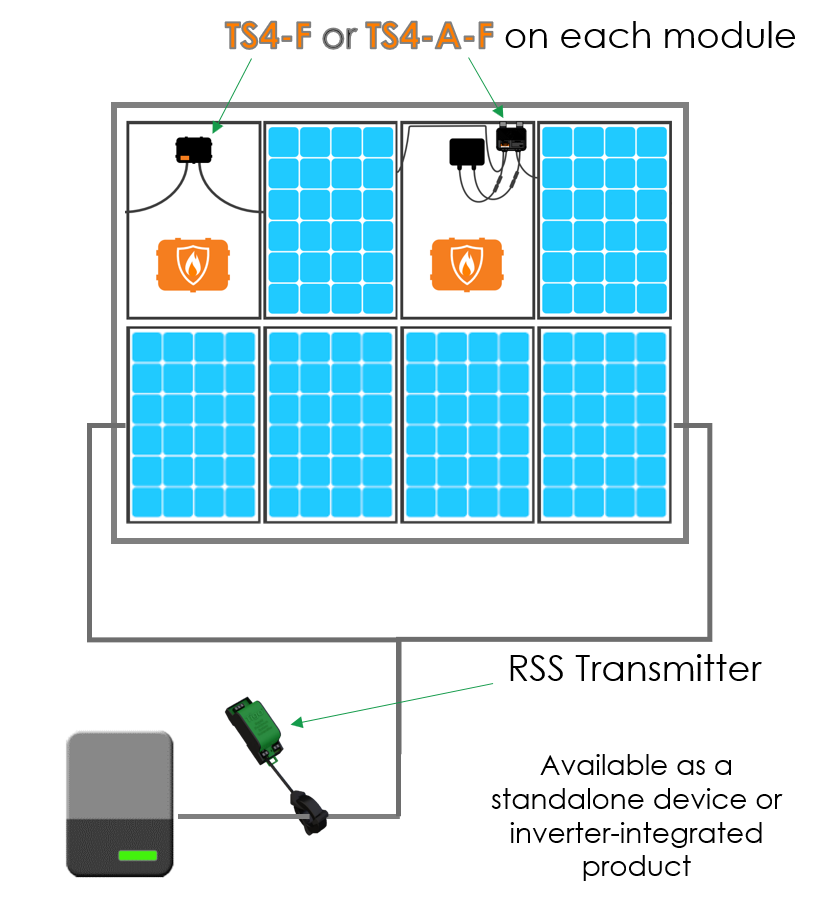 The TS4-A-2F adds safety features to two modules per unit.

Design considerations for external RSS transmitters
(skip if you are using an integrated inverter)
Powering your RSS transmitter
Each RSS transmitter is powered via 12V DC input.
The RSS transmitter can ship from Tigo and its distributors with either a 120/240V AC power supply or 277/480V power supply. Choose what works best for your application.
How many RSS transmitters do I need? (for C&I projects)
See Tigo's "Product Selection Tool" for assistance
How long can my DC loop for each string be?
The entire DC loop for each string, from the positive terminal on the inverter, out through the array, to the negative terminal on the inverter, can be up to 1000 feet (300 meters).
NOTE: If you have more than one initiator (RSS transmitter) in your system, make sure that PV conductors for the transmitters do not share the same conduit. This prevents signal cross-talk that may keep some panels connected while the associated Initiator/Transmitter is OFF. This applies whether your RSS transmitter/Sunspec Initiator is built-in to the inverter or is a standalone Tigo transmitter.
Separation of DC conductors for different transmitters or inverters
If you are designing a large system that will have more than one transmitter, or more than one inverter containing a transmitter, you should put the string conductors from each transmitter in separate conduit. For more details and best practices, see the attached "BEST PRACTICES - PLC" document.
For more information, check out the installation manual by clicking here.
If you have design questions, feel free to email training@tigoenergy.com.
And last but not least, if you are done designing, congratulations! The next step is installation and commissioning.