What is a PV Module?
The most common device in a system is the PV Module. PV modules are sometimes referred to as solar panels. However, the term only refers to the panel portion of the module (excluding other components such as the solar cells, frame, jbox, cables, etc.).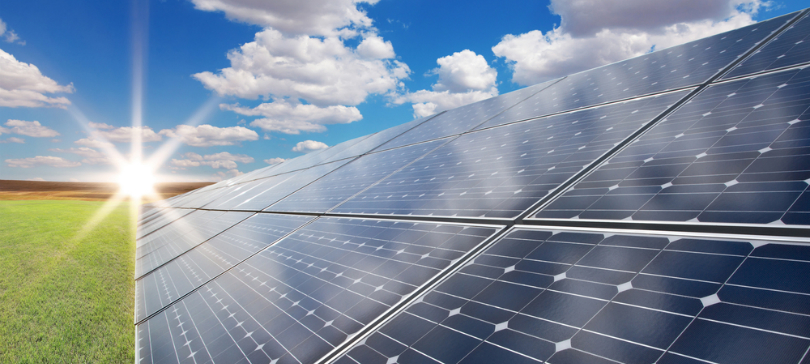 Misuse of the word 'Panel' stems from the days when solar thermal was popular (commonly used for heating swimming pools or shower water). The same installers who installed thermal solar panels continued calling modern PV modules by that name.
A standard PV Module is comprised of the following components: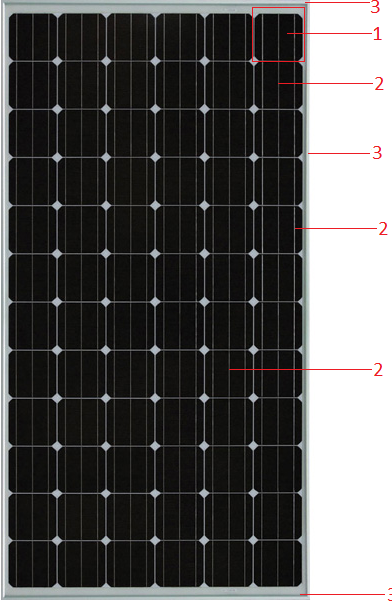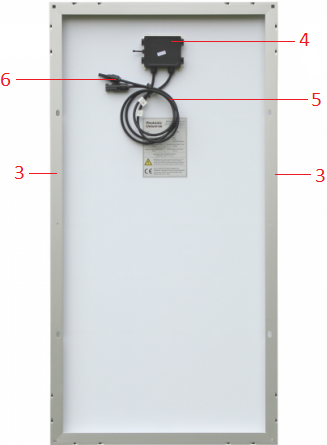 Solar Cell - The component that makes electricity when exposed to sunlight. Read more here.
Traces - The wire that connects the Solar Cells in series.
Frames - Metal hardware that protects the edges of the glass and allows the PV Module to be handled and mounted to racking systems.
Junction Box - Small box the comes pre-installed on the backside of a solar module. It houses all the electric components and protects them from the environment. This is also where the module's PV wire leads (5) connect to diodes inside, providing an easy way to link panels together. Read more here.
Module Leads - PV wire that conducts DC current to the string or array.
Connectors - Specialized male and female plugs that allow the power to transfer from one wire to another. Read more here.
---
What are the panels made from?
The photovoltaic Solar Cell is the smallest electricity-generating component within the PV Module.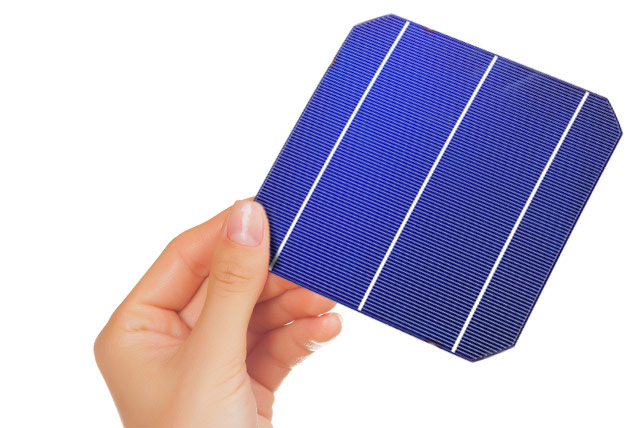 It is comprised of a semiconductor material that has the ability to produce voltage when exposed to sunlight. Silicon (SI) is the most common material used in manufacturing a solar cell. The process of creating the solar cell starts with either drawing silicon ingots from pure (mono) silicon or by melting and re-using fragments of other silicon ingots (poly).
The ingots are then laser cut into wafers to be embedded into the panel of the PV Module. The manufacturing of PV Cells can be separated into two different types based on the desired quality of the product:
Monocrystalline:

The Solar Cell is clearly defined and cleanly segmented. This is because each cell is a unique SI wafer, and the entire crystalline lattice (within the cell) is faced in the same direction.

This uniformity significantly increases cellular efficiency, allowing it to produce more power than its polycrystalline cousin.

The edges are rounded due to the shape and structure of the monocrystalline ingot.

Polycrystalline:

The Solar Cell is square and appears undefined. There are uniquely different shapes (or shades) within the cell.

The polycrystalline material is made by melting down reclaimed portions of SI from other ingots. When the silicon portions cool, their crystalline lattices face in different directions.

Each boundary between the orientations is called a grain boundary. These boundaries contribute to resistance, thus reducing overall efficiency and power production.
Why Use Poly Over Mono?
Producing a monocrystalline panel is a time-consuming process that significantly raises the cost of the product. Polycrystalline may be less efficient, but the price is much lower per PV Module.
---
How many Solar Cells are in a PV Module?
The most commonly purchased PV Modules are 60-cell (36.0V) and 72-cell (43.6V), but PV Modules can come in many different size options: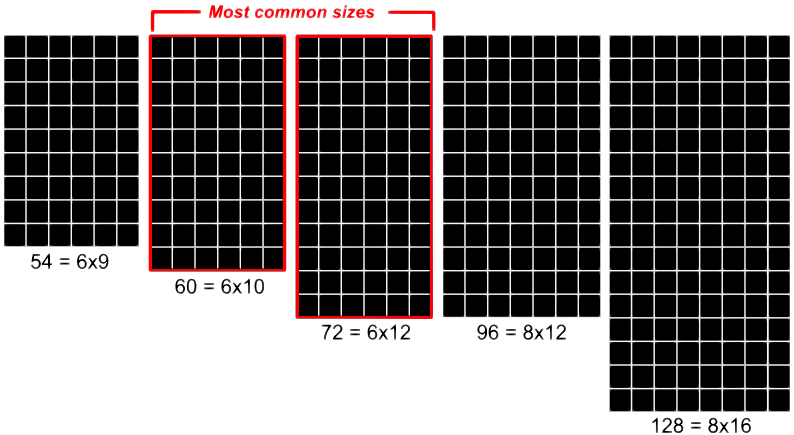 When in full sunlight or direct irradiation, each individual cell of a PV module can produce an Open Circuit Voltage (Voc) of roughly 0.5 to 0.6 volts at 25oC (no matter how large the cell). The more solar cells included within the series (or string), the higher the overall voltage of the PV Module.
| | |
| --- | --- |
| 1x SI Solar Cell = 0.6V | |
| 2x SI solar cells = 1.2V | |
| 3x SI solar cells = 1.8V | |
| 4x SI solar cells = 2.4V | |
| 5x SI solar cells = 3.0V | |
---
How are PV Modules arranged?
The panel is comprised of Solar Cells arranged in rows. Those rows (or strings) of cells are then wired in series. There are usually three strings in a PV Module that are connected to bypass diodes: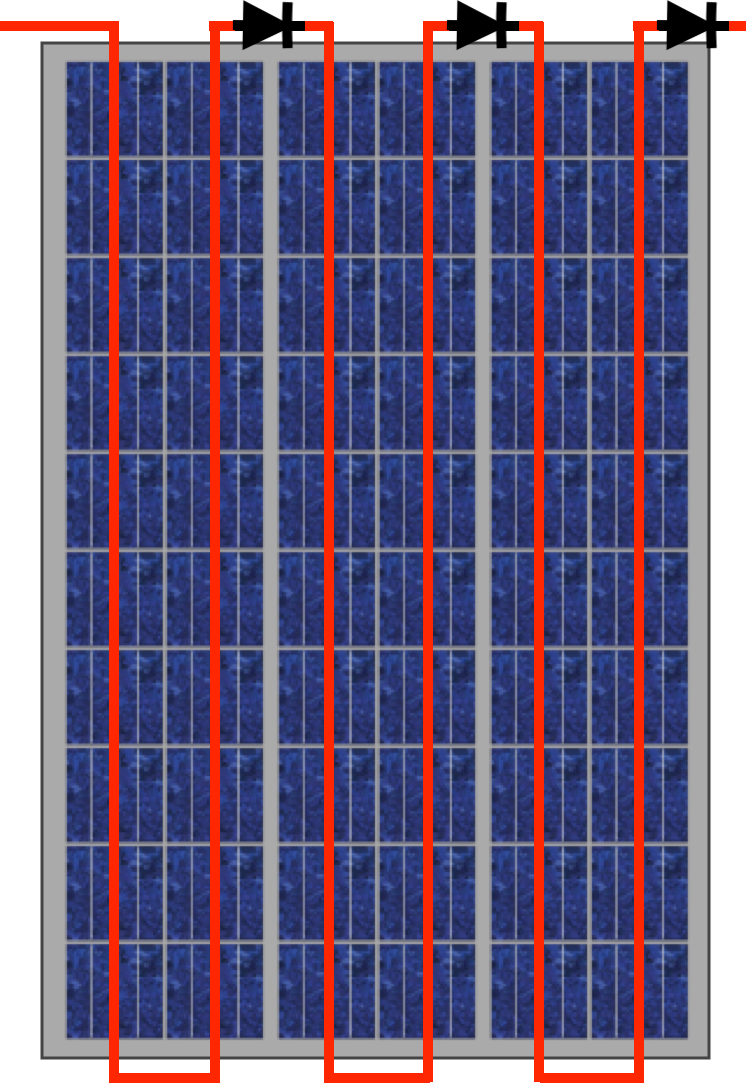 ---
Types of PV Modules
PV Modules and PV technologies come in several different types. It's good to have a basic knowledge of what may be available on the market.
Here are some common module types:
Monocrystalline vs. Polycrystalline Solar Panels
Thin Film Solar Panels and Non-SI based Solar Panels
Other PV technologies
Standard PV Modules: A solar panel and its associated components (jbox, frame, diodes, etc.). They can include photovoltaic (PV) cells that are made of mono-crystalline (from pure silicon ingot) or poly-crystalline (mixed/re-claimed silicon) wafers.

PERC Modules: Includes panels that have a reflective back sheet. This can improve efficiency by sending unused photons back across the n-type and p-type junctions (generating more energy).

Bifacial Modules:


Modules that include solar cells on both sides. This enables them to absorb reflected light from the back, improving effectiveness in commercial or utility-scale applications (where panels may be elevated and angled away from a reflective surface).

Split Cell or Half-Cut Modules:

Contains solar cells that have been split in half with a laser cutter which can improve the module's performance and durability. The panel is usually divided into two sections (including a split path for the internal diodes). This design offers double the amount of cells and diodes that can close off one-half of the Module in 50% shade.

Thin Film Modules: Thinly made sheets of flexible solar pv materials that can generate electricity in places where other photovoltaic cells cannot be applied, such as on curved surfaces, cars, or even on clothing (to charge handheld/personal devices).
Building Integrated PV: Solar modules consisting of panels that are seamlessly integrated into the building's outer materials. These can be building components such as façades, roofs, shingles, tiles, windows, or even embedded in sidewalk paths.
For more information on PV Modules, check out these sources: