When a Tigo unit (TS4 or other Tigo MLPE types) or data logger (CCA, CC, or MMU) is replaced, its serial number needs to be updated in the EI monitoring software.
There are two methods available to update the serial number:
Note: After updating the serial number, it typically takes 30 to 60 minutes for reporting to start; however, it may take up to 48 hours, allowing for daylight on the solar panels.



EI Portal (Desktop) Method
1. Log in to the Tigo EI Monitoring Portal, then select the system to change.
2. Click Edit System: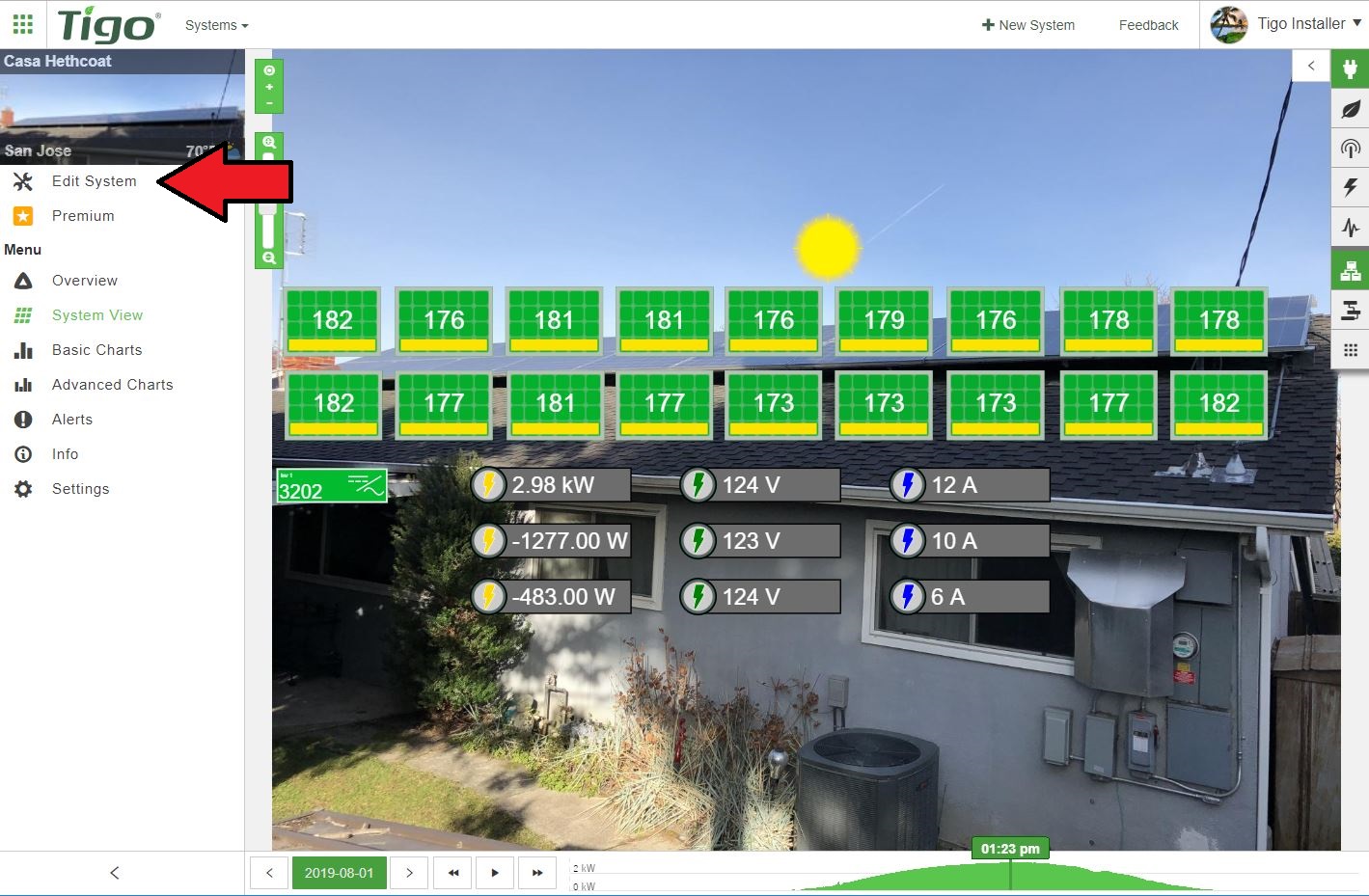 Note: You must be logged in as a systems Installer on the system to see the Edit System in the menu. If you don't see Edit System, the Tigo account is a System Owner type user. To update the serial numbers, you must be an Installer type user. Contact the Installer of your system or contact support and specify the following:
System ID or System Name and street address
PV module and optimizer serial number - both the old and new values to be changed
Tip: The System ID is shown at the end of the URL displayed in your browser. For example https://ei.tigoenergy.com/build/system/layout?sysid=xxxxx
​After clicking Edit System, the Site Info page is displayed showing the Name, System ID, External ID, etc.


3. Click Layout in the left side menu: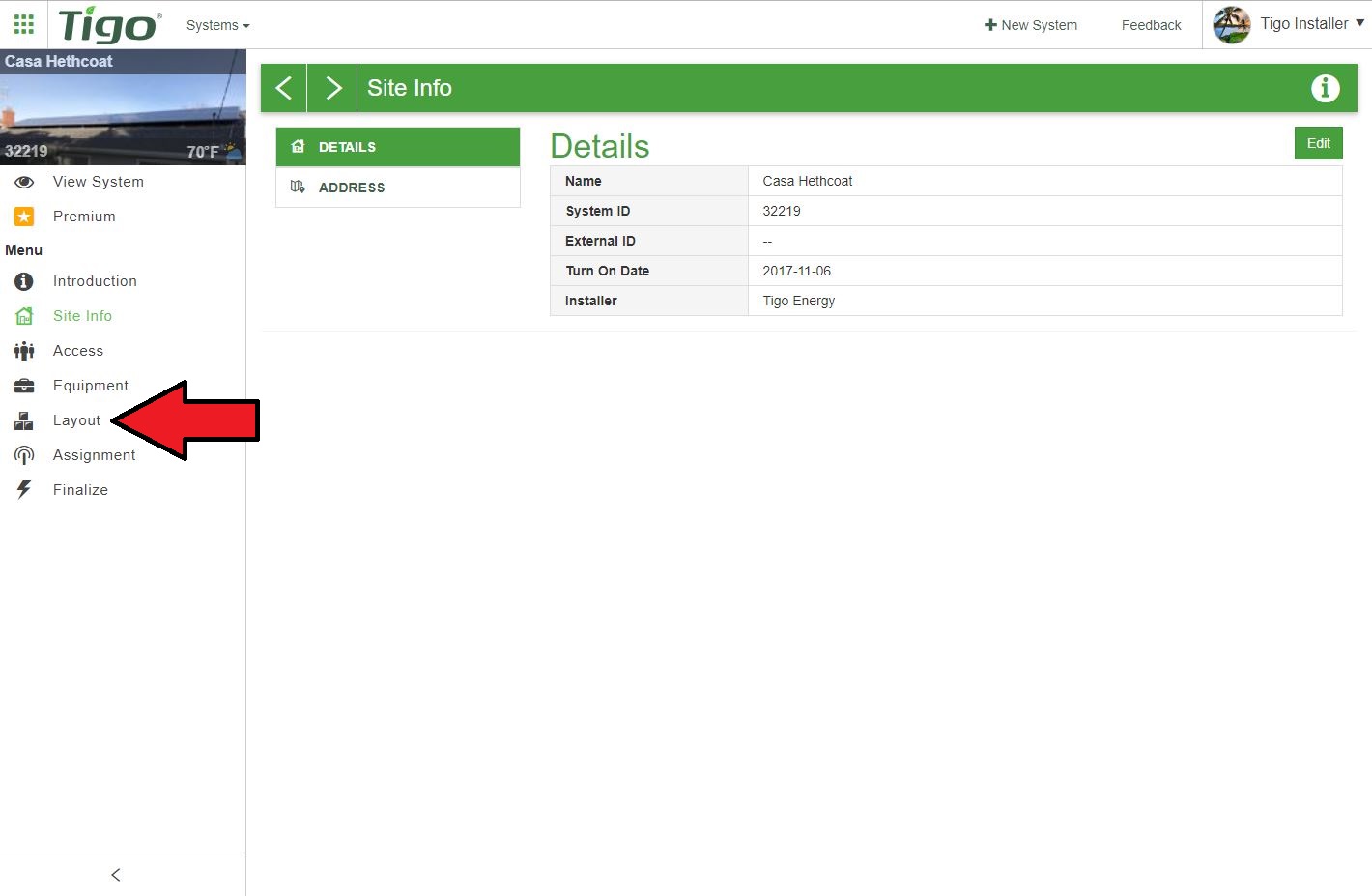 The Layout page displays the PV module/solar panel symbols in a physical layout (position on the roof).


4. Click Add Serials which enables serial number changes/editing. It also allows you to add serials never before entered in case of a new system or adding PV modules and icons.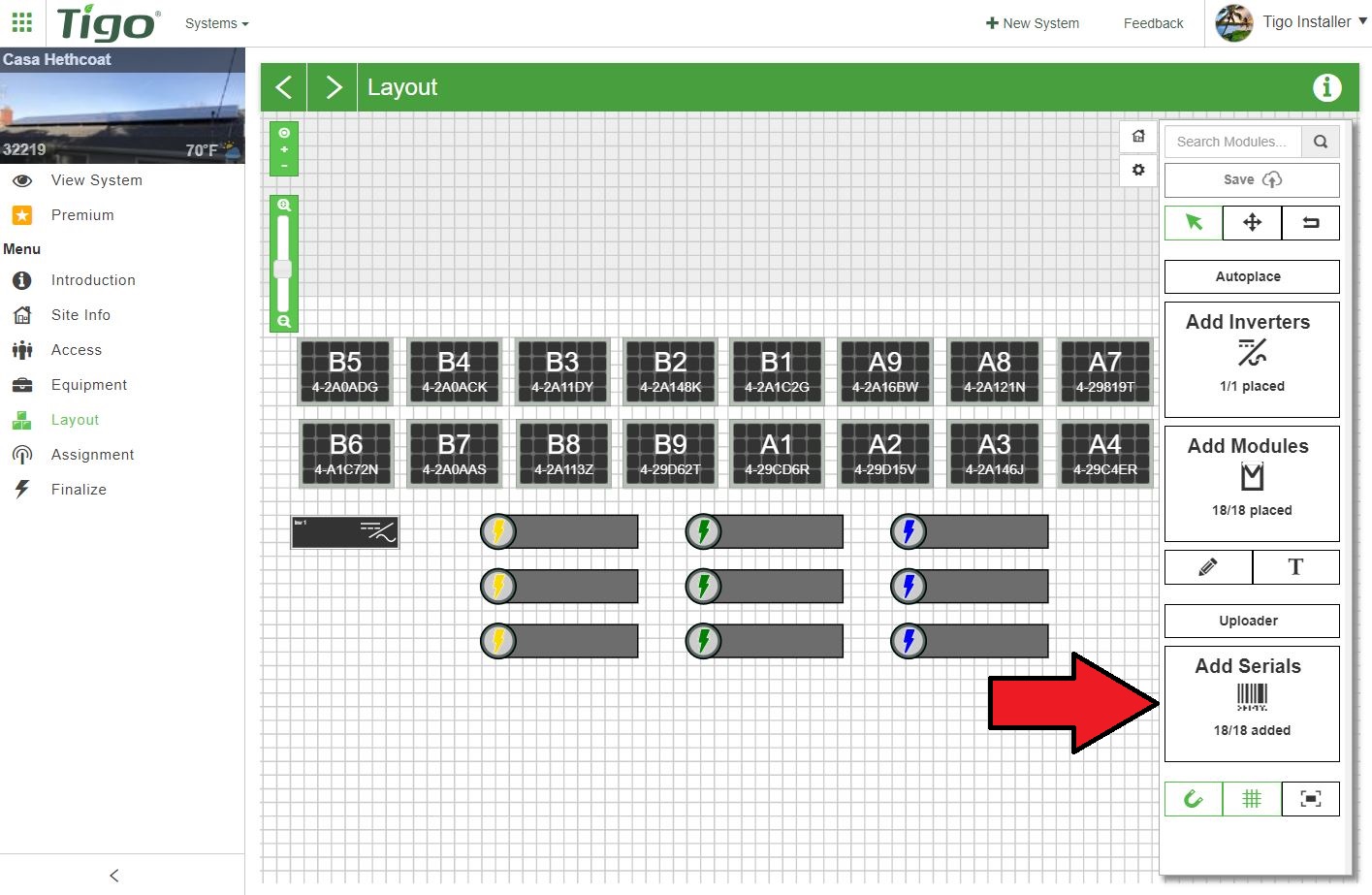 ​On the Edit Serials page (still titled 'Layout'), the Add Serials menu button is now displayed in green. The panel icons are now green to indicate they can be Edited.


5. Click on the panel icon to be edited: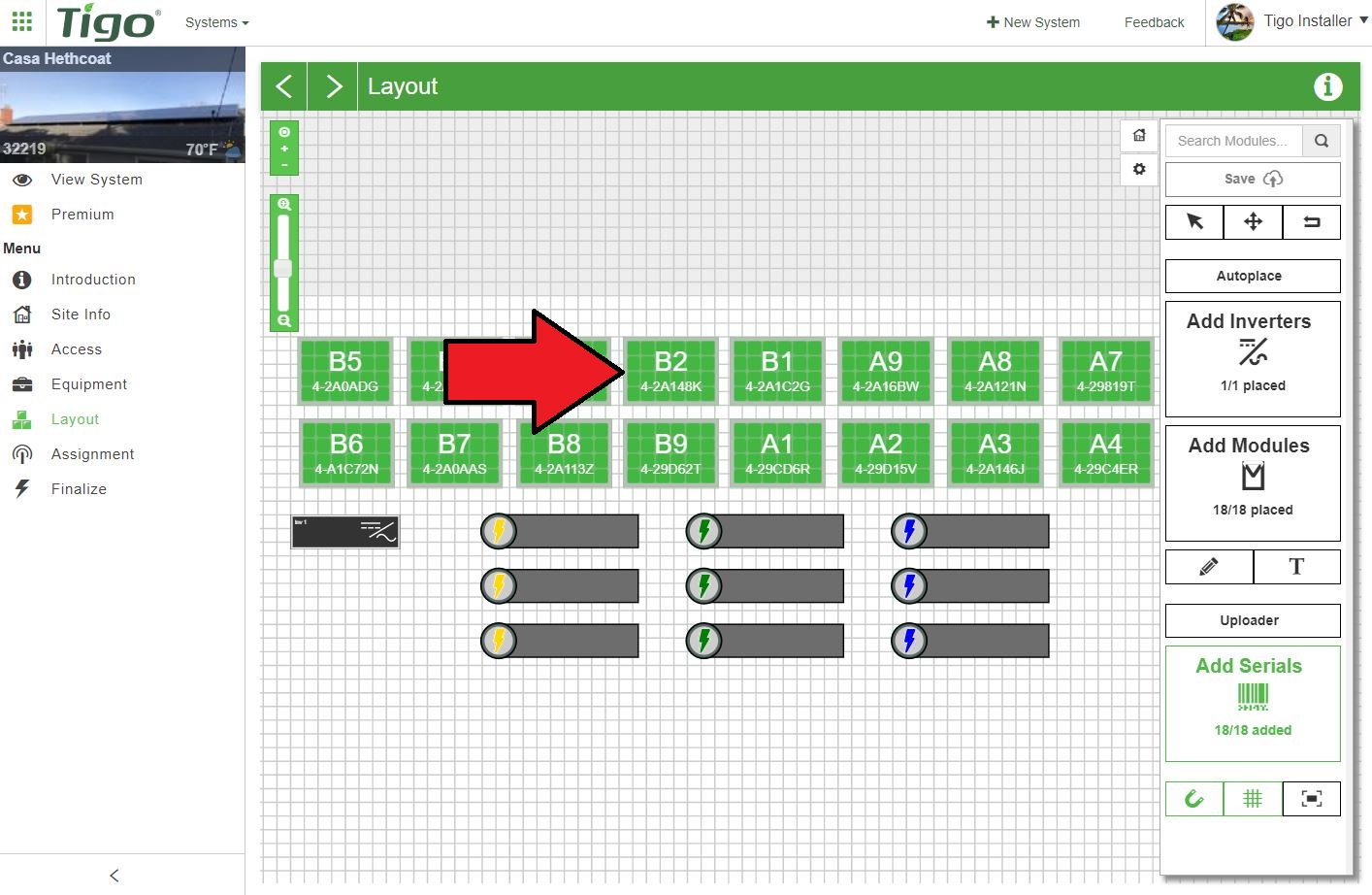 As shown below, a new small window with the panel current serial number value is displayed. The red trash can box deletes the serial number.
​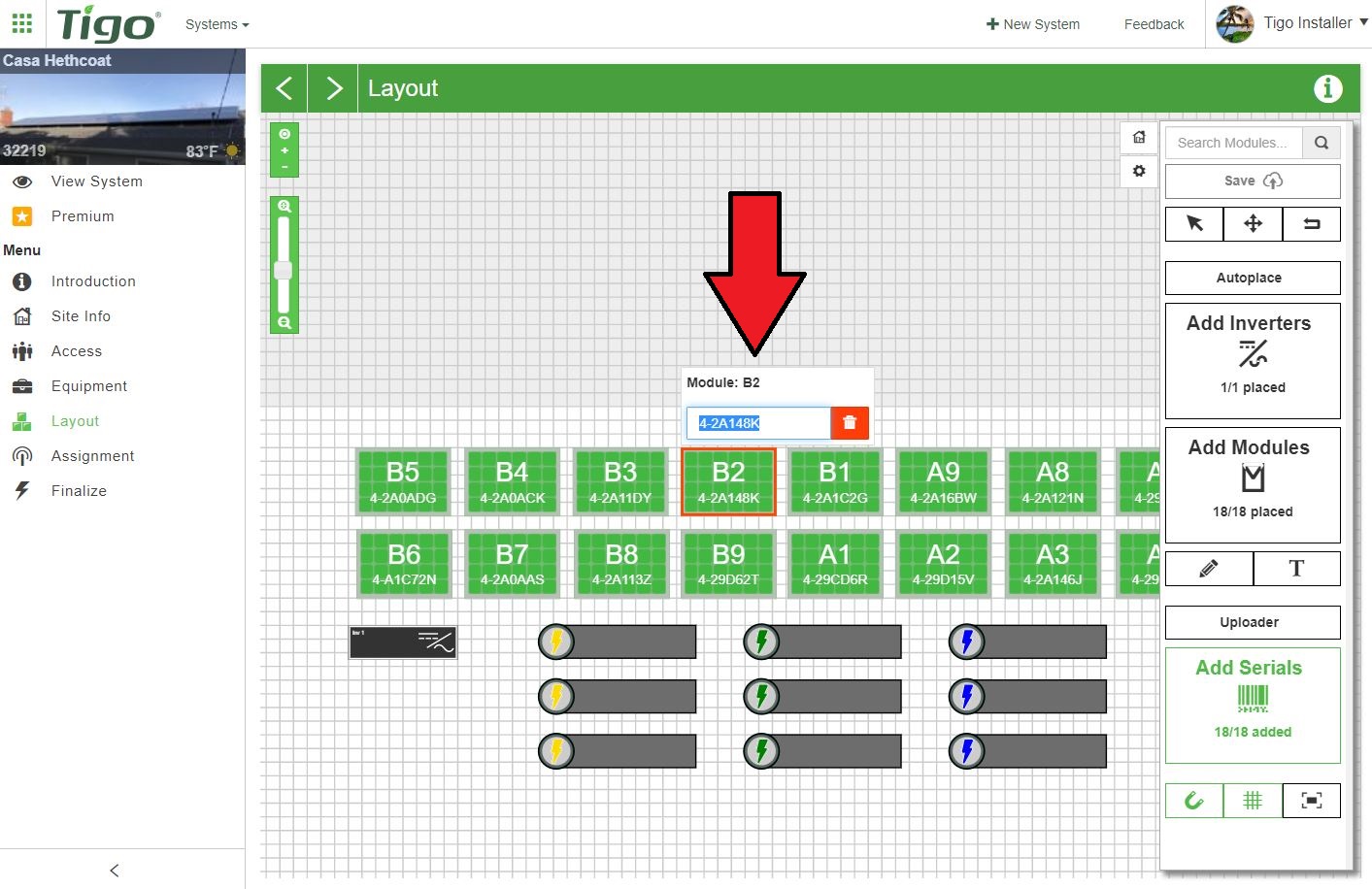 6. Enter the new serial number.
The current serial is pre-selected. Just type over it.
After entering a serial number, a check for validity is performed.
There is no need to 'Save'. The new serial is immediately saved and sent to the CCA data logger.
EI App (Mobile) Method
1. From the Home Page, go to "Settings".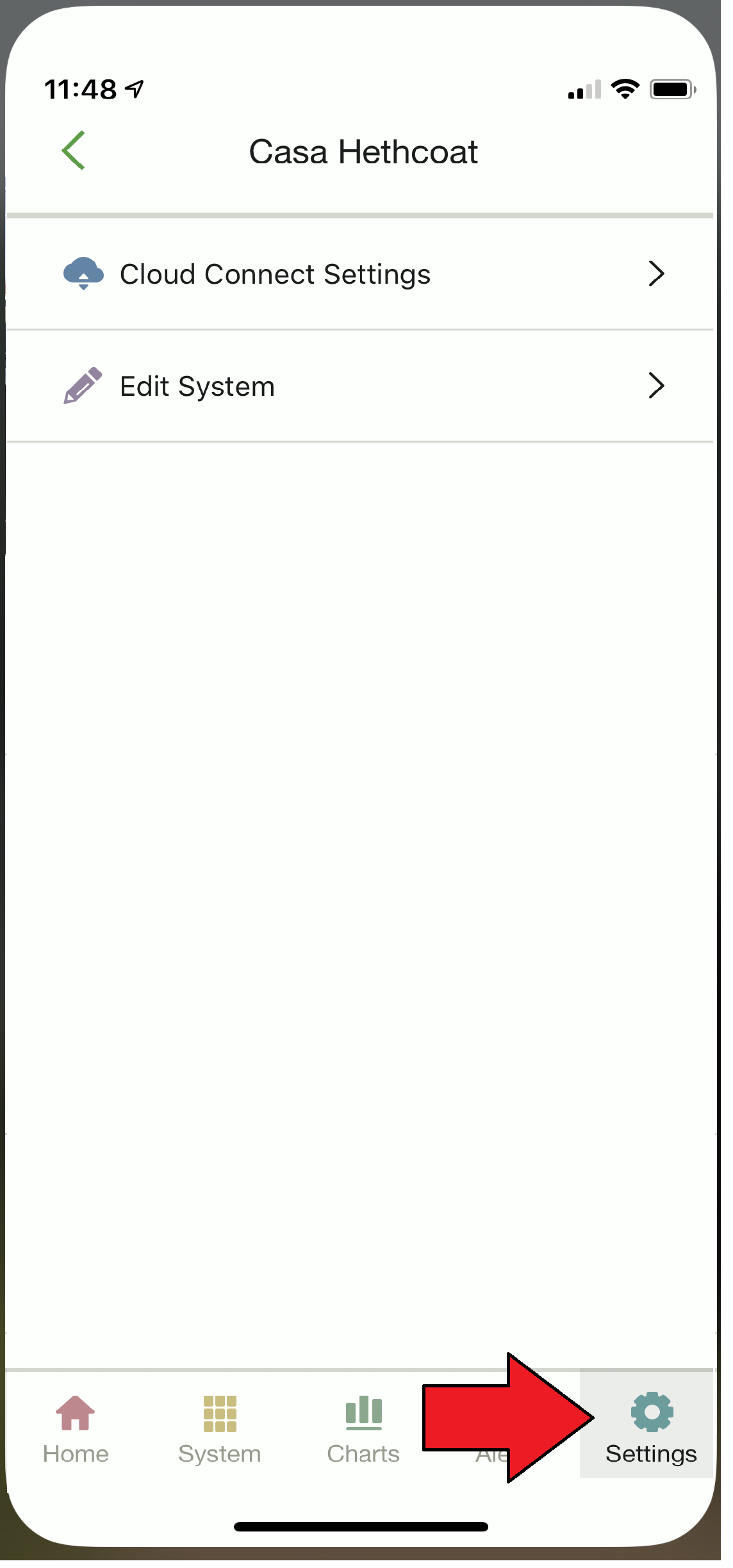 2. Tap on "Edit System".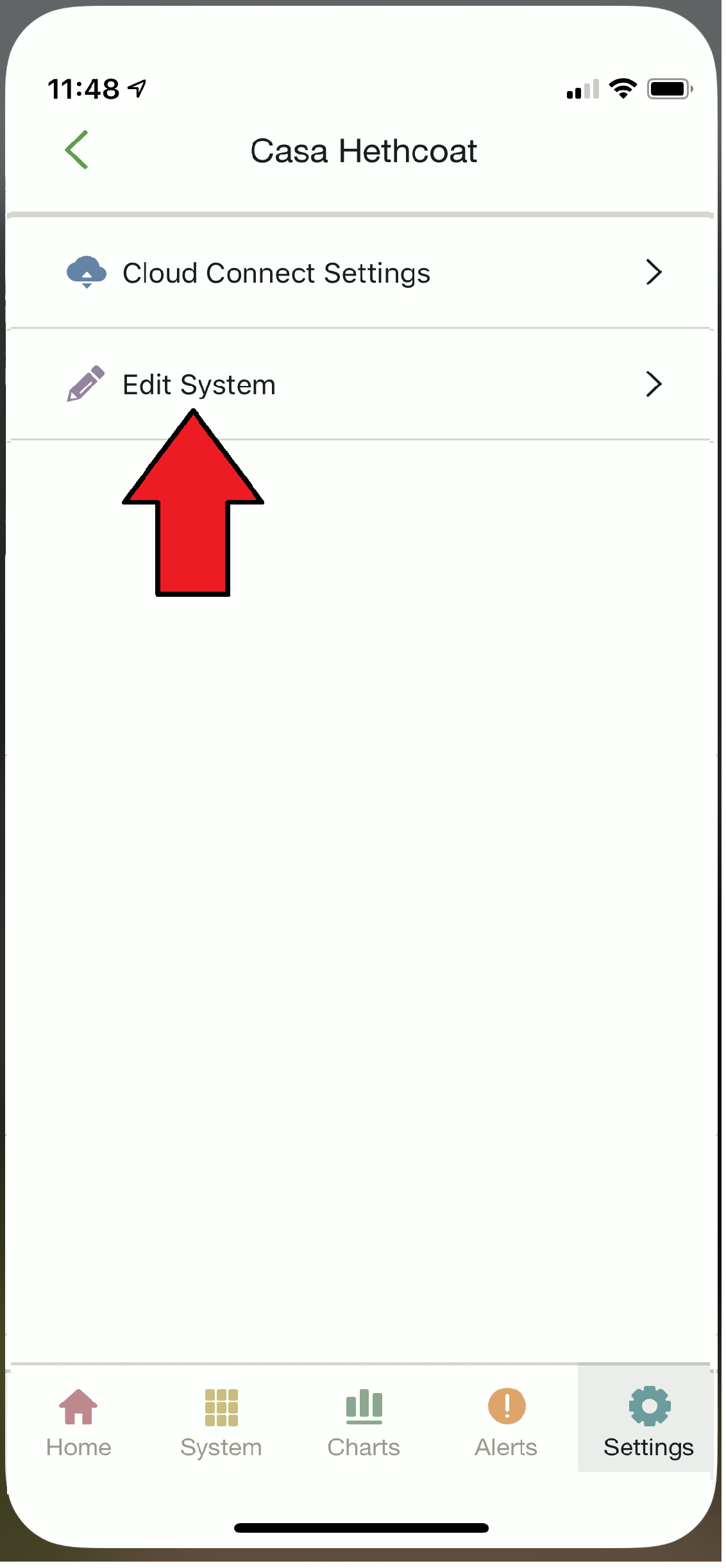 3. Tap on "Configure Layout".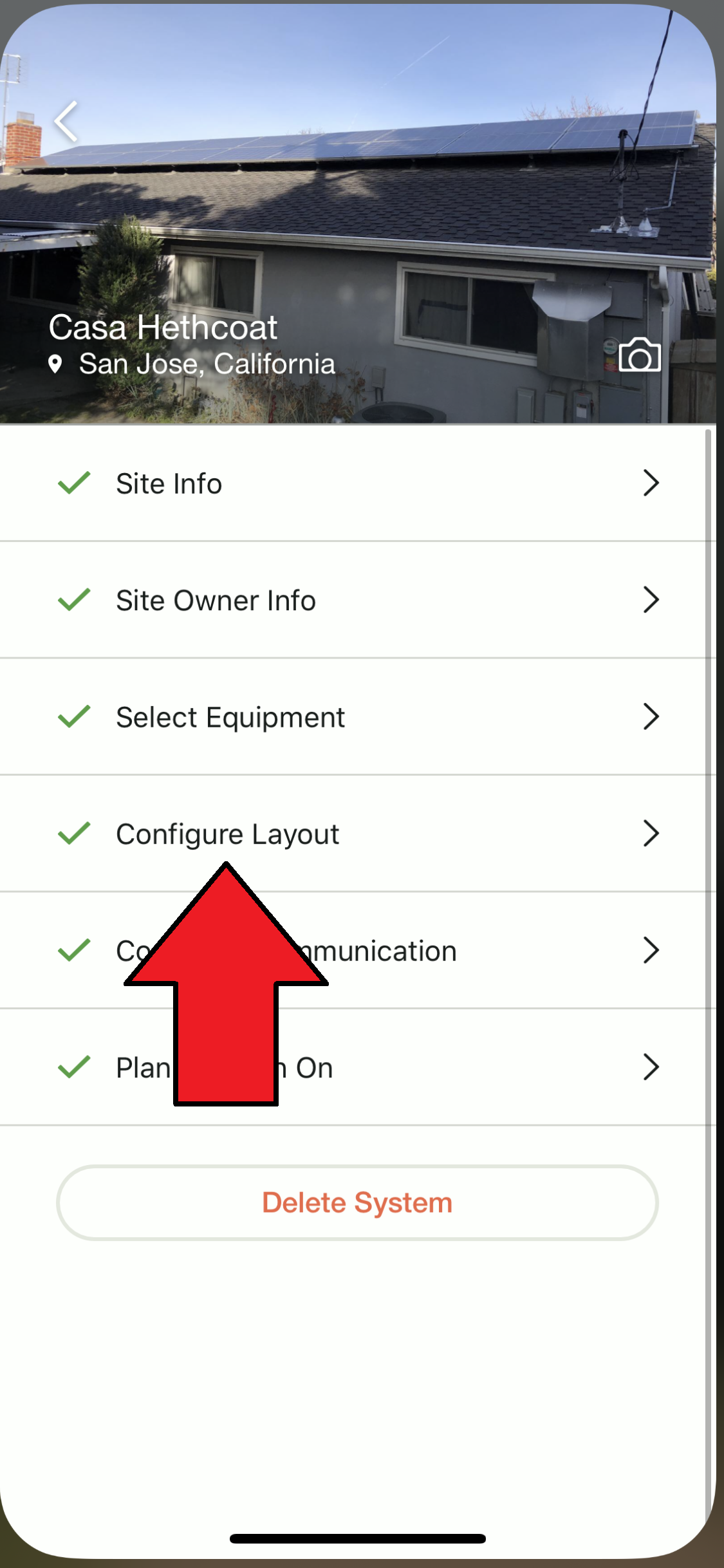 4. Tap on "Register".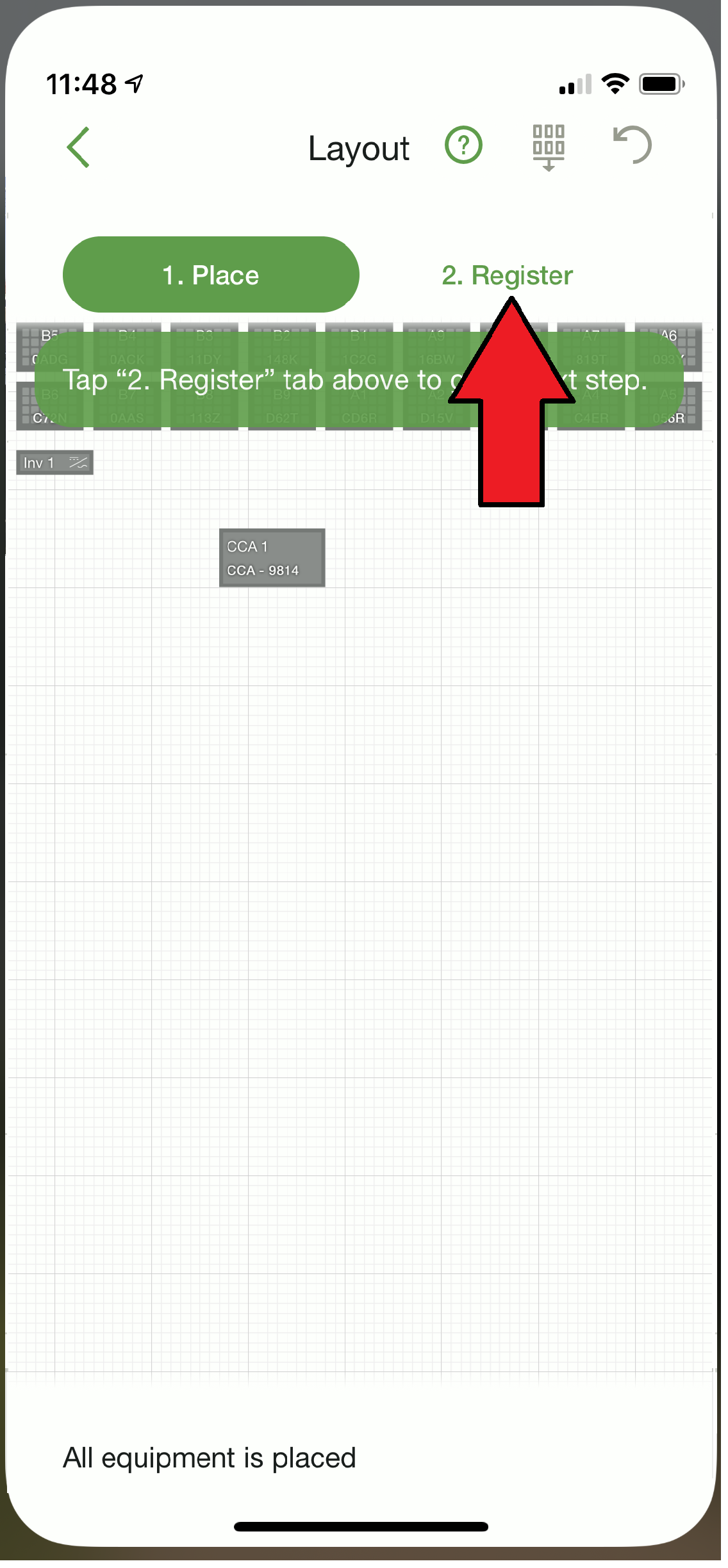 5. Tap on the module that needs a new barcode: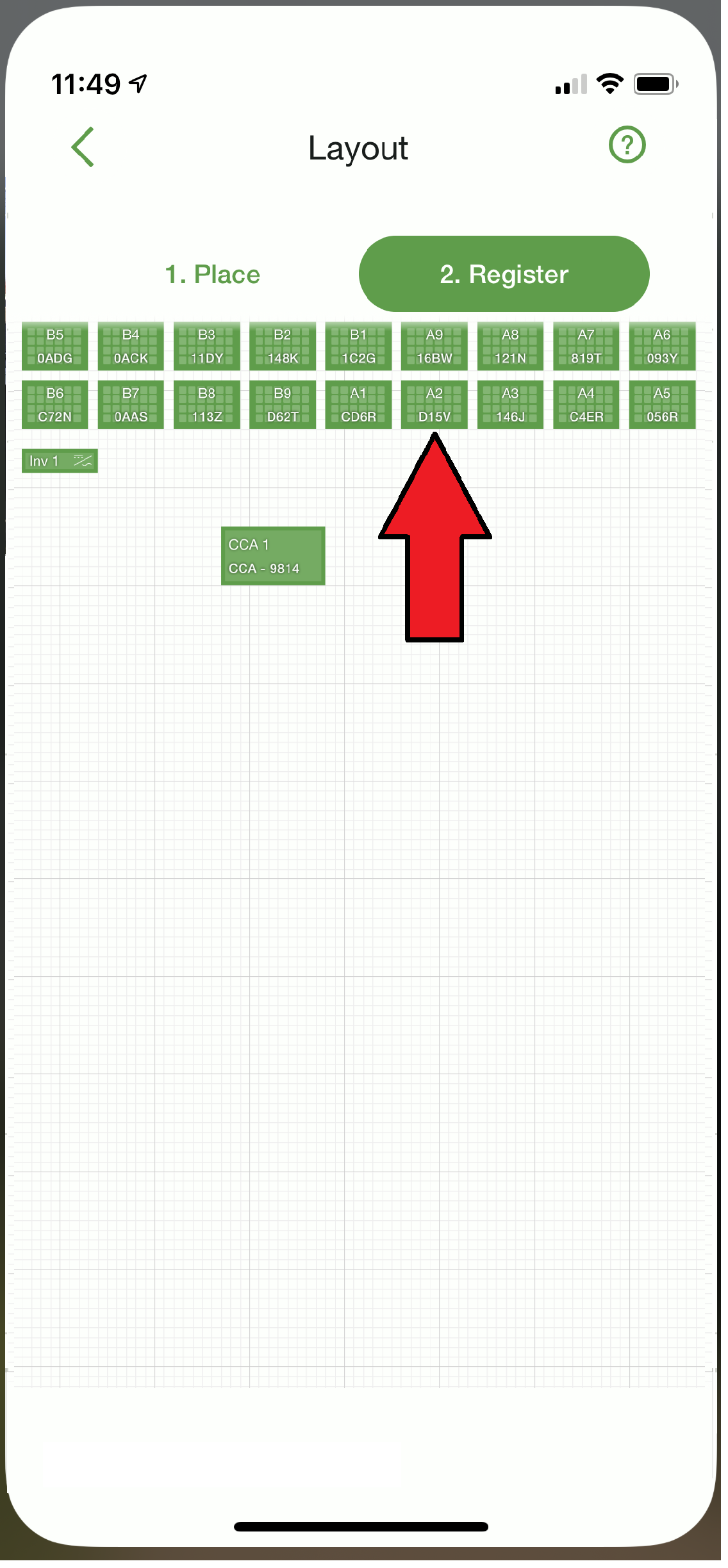 The module highlights, and the input field appears at the bottom.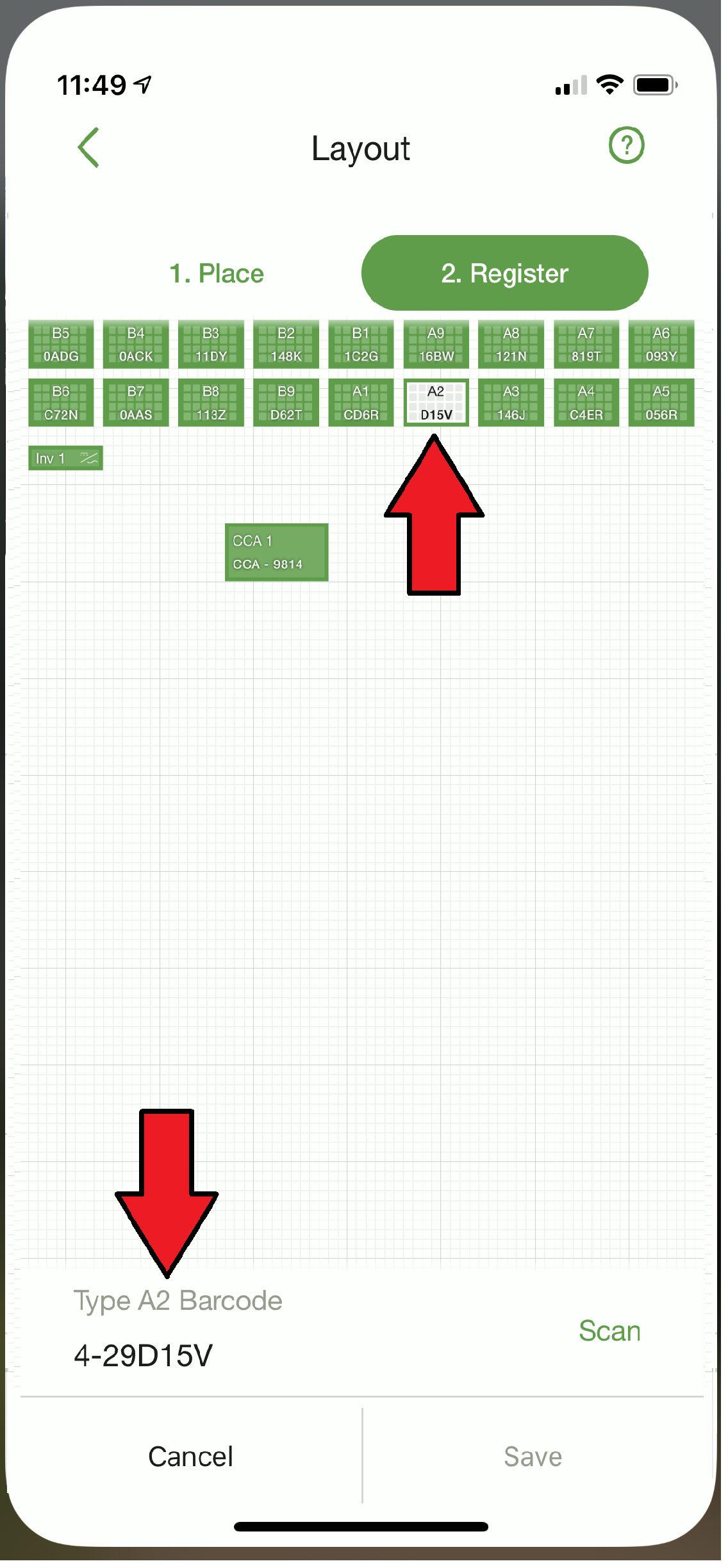 6. Enter the bar code, or tap on "Scan" to scan the bar code using the camera on your mobile device.
7. Tap 'Save'. Go back to the home page of the app, and you are finished.
If everything is correct, the new unit should show up within an hour if there is daylight on the solar panels.