The first step of creating a TS4 system with module-level monitoring using Tigo MLPE units is understanding the features of Tigo models.
NOTE: For systems using TS4-O modules, a TAP connected to a CCA with Internet service is required only if monitoring and/or module level shut down is desired. The TS4-O will optimize with or without the Cloud Connect data-logger combined with a Tigo Access Point. However, usage of the logger and TAP is well worth the cost of these devices over the life of a solar plant as preventing even one outage will likely pay for these devices.
A complete Tigo MLPE system in order to provide panel-level power monitoring requires these three device types:
Item
Image
Description

TS4 MLPE

The TS4 SMART Module Level Panel Electronics (MLPE ) are available in various models each with a different combination of functionality. The TS4 is added to a PV module (solar panel). See details at https://www.tigoenergy.com/products/

TAP

TAP units (Tigo Access Point) are gateway radios that communicate with the TS4 units. They pass power report data to the Cloud Connect Advanced data-logger.

Cloud Connect Advanced

(CCA)

The Cloud Connect Advanced (CCA) reports module-level power production and implements Rapid Shutdown (module disconnect). They support Internet connection using Wi-Fi or Ethernet cables. Setup is done using the Tigo Energy SMART App for iOS and Android devices. An Internet connection to the CCA is required to view the production data on the Tigo Monitoring Portal website.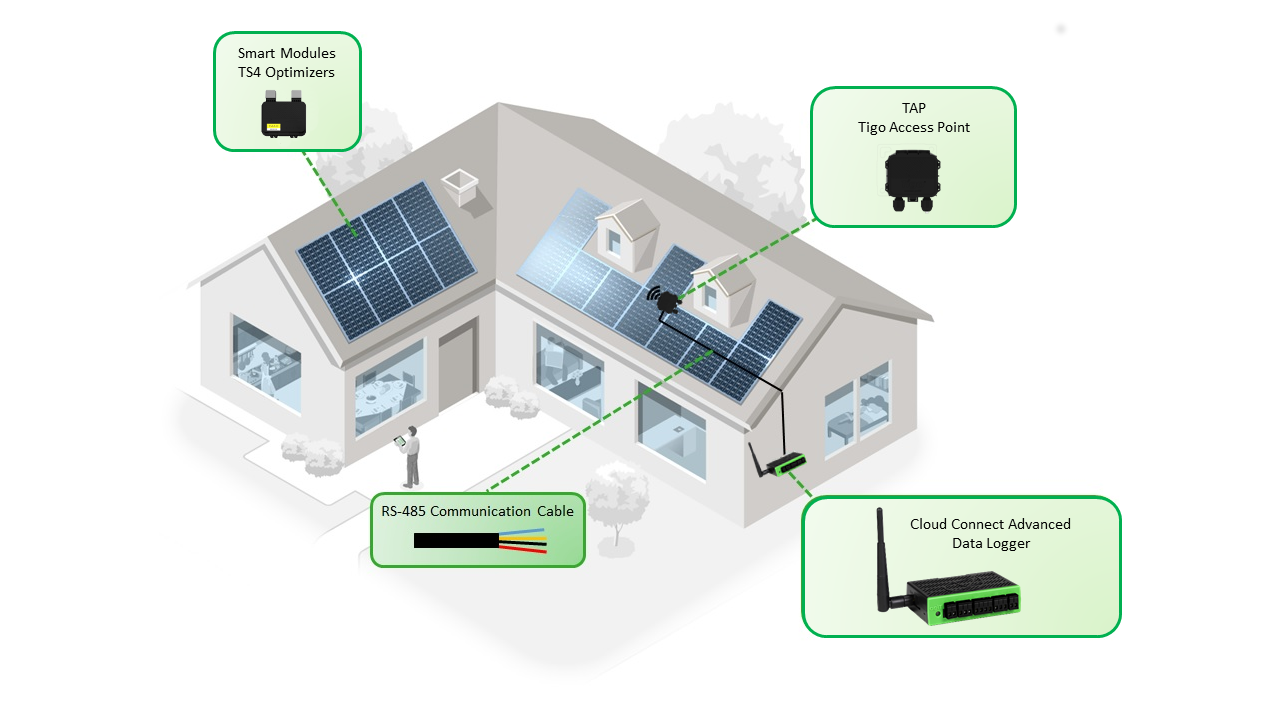 The above illustrates a basic installation. If all you are wanting to do right now is create a Bill Of Materials for a project for pricing/quoting purposes, refer to the Tigo product selection tool and come back later to learn the details of the design process.
If you are ready to proceed with your design, read the following:
Ensure availability of AC grid (or another source) of 120/220 VAC electric power and Internet access at the site.
Check TS4 cable length required for the PV Module (panel) dimensions.

An essential step for modules installed in landscape orientation.
When using 72 cell modules in landscape orientation, make sure to use the TS4 version with 1.2m length output (string) cables so they can reach the next modules to each side.

Check connector type for modules (MC4, etc) - ensure they all match. Currently, only MC4 is offered.
String fuses – shall be 15 Amp when 3 or more strings are connected to 1 MPPT.
Having reviewed the above, note that with Tigo, you have the opportunity to save money with selective deployment - you don't need an optimizer on every panel with the TS4 solution. If you want to learn about the guidelines for using this technology, proceed to Selective Deployment with TS4.
If you already are familiar with Selective Deployment, or you are choosing not to use it this time, then it's time to learn how to place your TAPs.