The first step of creating a TS4 system with module level monitoring is knowing your components.
Tigo TS4-M/S/O systems are composed of three components
Item

Image

Description

TS4, TS4-R, TS4-A

The TS4 Flex Module Level Panel Electronics (MLPE ) products are a SMART MLPE. Various models have different levels of features. The electronics are built into a removable junction box cover. The TS4 is available as a PV module junction box (integrated with panel), or as an add-on device for standard PV modules. See https://www.tigoenergy.com/products/

TAP

(Tigo Access Point)

TAPs are antennas that communicate by radio with smart modules and relay data to the Cloud Connect Advanced using a 4 wire cable such as an RS-485 cable, or Ethernet cable.

Cloud Connect Advanced

(CCA)

The Cloud Connect Advanced (CCA) provides module-level data logging and Rapid Shutdown and PV Safe module disconnect capability. It also features Wi-Fi and Ethernet connectivity to an Internet Service Provider. Setup and configuration is done using our free smartphone app Tigo Energy SMART App availble for iOS and Android devices. A Internet connection to the CCA is required to view the production data on the Tigo Monitoring Portal website.

NOTE: For systems using TS4-O modules, a TAP connected to a CCA with Internet service is required only if monitoring and/or module level shut down is desired. The TS4-O will optimize with or without the CCA and TAP communication equipment.
Below is a diagram illustrating how the Tigo products connect in a system: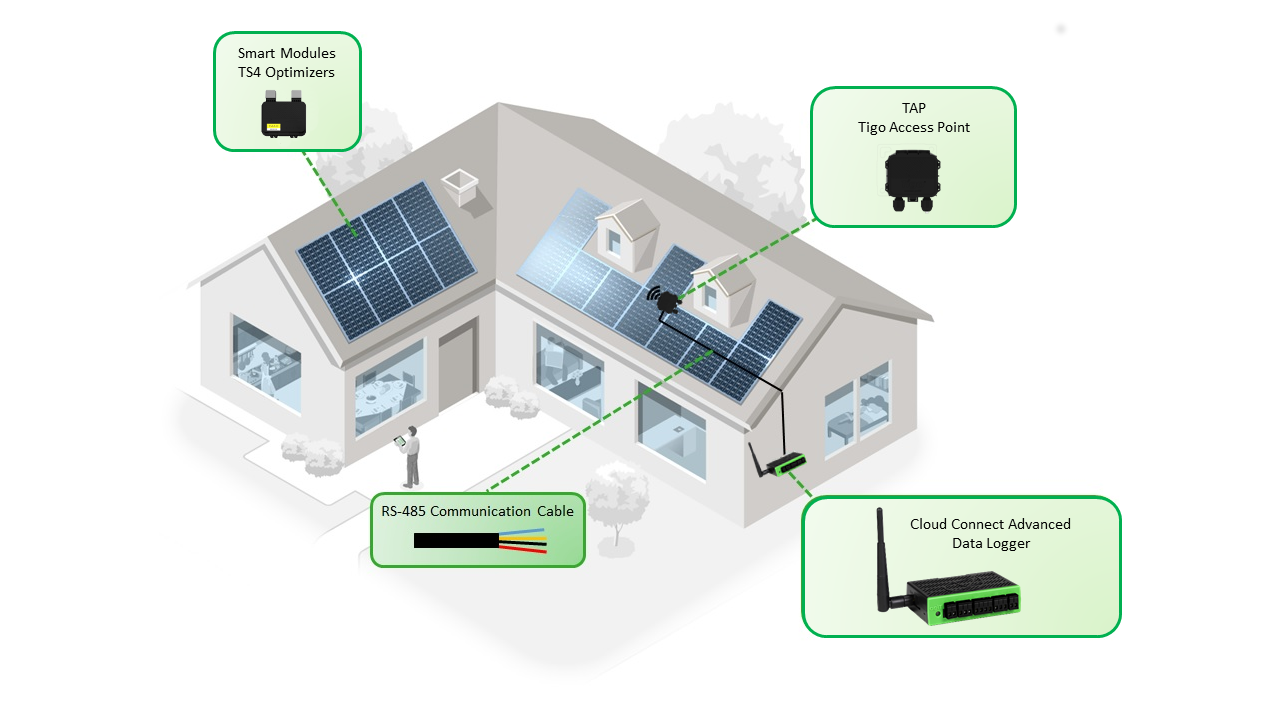 The above illustrates a basic installation. If you all you are looking to do right now is create a Bill Of Materials for a project for pricing/quoting purposes, refer to the Tigo product selection tool and come back later to learn the details of the design process.
If you are ready to proceed with your design, review the below:
Ensure availability of power and internet at the site - the CCA can connect via WiFi or ethernet
Check TS4 lead length, particularly for modules installed in landscape orientation. When using 72 cell modules in landscape orientation, make sure you have TS4's with the 1.2m length output (string) cables so they reach the next modules.
Check connector type for modules (MC4, etc) - ensure they all match. Currently, only MC4 is offered for new installations.
Check string fuses – should be 15 Amp for TS4 models.
Having reviewed the above, note that with Tigo, you have the opportunity to save money with selective deployment - you don't need an optimizer on every panel with the TS4 solution. If you want to learn about the guidelines for using this technology, proceed to Selective Deployment with TS4.
If you already are familiar with Selective Deployment, or you are choosing not to use it this time, then it's time to learn how to place your TAPs.