The first step of creating a Tigo TS4 system with module-level monitoring, is understanding the various components and their unique features.
NOTE: For systems using TS4-O modules, a TAP connected to a CCA with Internet service is required for both system monitoring and warranty eligibility.


A complete Tigo TS4-M/S/O system requires these three components:
Image
Description

TS4 MLPE (module level panel electronics)

TS4s are connected to a PV Module and offer various models, with different functionalities. See details at: https://www.tigoenergy.com/products

Tigo Access Point (TAP)

TAP units are a gateway radio transceiver that wirelessly communicates with the TS4 units by reporting data to the cloud, via connection with the CCA (below), and relaying the Rapid Shut Down (RSD) command.

Cloud Connect Advanced (CCA)
The CCA reports module-level power production and issues the Rapid Shutdown (RSD) command. Setup is completed via the Tigo Energy Intelligence (EI) App (available for iOS or Android) and internet connection (Wi-Fi or Ethernet) is required to view data on the Tigo Monitoring Portal (website), and for Warranty eligibility/coverage.


Basic system design: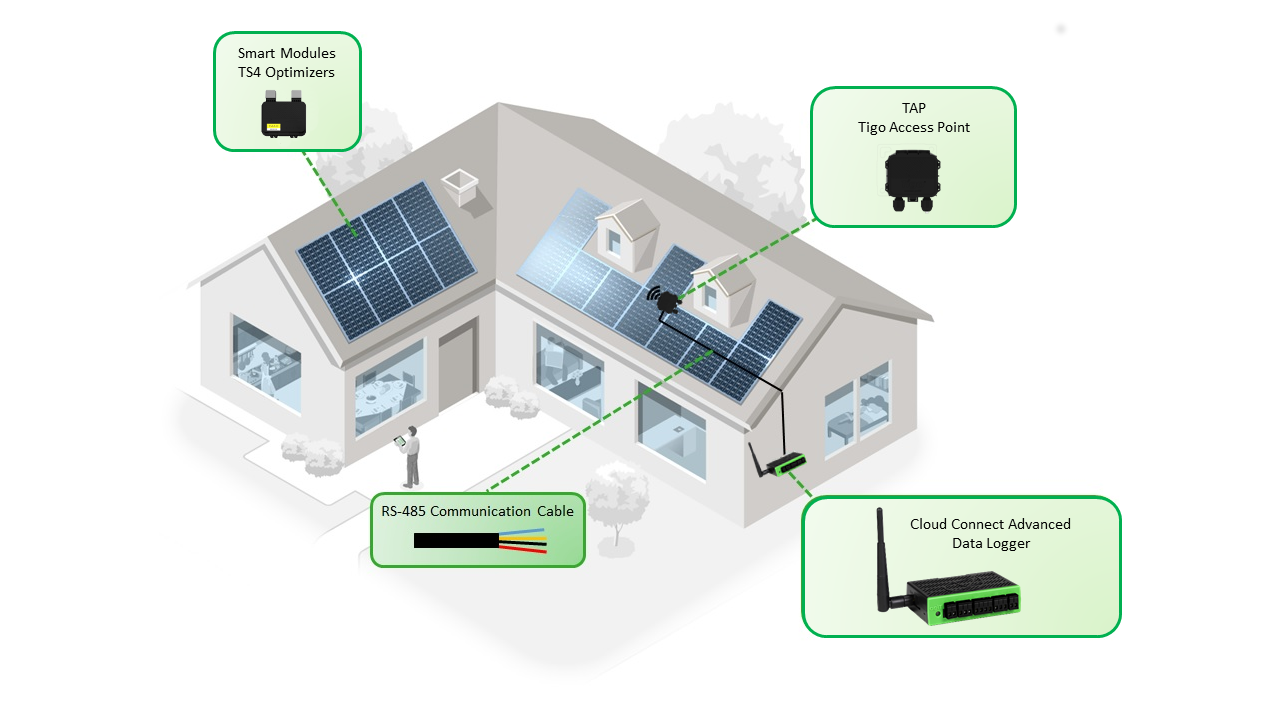 If you are ready to create a Bill Of Materials for your project, or pricing/quoting purposes:
Click here for the Tigo product selection tool


If you are ready to proceed with your design, note the following:
Confirm availability of AC grid (120/220 VAC) power and Internet access at site
Check the TS4 cable length required for PV Modules (especially, if in landscape orientation)
1.2m length is offered for 72 cell modules (landscape orientation),
Confirm PV Module connector type - Tigo TS4 products are manufactured with MC4
String fuse Maximum of 15 Amps (when 3 or more strings are connected to 1 MPPT)
More design related content is available here: TS4 Design Articles
Related Content: