Why monitor Combiner Boxes?
Combiner Boxes for PV in general have a DC OFF switch to disconnect the array from the PV inverter. In case of maintenance like cleaning, inspection or repair, the box is disconnected for safety reasons. After the work on the strings is completed, the DC switch is switched back to the "ON" position and the strings combined in the box can produce power again.
If the switching back ON of one of the combiner boxes is forgotten there is no way to see the difference in absolute power production on a large scale system. The power production of the whole PV system is constantly fluctuating and the switched off combiner boxes can be unrecognized for a long time, maybe even until the next maintenance cycle.
Monitoring the PV System
There are different possible approaches to monitor and so assure the power production of a PV system with Tigo.
The easiest solution is to put one TS4-M on every module of the array. The power production, voltage and current can be monitored at the module level and in case one of the modules is not working it can be easily identified and the problem solved.
A second solution is to have one TS4-M in every string of the array. With this string level monitoring, you can tell if each string is producing energy and see that no fuse is blown. This is important if each string has its own fuse. Additionally the current for each string can be monitored. The power production of each string cannot be directly read from the TS4 but could be indirectly computed by using the DC voltage at the inverter which is equal in all strings.
The third and lowest cost solution would be to put two TS4-M monitoring devices on two different strings of each combiner box. The information that there is a electric current flowing from any of the two monitors would ensure that the DC Switch of the combiner box is set to ON, the fuse inside the combiner box is operational and the strings from that combiner box are contributing to the power production of the system.
The following picture illustrates the monitoring setup for the system:
The Tigo Setup for Combiner Box Monitoring
The TS4-M communicates wirelessly with the Gateway up to a maximum distance of 50ft (15m). The gateways communicate via RS485 cable connection with the Cloud Connect Advanced (CCA), the Tigo data logger.  The CCA connects to the Internet with Wifi or Ethernet cable.
The following picture illustrates schematic the setup of the Tigo monitoring system.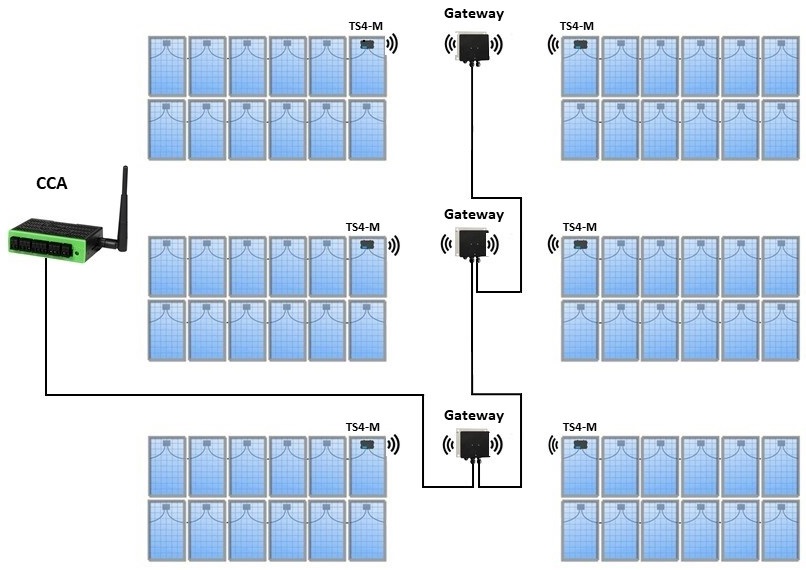 The number of gateways depends upon the layout of the solar plant. A gateway can communicate with up to 120 TS4-M units within the range of 50ft (15m).