Tigo Cloud Connect Advanced (CCA) and Cloud Connect data loggers can have a switch of the Normally Open type connected to the AUX terminals.
This feature is named PV-OFF (formerly PV-Safe on Maximizer Mangement Unit and Cloud Connect data-loggers)
When the switch is Closed, the CC/CCA will command Optimizers to disconnect the PV modules from their strings
Initiating module level disconnect is performed by closing the switch. Any TS4 module capable of PV Module (solar panel) disconnect will 'shut down', that is disconnect the panel from the string wiring and thus to the Inverter. This results in 0 Volts DC to the Inverter and String level wiring.
The TS4 models capable of module level disconnect are: TS4-S, TS4-R-S, TS4-A-S, TS4-O, TS4-R-O, TS4-A-O and TS4-L (all but M monitoring only model units, or Fire Safety model units)
In order to turn a Cloud Connect or Cloud Connect Advanced using system's modules back ON (connecting them to the strings)
Return the button to its OFF position which is Open Circuit position.
Wnen using a Cloud Connect also navigate to menu item "2.2 Modules ON" command.
Cloud Connect LCD interface options: Cloud Connect Menu Reference
Cloud Connect Advanced, Front Panel, AUX terminals
See below for wiring considerations specific to multiple Cloud Connects in a single system.
On the left hand side is the 2 terminal AUX port to which the Normally Open switch is connected.
Note that this external button feature is only available when using our DIN Rail mounted, hardwired to a branch circuit in a service-panel, power supply option. It is NOT supported with the plug-in AC outlet power supply.
The DIN rail mounted direct-wired power supply shown below the CCA. Note that the CCA has no AUX switch connected yet.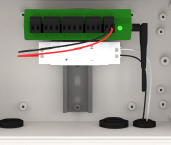 Note: Cloud Connect / CCA must have software version higher than 2.8.5 to support this feature. Email support@tigoenergy.com with system ID or street address if the button does not work (PV modules are not disconnecting from strings) after being wired to CCA and the switch is in the closed position (activated).
The button shown above is an off-the-shelf button, not provided by Tigo, that has these features:
Operation mode: Normally Open (NO) button

Note, NO or NC operation can usually be configured by jumpers internal to the switch housing.

Latching mechanism: the selected button must have a latching mechanism (twist to release, lock with key, etc.)
CCA Wiring diagram and instructions.
Power production will resume upon releasing the button by unlatching it, returning the switch to it's Open postion thus no longer connect the AUX terminals together.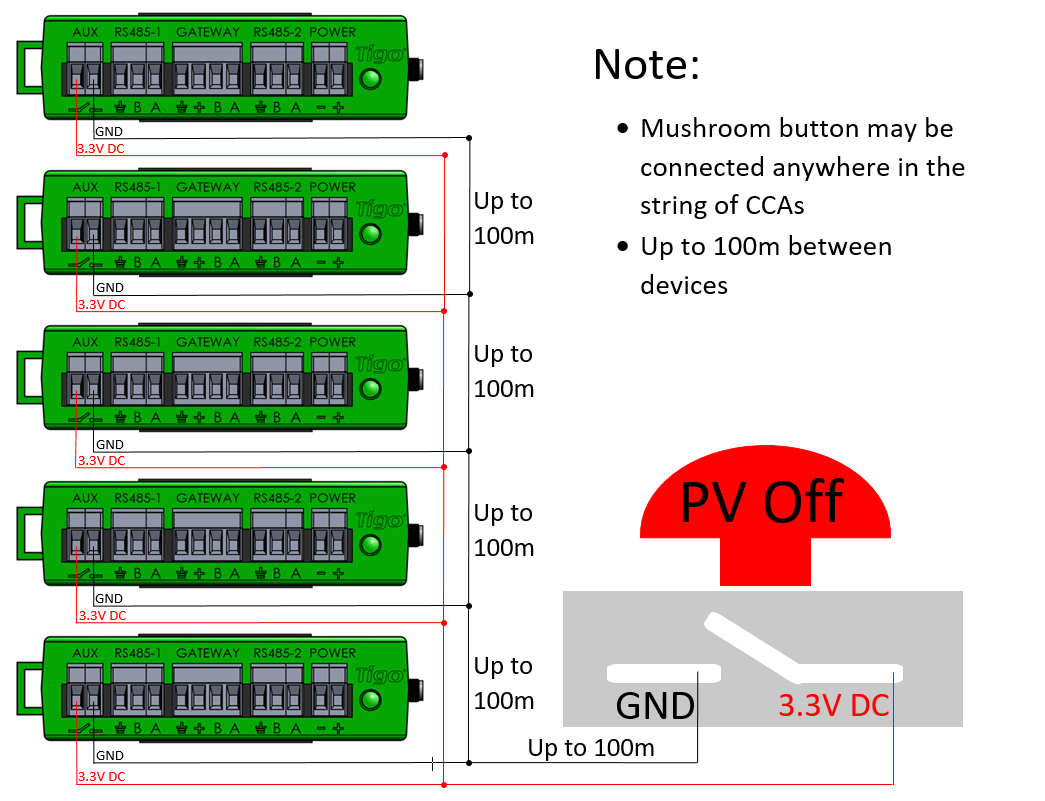 Figure 1: connection of multiple CCAs to a single PV-OFF button
Wiring:
Up to 5 CCA units and a single shut-off switch may be connected together (in parallel).
Be sure to wire the grounds together, and the signal switch wires together, as shown in the diagram above.
No outside-source voltage MAY EVER be placed on the AUX port
The ground of the system should be connected to the 24 VDC "-" Negative terminal
The left-hand pin should read close to 3.3 VDC when the switch is OPEN. 0 VDC when switch is CLOSED (activated)
When connecting multiple CCAs to the same switch be sure that the maximum distance between the shut-off button and first CCA is under 100 meters.
Additional CCA's also must be less than 100 meters apart from each other
Note that this external button works only when using our DIN Rail power supply option, and is NOT supported with the socket (outlet plug) power supply option.
Recommended Buttons:
Must support NO (normally open) switch mode. Switch closes when activated (pressed).
UL certified buttons:
Idec FB1W-HW1B-V411R -

Switch and enclosure, 40mm head, Pushlock with Turn Reset, Plastic, 1NC-1NO
Non-certified buttons:
Goele - LA115-A5 Push button
1688 - A22-RP-SW/K10, K01, K11
Cautions and Disclaimers:
1. During the installation of any mushroom buttons, please follow the same safety precautions as if dealing with a system that is powered on.
2. Prior to servicing your system, please use a volt meter to make sure that neither voltage nor current are present and flowing through the PV array after having pushed the installed external shutdown button.
3. External mushroom buttons are a convenient way to disconnect a system, but are not NEC 690.12 2014 or 2017 compliant; please always follow NEC required procedures to provide the appropriate means of disconnection and signage to emergency personnel.
How to Wire Multiple Cloud Connects to a single Shut-off Button
A Normall Open (NO) switch cna be connect to Cloud Connect(s) can initiate module level shutdown via an external "mushroom" shut-off button. However, for a shutoff button to work on system with more than 1 Cloud Connect, each Cloud Connect must be connected to the shutoff button on its own individual wires ran to the button directly, and not daisy-chained in parallel.
See below:
Cloud Connects must be wired separately to a mushroom button on separate circuits. DO NOT wire cloud connects in a daisy-chain/in series to a single shutoff button.